Reliving Top 10 Reds moments of '90 World Series
CINCINNATI -- It's been 25 years since the Reds went wire to wire and swept the World Series, but the memories from that season are still vivid for those who watched, rooted and/or played in that postseason.
Thirty members of the 1990 World Series champion Reds gathered at Great American Ball Park on Friday to begin a weekend-long reunion to celebrate that unforgettable series. In honor of this particular gathering of Reds greats, we've come up with a list of top 10 moments and memories from the 1990 Fall Classic.
Some commemorate greatness on the field, while others illustrate the particular brand of goofiness that came to define this lovable group. And one -- the "Reds Hot" video -- is simply a tip of the cap to the random moments that may have had no historical significance, but serve as a reminder that, man, that year sure was fun.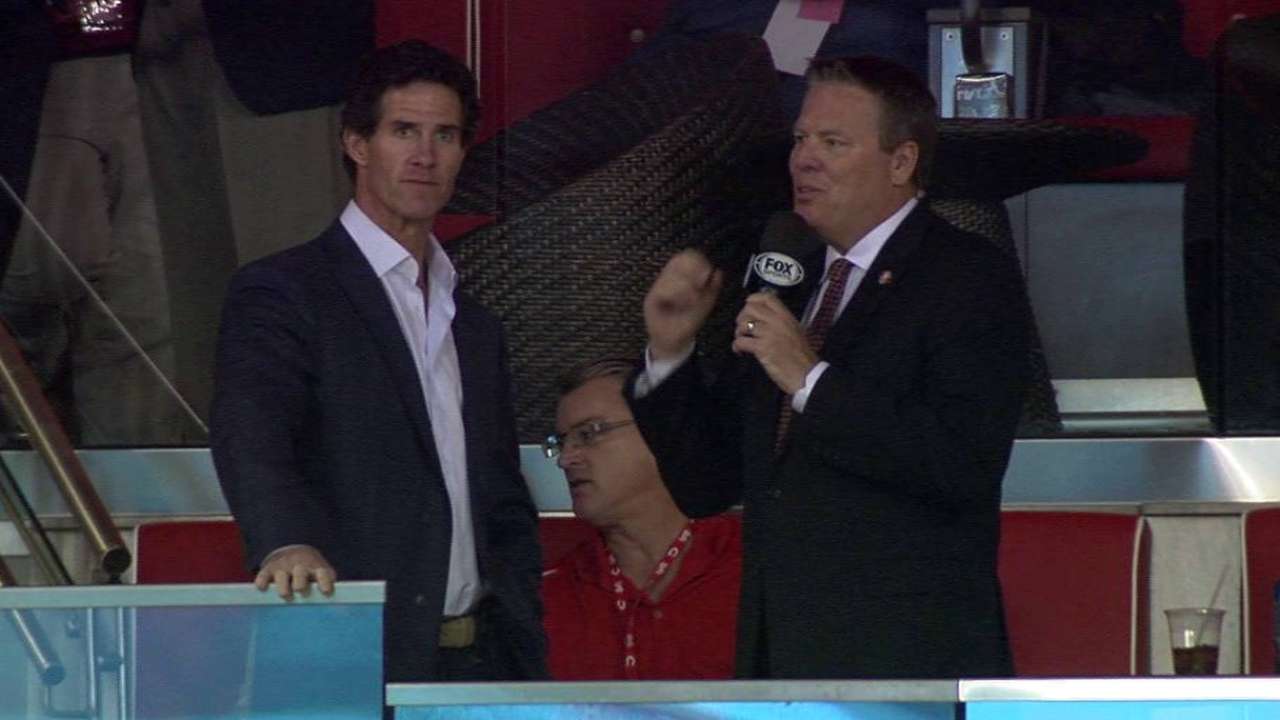 1. Davis homers in his first World Series at-bat
Not only were the Reds not supposed to win the World Series, many doubted they'd win a single game over the heavily favored A's. Eric Davis set the tone for the Reds immediately, launching a two-run homer off a pitcher who was supposed to be untouchable (Dave Stewart) to the most unlikely place in the outfield (deep center). That put the Reds ahead by two, and they won handily, 7-0.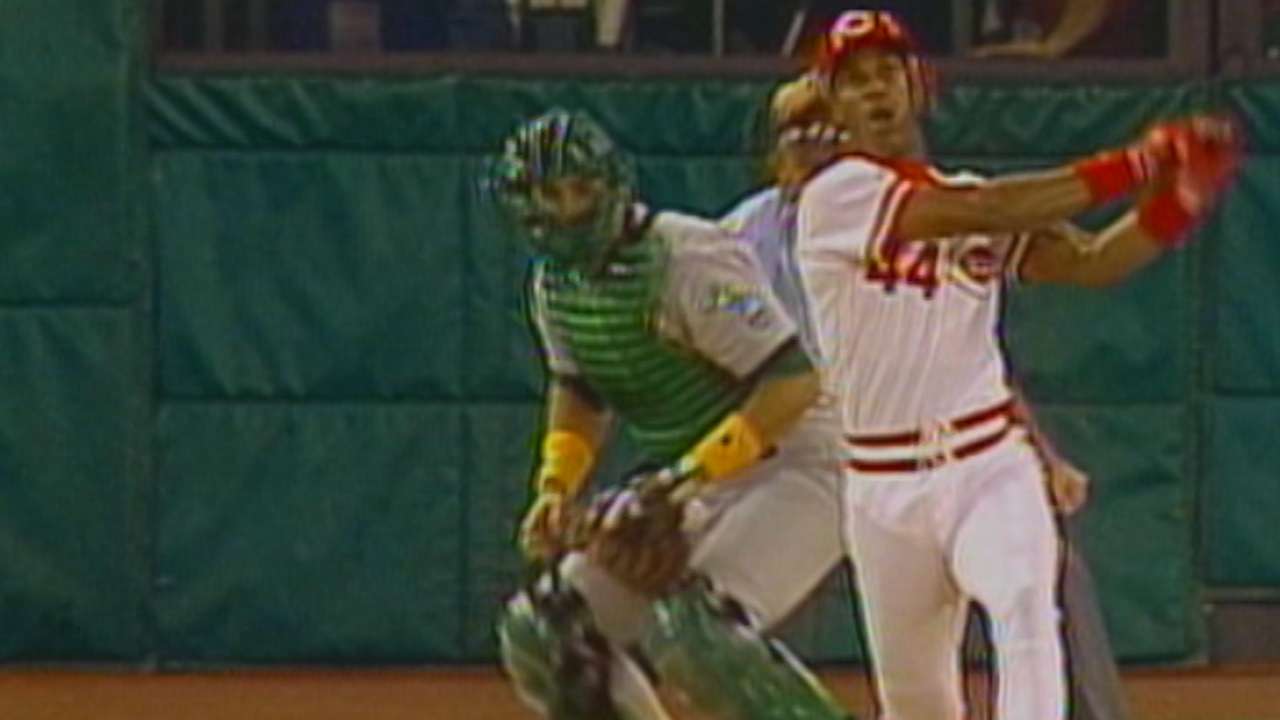 "Eric starting the game off with a home run in Game 1 kind of showed they had a chink in their armor, and we started believing," said Reds catcher Joe Oliver. "We never doubted ourselves. We knew if we came out and performed and played like we had for the whole season, that we had an opportunity to win the Series."
2. Hatcher fails … to make any outs
Billy Hatcher set a World Series record by recording seven consecutive hits to start the Fall Classic, and he also set a record by hitting .750 overall in the Fall Classic, eclipsing Babe Ruth's mark of .625 in 1928. Hatcher was 3-for-3 in Game 1 and 4-for-4 in Game 2. The 30-year-old grounded into a double play in his first at-bat in Game 3 to end the hit streak, but he still ended up going 2-for-5 in that game.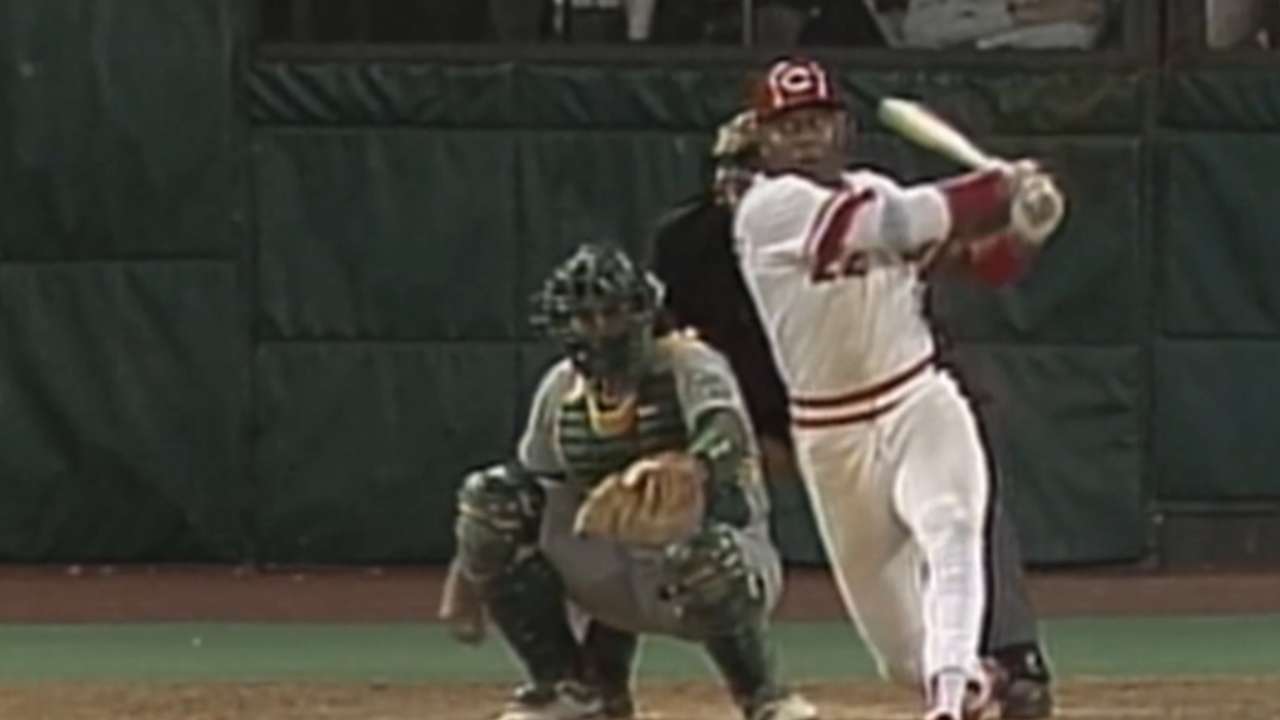 3. Game 2: Reds break 4-4 tie in the 10th off Eckersley
Dennis Eckersley allowed base hits to Billy Bates, Chris Sabo and Oliver, who delivered a walk-off single to lift the Reds to a 5-4 win.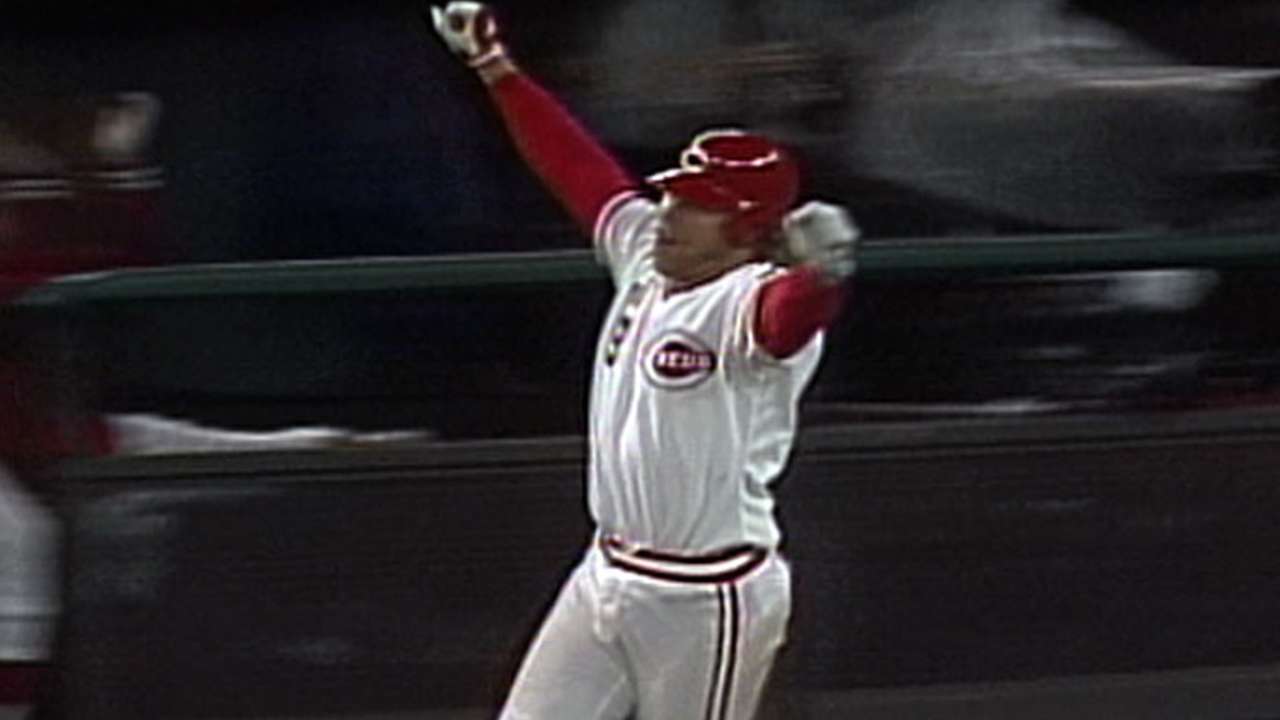 "You're looking at [Bob] Welch was on the mound and Eckersley was on the mound," said Oliver, whose single down the left-field line scored Bates. "We were seeing the best that they had that day. To go ahead and win that second game and go to Oakland up, 2-0, you really started believing there was a chance that something special was going to happen."
4. Browning's wife goes into labor
This is one that Reds fans still talk about. Game 2: Tom Browning's wife, Debbie, was pregnant with their third child, and she went into labor while sitting in her seat at Riverfront Stadium. Browning, the starting pitcher for Game 3, figured he wasn't needed and escorted Debbie to the hospital. Watching from the hospital room, Browning heard the TV announcers sending an APB for him, as the game was going into extra innings and the Reds' pitching supply was running short.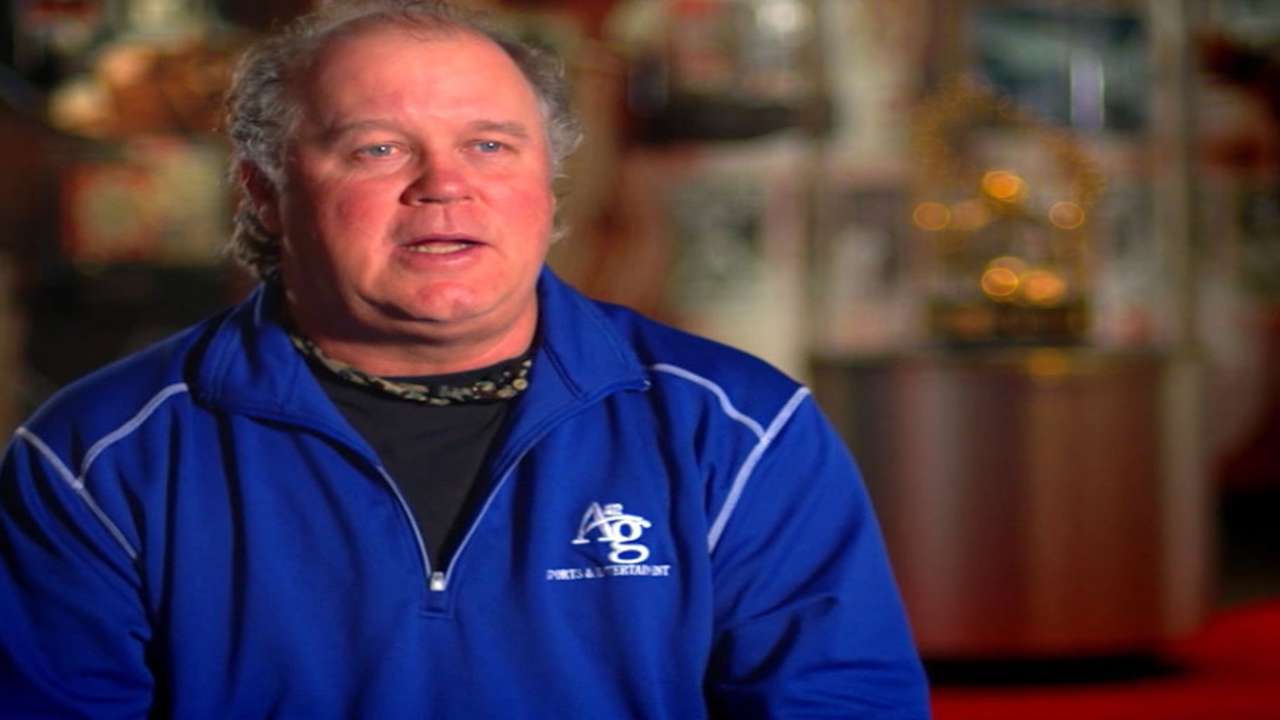 "It wasn't until I was in the hospital lounge and they were prepping her for a C-section that I heard Tim McCarver say, 'Tom, if you're watching ...' That's when I started walking around like an expectant father," Browning said. "I didn't know what to do. I said, 'There's no way I can leave my wife here.'"
Oliver saved the day by singling home the winning run in the 10th, making it unnecessary for Browning to leave 6-pound 10-ounce Tucker Thomas behind. Good thing the Reds won, too -- Browning hadn't told manager Lou Piniella he was leaving to go to the hospital, and the skipper reportedly wasn't pleased when he couldn't find him.
5. Benzinger catches final out
He won't go down in history as a Reds great, but Todd Benzinger has a place in 1990 Reds history as the guy who caught the last out of the World Series. Benzinger, playing first base, didn't need to do all that much to field Carney Lansford's popup in foul territory, but the 10-second clip lives on. Benzinger took about three steps forward and 10 steps back, caught the ball and held his glove high in the air, sealing the four-game sweep for the Reds. Maybe Benzinger wasn't a star, but he's a great trivia question.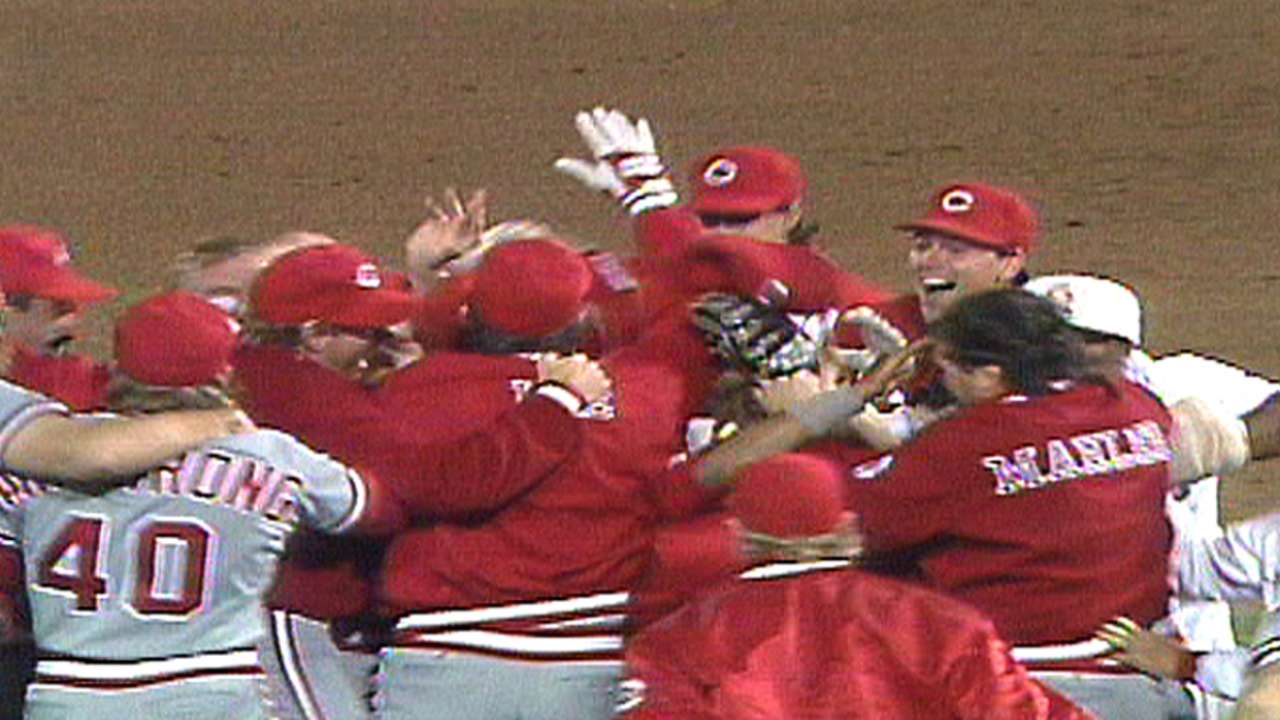 6. Nasty Boys are born, become instant cult favorite
Remember, this was 1990, before it was trendy for relievers to complain that they don't know their role. Rob Dibble, Norm Charlton and Randy Myers were all capable -- and willing -- to pitch the seventh, eighth or ninth, and Piniella used them all interchangeably. This meant most games that the Reds were leading after six innings were practically guaranteed wins. The talent level would have been enough to make them a cult favorite in Cincinnati. The fact that they were a little nutty on top of that just added to the lore. Dibble was his own brand of crazy on the mound, while Myers was more of a behind-the-scenes weirdo. Charlton was probably the most normal of the three, being a triple-major at Rice University.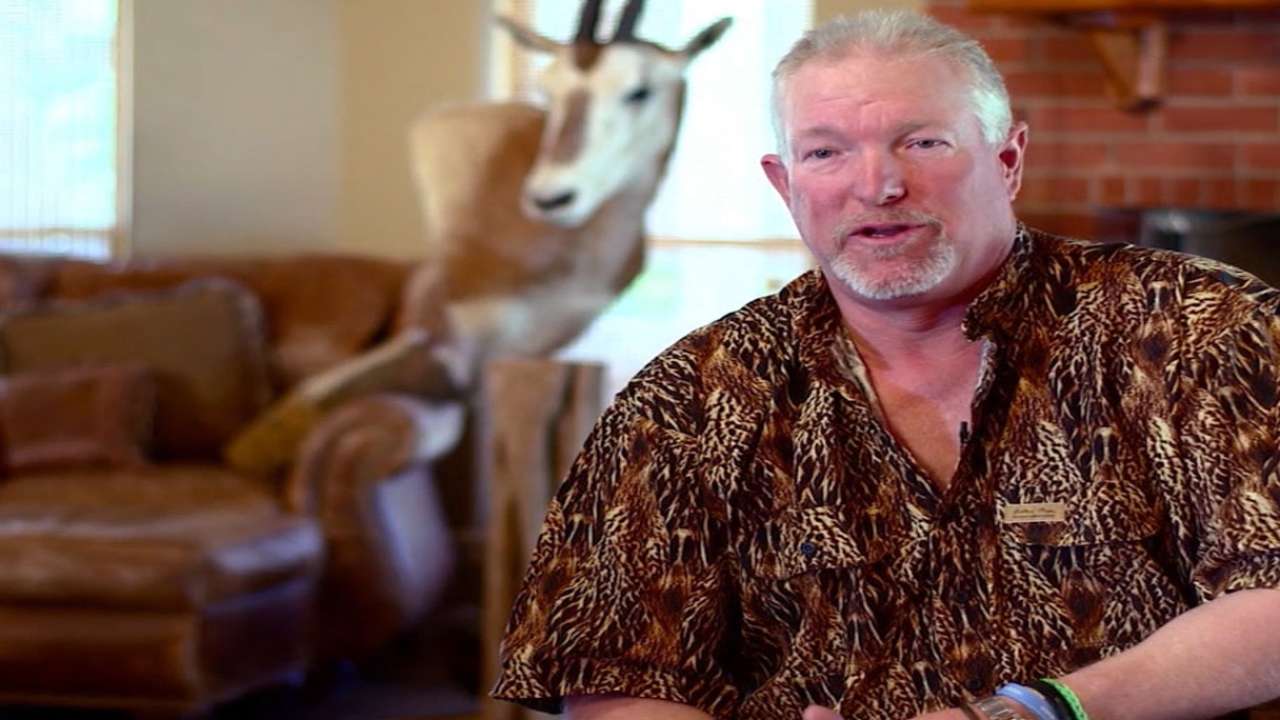 Twenty-five years later, the trio has no recollection of such personality traits.
"There was no nutty at all," Dibble said. "No craziness. No nastiness. We were Altar Boys."
Said Myers: "My nickname was Mr. Mellow. And I never missed curfew."
7. Rijo named World Series MVP
You'd think Hatcher's gaudy numbers would have earned him World Series MVP honors, and they probably would have, if not for Jose Rijo's even gaudier results. He pitched seven shutout innings in Game 1. In Game 4, he allowed two first-inning hits and then nothing else. He retired 20 in a row, tallied 8 1/3 innings and turned in a 0.59 ERA combined over the two games.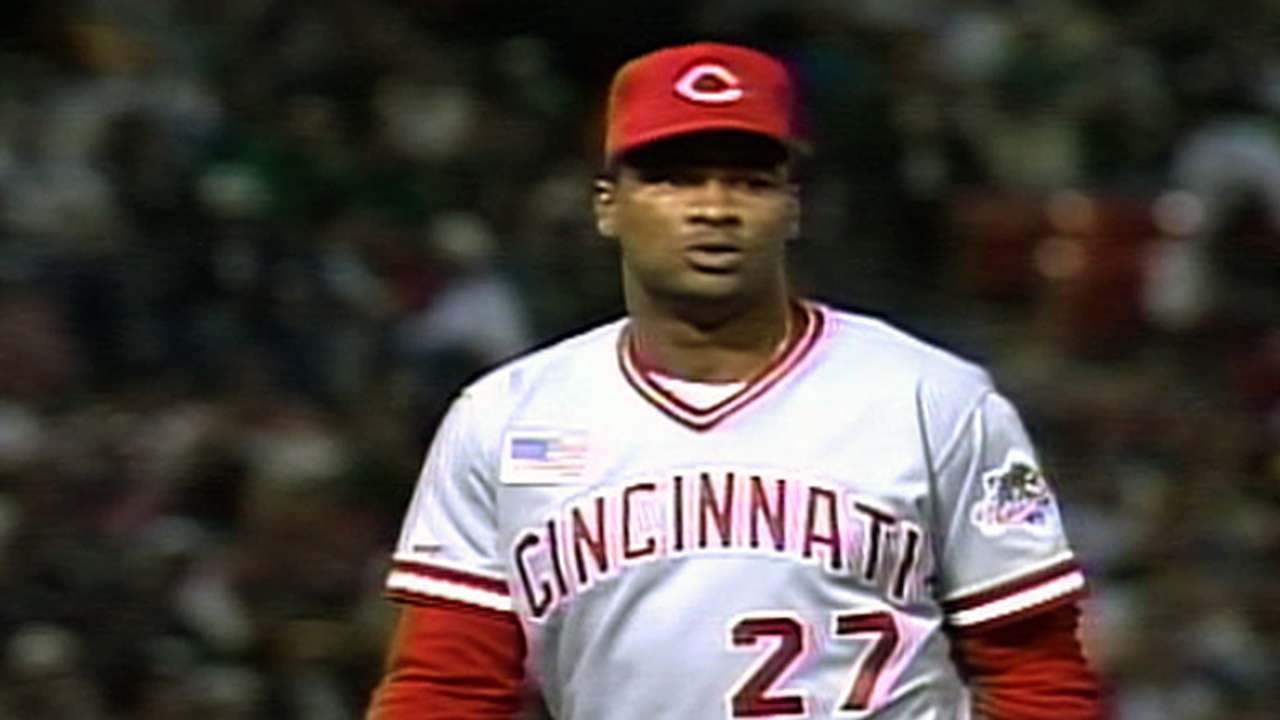 "They had to pick somebody," Rijo said. "They couldn't give it to all 25 players. In my mind, they all deserved it. We all cooperated to be a World Series champion. Everybody did the little things they needed to do. They did it. Fortunately, I got lucky and they named me. But Sabo, Hatcher, [Barry] Larkin, Davis ... they all deserved it."
8. Making of the fantastically awful music video 'Reds Hot'
OK, so maybe this was indeed cool in 1990: rap music videos where the lyrics all perfectly rhymed and sent an important message to kids to stay in school and don't do drugs. Plus, who doesn't love a group of grown men sporting '90s mullets? (You know, business in front, party in the back.) Say hello to B-Lark and the Homeboys (yes, really), performing "Reds Hot," a musical venture that was all the rage in Cincinnati 25 years ago.
Today, it's cringe-worthy entertainment.
"This is the game that's stayed in my heart/Stay in school and you'll go far/Don't do drugs, don't be a user/Listen to us, don't be a loser." -- Rijo
The best part? They were rapping about winning the World Series before they actually won it, long before the regular season was even over.
"It was like, if we don't [win the World Series], we're going to look pretty foolish," Larkin said. "I don't even know if that was a thought in anyone's mind. We were like, 'We're going to win this, so let's do this.'"
Larkin has watched the video a few times over the past 25 years.
"I think it's terrible," he said with a laugh. "And it's absolutely fantastic."
9. Sabo also makes a case for MVP consideration
Hatcher's World Series broke records, and Rijo's was the stuff of legend. But Sabo had a nice Series as well, hitting .563 (9-for-16), which included a two-homer performance that helped the Reds roll over the A's, 8-3, in Game 3.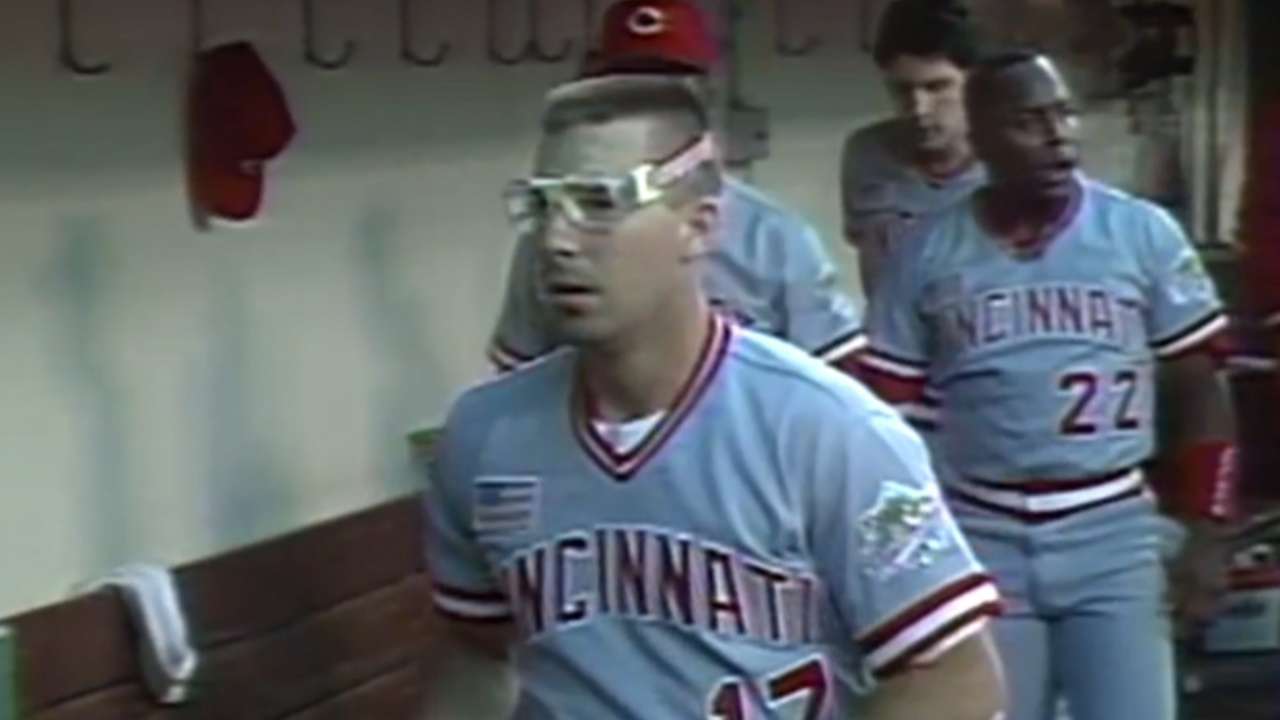 10. Braggs breaks bat over his shoulder
In Game 4, Glenn Braggs was pressed into service to bat in the second inning. He replaced Davis, who suffered a lacerated kidney in the bottom of the first inning trying to make a diving catch. Braggs, who led off the second, had a 1-0 count against Stewart. Although listed at 6-foot-3 and 210 pounds, Braggs looked like he was built much bigger -- especially with his large and muscular arms. On the very next pitch, Braggs swung wildly and missed on a Stewart fastball. The handle of the bat connected with the back of his left shoulder and snapped in half.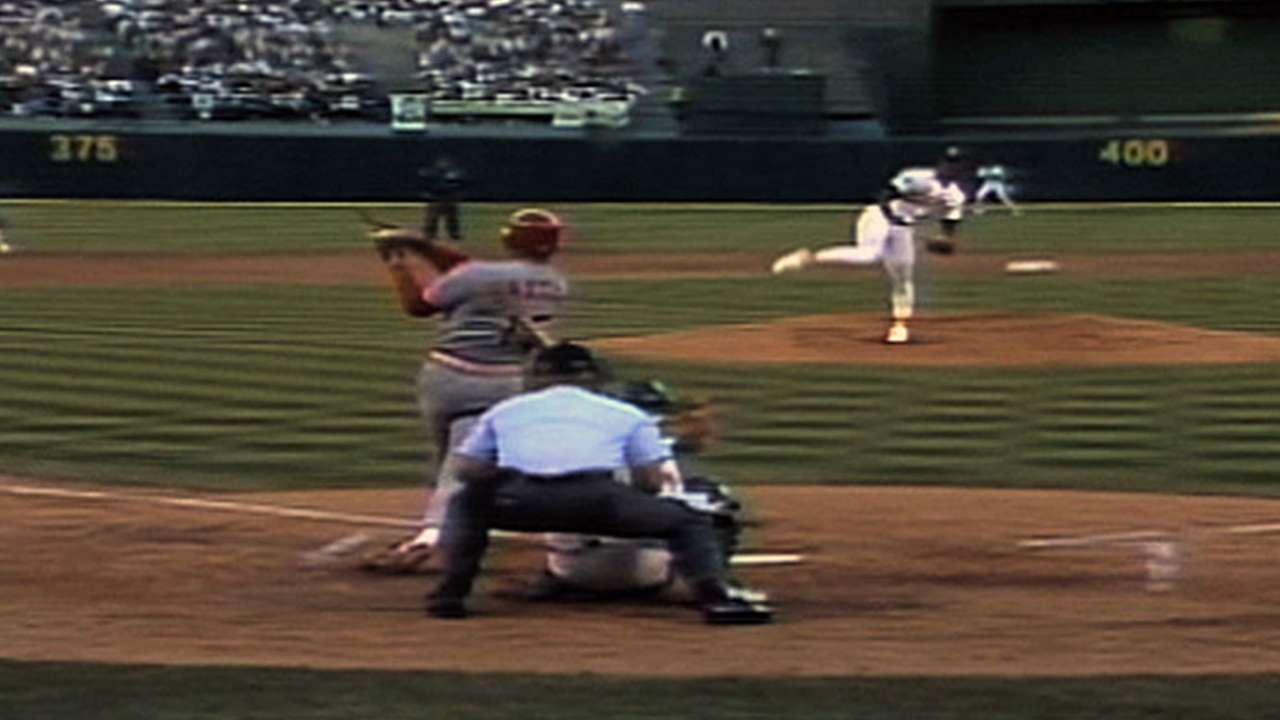 "That particular at-bat, I was batting against Dave Stewart and I hadn't done too well against him," Braggs said. "I had a 2-0 count on me. I knew he was going to throw me a fastball, and I was just amped up for it. When I looked at the video, I said, 'Glenn, how did you miss that pitch?' I swung through it and snapped the bat in half. I knew it was adrenaline, too."
Alyson Footer is a national correspondent for MLB.com. Follow her on Twitter @alysonfooter. Mark Sheldon contributed to this report. This story was not subject to the approval of Major League Baseball or its clubs.