MLB.com Columnist
Richard Justice
Hamilton back to Rangers a welcome reunion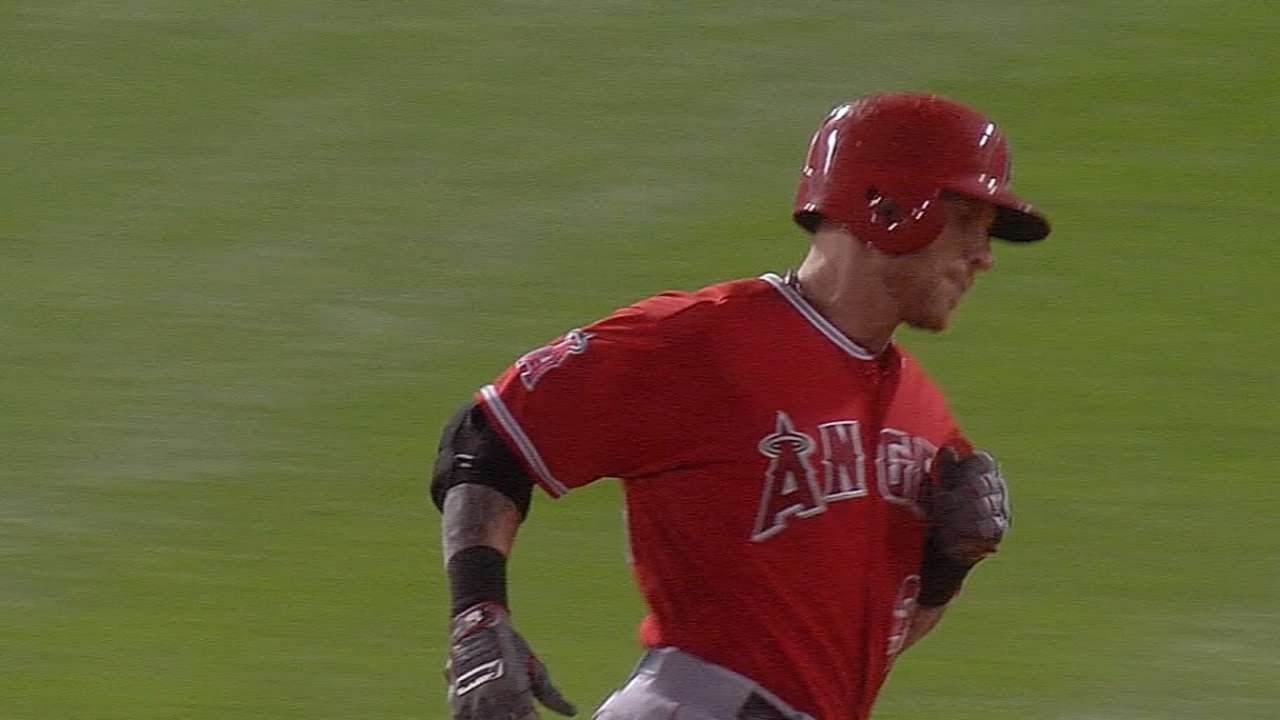 Theirs was a nearly perfect marriage for five seasons, and that surely is what this reunion is about. Josh Hamilton and the Texas Rangers may have needed one another more than they ever understood, and maybe this is about both of them attempting to recapture some of the old magic. So here's to second chances and happy endings.
If nothing else, we're likely to find out if Hamilton can still be a productive Major League player. It's not just a matter of his staying healthy, although that's obviously a large part of the equation. It's also about his rediscovering plate discipline and patience, two things in short supply during two disappointing seasons with the Angels.
That appeared to be the bottom line on Friday as the Rangers and Angels worked to complete a trade that would send Hamilton back to Texas, according to reports. If the trade happens, the Angels are expected to pay a large share of the $83 million Hamilton has remaining on his contract over the next three seasons.
But it would complete a divorce the Angels have sought since Hamilton admitted to a drug relapse this past offseason. This isn't how the Angels hoped it would play out when they lured Hamilton from the Rangers with a five-year, $125 million contract after the 2012 season.
In two seasons, Hamilton played just 240 of a possible 324 games and had a dramatic drop in production. He played just one regular-season game after Sept. 4 last season and went 0-for-13 in the American League Division Series.
Those two seasons were a far cry from Hamilton's five with the Rangers when he averaged 28 home runs and 101 RBIs and made the AL All-Star team every season. He won the AL MVP Award in 2010 and finished fifth in '12 and seventh in 2008.
Meanwhile, the Rangers, a franchise that had never won a postseason series when he arrived, averaged 93 victories in Hamilton's final three seasons, including 2010 and '11, when they twice went to the World Series.
The Rangers became wildly popular in Texas during Hamilton's time, with home attendance increasing from 1.95 million in 2008 to 3.46 million in 2012. When Hamilton departed, he complained Dallas would always be a football town, but it's obvious the Rangers did OK for themselves as well.
During those five seasons, Hamilton joined Nolan Ryan among the franchise's most popular players. That popularity was based on his being a tremendous player, but it was about more than that, too.
Hamilton touched thousands of hearts with his public battle against addiction. He recounted how when he would appear for an autograph signing there would always be people who simply wanted him to hear how they -- or someone close to them -- had battled addiction.
120 Sports: Hamilton headed to Rangers?
These people told Hamilton that he was a hero both because he helped the Rangers win two AL pennants and his personal story was so inspiring. There just never was that kind of closeness between him and Angels fans.
Perhaps if Hamilton had been on the field more or played better, it would have worked out differently. But there always seemed to be a disconnect.
Hamilton could be returning to the Rangers at a time when his career seems to be hanging in the balance. He'll turn 34 next month and is working his way back from shoulder surgery.
Angels teammates who visited with Hamilton last weekend when the team was playing the Astros say he has added at least 20 pounds of muscle and is eager to get back on the field and restart his career.
Hamilton will need at least a couple more weeks to complete his shoulder rehab, but when he steps back in the batter's box in Arlington, he's likely to hear cheers like he has never heard before. His battle against drug and alcohol addiction will be ongoing, but if he's still capable of playing at a high level, he seems more likely to be able to do it with the Rangers.
The Rangers, coming off a 95-loss season, their worst in 29 years, could use some help. Reunion tours sometimes disappoint, and maybe this one will, too. But it also has possibilities.
Richard Justice is a columnist for MLB.com. Read his blog, Justice4U. This story was not subject to the approval of Major League Baseball or its clubs.