Abreu escapes injury scare on rundown
First baseman appeared to be in pain on field after trying to tag Escobar, but OK after smelling salts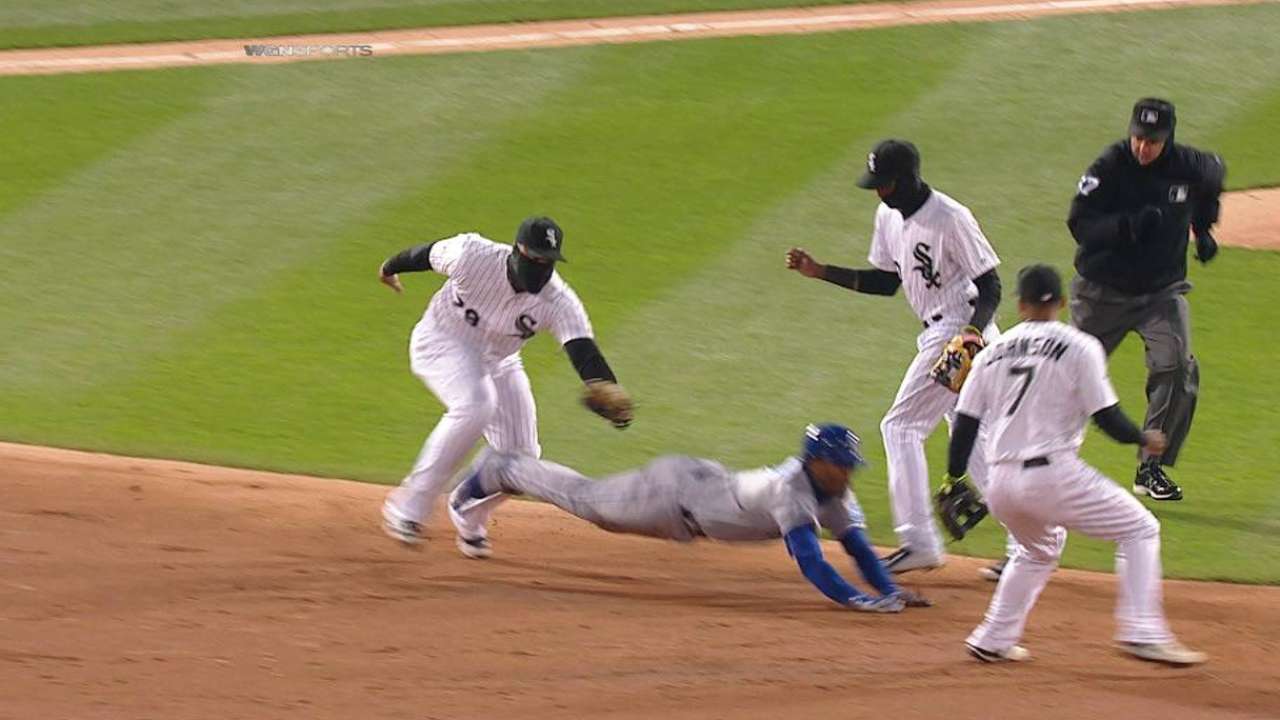 CHICAGO -- White Sox fans eventually were able to exhale during the third inning of Friday night's rain-suspended contest against the Royals at U.S. Cellular Field after Jose Abreu went down to the ground in pain following a rundown play involving Alcides Escobar.
Jose Quintana, the White Sox starting pitcher, picked off Escobar, who had singled home the first run of the game. But Abreu elected to chase down Escobar instead of throwing the ball during the rundown, and he was ruled to have missed the tag as he tumbled over the baserunner at second.
Abreu at first looked as if he hurt his right wrist or shoulder as he writhed momentarily in pain on the ground. But White Sox head athletic trainer Herm Schneider eventually gave smelling salts to Abreu, indicating that he had the wind knocked out of him.
"When he ran down, I think he landed on the foot of the base on his ribs. It kind of knocked the wind out him, and it was cold," White Sox manager Robin Ventura said of Abreu. "At first I thought it was his wrist or something like that. I think there were a lot of things going on at the same time."
As Abreu was being tended to on the ground, Ventura challenged the safe call of Escobar at second. Video review overturned the call and ruled Escobar out, with Abreu staying in the game. So it turned into a win-win situation for the White Sox.
Escobar checked with Abreu as to his condition as he walked off the field and Abreu walked back to first base. Abreu tapped Escobar with his glove in appreciation. Watching Abreu on the ground gave Ventura a slightly harsher reaction than getting the wind knocked out of him.
"No, a heart attack," said Ventura, getting a laugh from the media. "I'm just glad he's fine. Once he got over that, you could tell he was fine."
Scott Merkin is a reporter for MLB.com. Read his blog, Merk's Works, and follow him on Twitter @scottmerkin. This story was not subject to the approval of Major League Baseball or its clubs.