Trio of Giants stars make progress in rehab
Pence plays soft toss, while Peavy and Cain inch toward return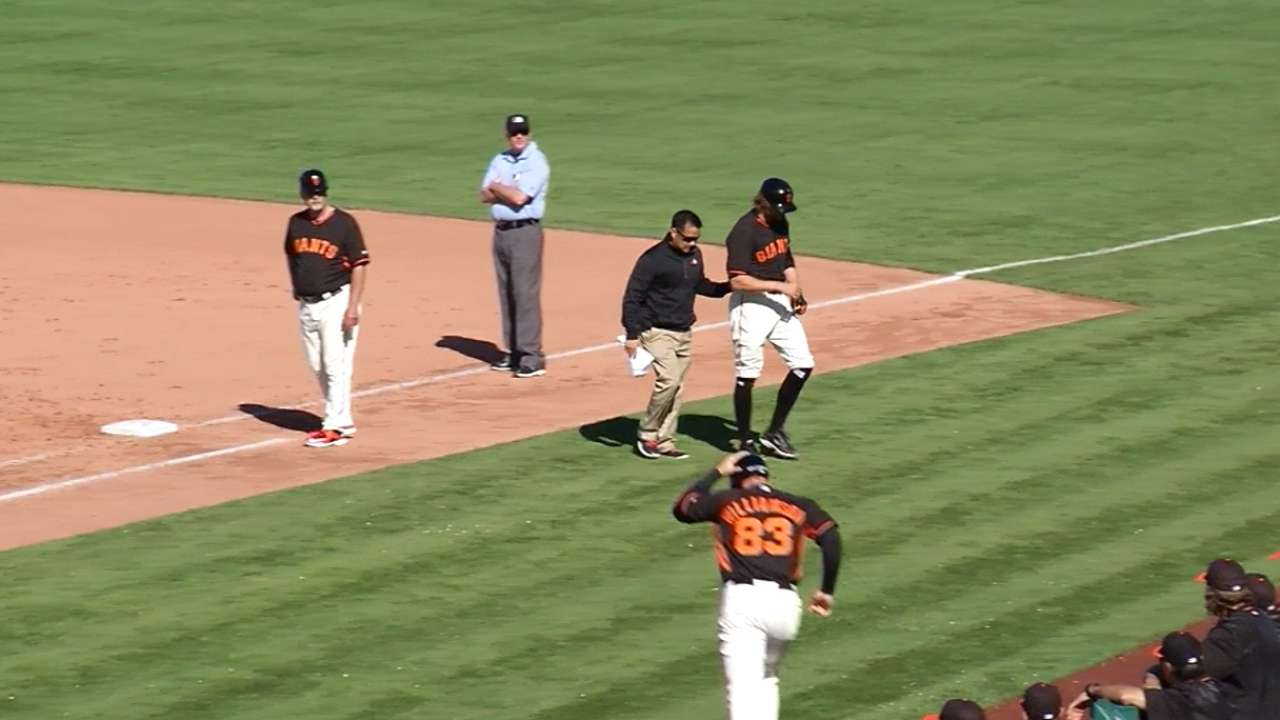 DENVER -- Three key Giants are making progress in their rehabilitation from early injuries.
Hunter Pence played some soft toss and swung off a tee in the indoor batting cage before the opening game of the Giants' three-game series in Colorado.
"Was it 100 percent? No, but he was swinging," manager Bruce Bochy said. "He had incredible bat control today. He was going to right-center and every ball was pretty much in the same spot. It was pretty impressive."
Pence is recovering from a fractured left forearm, sustained when he was hit by a pitch in a March 5 Spring Training game. Though he's currently eligible to come off the disabled list, a return early during the Giants' May 1-10 homestand is questionable, according to Bochy.
"I think it'll be close," Bochy said. "You hate to put a target date on it, because he's going to try and reach that. We'll go day-to-day with this, see progress. We may have to back him off. I think that would be a little early, myself. But I do know once you start to swing it starts to get better, so we'll see."
Matt Cain will start playing catch on Tuesday as he works his way back from a flexor tendon strain in his throwing arm. Cain has not pitched since Spring Training, and had an injury-plagued 2014 season come to an end with August elbow surgery to remove bone chips.
"My hope is that we're going to see the Matt Cain that we know," Bochy said. "It's going to be important for us to maybe slow-play this a little bit so we can stay away from another setback and have him right before we do activate him. He showed signs of that before his last setback. I think we have a good chance of seeing the Matt Cain we know."
Friday's starter, Chris Heston, took Cain's spot in the rotation, and is 2-1 with a 0.87 ERA over three starts heading into the series opener with the Rockies. He's the first Giants rookie since 1914 to start a season with three straight starts of six innings or more and one or fewer earned runs each game.
"This spring he was good from the get-go, and he was impressive," Bochy said of Heston. "He throws strikes, he's got four pitches to work with, and he's got velocity and movement. That works up here. He's not a kid that gets rattled either. He's got a quiet confidence about him."
Jake Peavy is playing catch, though he hasn't started pitching from the mound yet. Peavy made his first two starts of the season, then went on the disabled list with a back strain on April 18. He is eligible to come off the DL on May 3.
"He's doing a lot better," Bochy said "I don't have a scheduled date for his [first] bullpen, but he's moving around pretty good and playing catch."
Owen Perkins is a contributor to MLB.com. This story was not subject to the approval of Major League Baseball or its clubs.