Royals Minor League report: April 23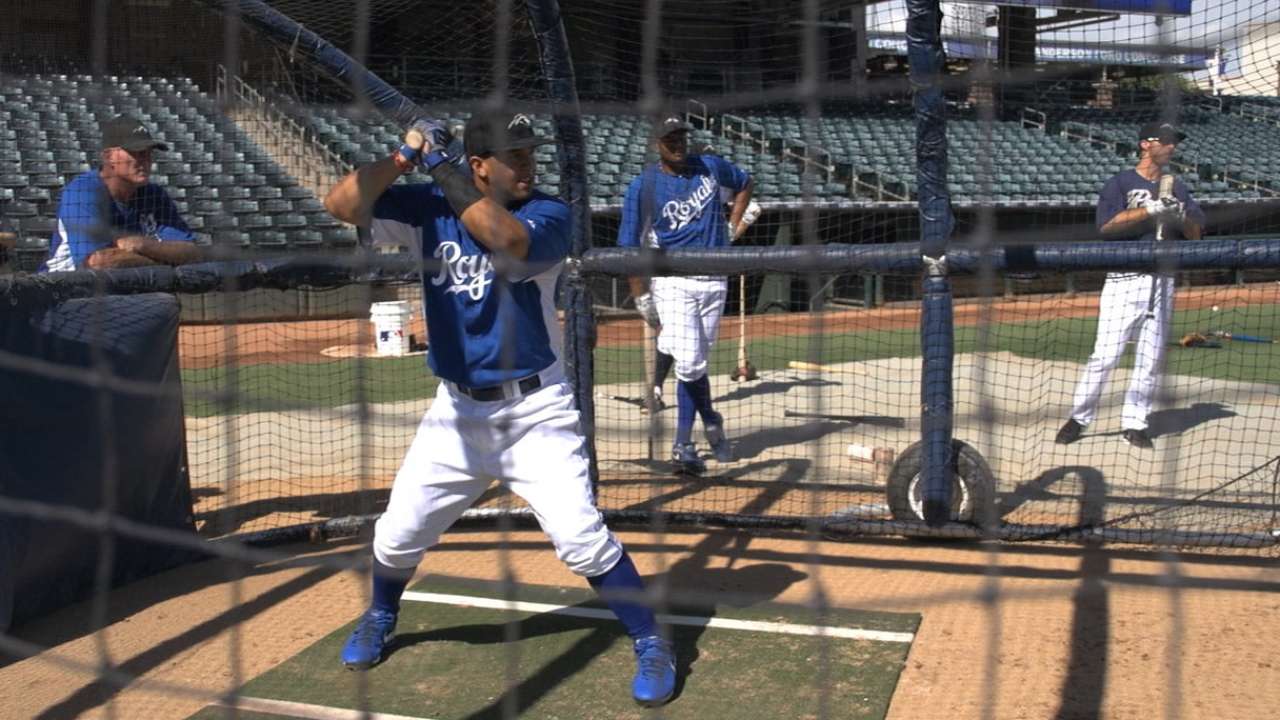 Omaha Storm Chasers (9-5)
Omaha 6, Memphis 5
WP: Brian Broderick (1-0)
SV: Joe Paterson (2)
HR: Cheslor Cuthbert (3)
Omaha withstood a ninth-inning rally, moving to 2-1 in the series. Cheslor Cuthbert hit a three-run homer and finished a triple shy of the cycle. Whit Merrifield and Moises Sierra joined Cuthbert with three hits apiece. Merrifield has hit in eight straight games (.375, 12-for-32). John Lamb (4.2 IP, 5 H, 3 R, 2 ER, 1 BB, 5 SO) retired 12 of his last 15 batters in his season debut.
NW Arkansas Naturals (6-7)
Tulsa 7, NW Arkansas 2
LP: Jonathan Dziedzic (0-1)
HR: None
The Naturals lost game one as Tulsa broke open a 3-2 game with four in the seventh. Jonathan Dziedzic pitched 5.0 innings, allowing three runs, four hits and a walk. Terrance Gore was 2-for-3 with a double, a stolen base and a run. The speedy outfielder is 7-for-13 since being optioned from Kansas City. He began the year 0-for-12.
Wilmington Blue Rocks (7-7)
Frederick 7, Wilmington 5
LP: Eric Skoglund (1-1)
HR: None
Wilmington scored two in the ninth before falling short in game one at Frederick. 2014 third-round pick Eric Skoglund (6.0 IP, 9 H, 5 ER, 1 BB, 4 SO) took the loss. Jack Lopez went 2-for-5 plus two stolen bases, an RBI and a run. Logan Moon and Mauricio Ramos each posted two hits, an RBI and a run.
Lexington Legends (5-10)
West Virginia 3, Lexington 2 (Game One - Eight Innings)
LP: Kevin McCarthy (0-1)
HR: Alfredo Escalera (3)
West Virginia 5, Lexington 2 (Game Two - Seven Innings)
LP: Corey Ray (0-1)
HR: Ryan O'Hearn (3)
The Legends dropped two at West Virginia, including the makeup of a home rainout. The Power walked off with a 3-2 win in game one. Alfredo Escalera gave Lexington a 2-1 lead with a two-run homer in the fifth. He recorded two of four Lexington hits in game one. Ryan Hearn posted two hits in the nightcap, including a solo homer. 2014 fifth-round pick Corey Ray posted a career-high 11 strikeouts without a walk over 5.2 innings. Ray's previous high was seven strikeouts. He was charged with five runs (four earned) on six hits, including two homers.