Lindor, Schwarber among Minors' top performers Thursday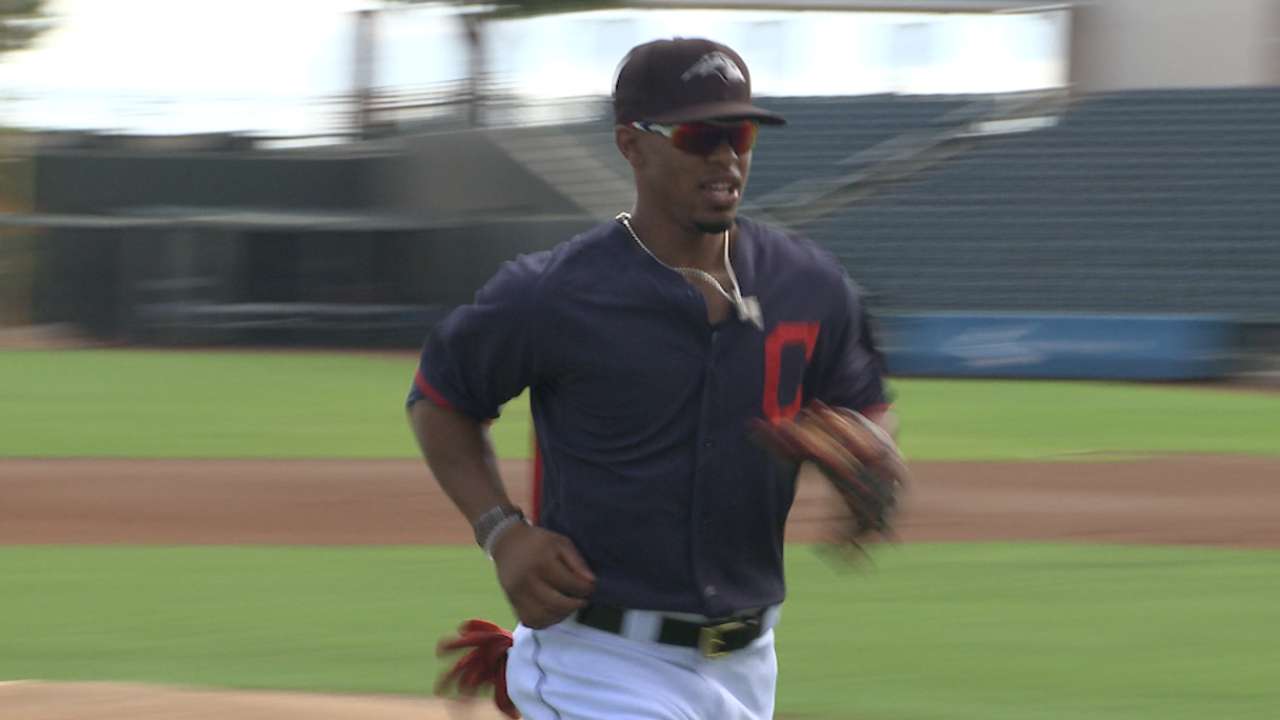 Two weeks into the season, Indians top prospect Francisco Lindor is still teetering around the Mendoza Line, but his performance Thursday night may be what the No. 4 overall prospect needed to jump-start his season.
Lindor went 2-for-5 with two doubles and three RBIs in Triple-A Columbus' 11-1 shellacking of Louisville. His big night came on the heels of a very slow start and marked just his second multihit game of the season.
The 21-year-old, who also swiped a base, pushed his batting average to .212, and he's hitting .272 (9-for-33) with five RBIs in his past nine games after a 2-for-19 (.105) start.
Cubs No. 4 prospect (No. 48 overall) Kyle Schwarber went 3-for-6 with a double, a homer and two RBIs in Double-A Tennessee's 9-2 win over Jackson. The former Indiana Hoosiers star is now 9-for-17 in his past three games for the Smokies and has a slash line of .371/.511/.629 for the season.
Schwarber has teamed up with Cubs No. 15 prospect Dan Vogelbach to form a lethal 1-2 punch in the heart of the Smokies' order. Vogelbach went 1-for-3 with a double, three walks and two runs on Thursday. The 2011 second-round Draft pick has hit safely in 12 of 13 games and has a slash line of .426/.534/.702.
Top performances from Top 100 prospects Thursday
• Tigers top prospect Steven Moya continued his recent power surge, going 3-for-4 with a three-run homer to help Class A Advanced Lakeland push past Clearwater, 5-2.
The home run was the third in five games for the 23-year-old, who's working his way back from plantar fasciitis. Last year's Eastern League Most Valuable Player, Moya was slated to join Triple-A Toledo on Opening Day after he was reassigned from Major League camp in late March, but he instead started the season on the disabled list and began a rehab stint with Lakeland on April 16.
• Pirates No. 4 prospect (No. 45 overall) Austin Meadows had two doubles and two RBIs for Class A Advanced Bradenton. The 19-year-old outfielder picked up his seventh multihit game in 13 games to begin the season.
Other notable performances from around the Minor Leagues
• Padres No. 4 prospect Rymer Liriano went 3-for-4 with a pair of homers and three RBIs for El Paso and stretched his hitting streak to nine games. He raised his average to .288 after starting the season 2-for-14 (.143). Liriano hit .452/.521/.661 in 16 games for the Chihuahuas last year.
• Twins No. 11 prospect Stephen Gonsalves had a career-high 11 strikeouts while allowing only one hit (a bunt single) and a walk over seven innings in Class A Cedar Rapids' 3-0 win over Wisconsin. Trevor Hildenberger completed the game with two perfect innings of relief.
Gonsalves has been on fire in 2015. He fanned nine and 10 batters in his first two starts, respectively, and improved to 2-0 with a 0.90 ERA, 0.65 WHIP, 30 strikeouts and only two walks in 20 innings after Thursday night's game.
• D-backs No. 5 prospect Yoan Lopez allowed one run on five hits over seven innings while striking out seven for Double-A Mobile. The Cuban prospect has settled in nicely for the BayBears (2.95 ERA, 1.09 WHIP and .235 average against in three starts) after struggling in Spring Training.
• Reds No. 5 prospect Amir Garrett allowed two runs (one earned) on six hits over six innings while fanning seven and walking none for Class A Advanced Daytona.
• Brewers No. 25 prospect Hobbs Johnson held Jacksonville scoreless on one hit and two walks over five innings while striking out six for Biloxi. He's now 1-0 with a 1.79 ERA and a .154 average against in three starts for the Shuckers.
• Indians No. 4 prospect Giovanny Urshela slugged a home run in his first game of the season. The 23-year-old Colombian suffered a swollen disc in his back during Spring Training.
• Yankees No. 20 prospect Tyler Wade went 3-for-4 with two runs scored for Class A Advanced Tampa. He now has a multihit game in eight of the past nine contests.
Alex Smith is a reporter for MLB.com. This story was not subject to the approval of Major League Baseball or its clubs.