Davis confident Boston hitters will heat up soon
After some offense-starved games vs. Rays, hitting coach sees no need for worry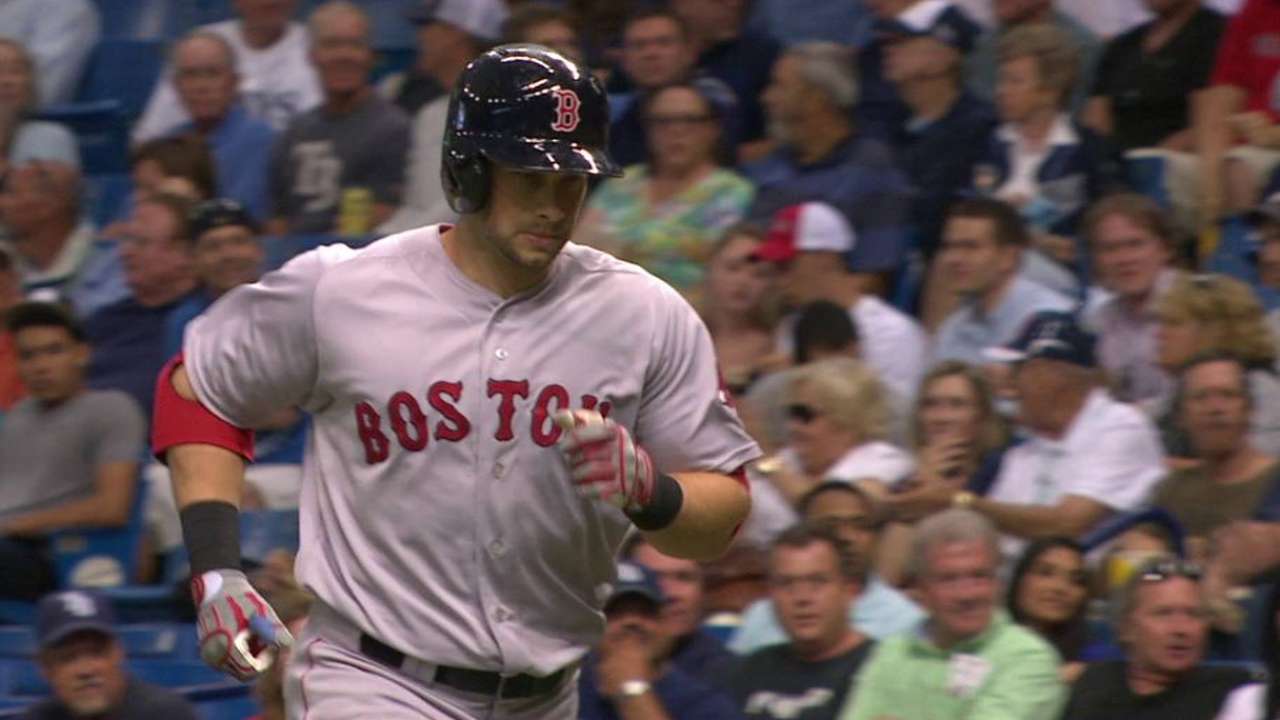 ST. PETERSBURG -- For all the scrutiny the Red Sox have faced for their starting pitching, the vaunted offense has been surprisingly quiet of late.
After a 2-1 loss to the Rays left them at 9-7 for the season, Boston's team batting average is at .230 heading into this weekend's three-game series against the Orioles.
A team stacked with established veterans has an on-base percentage of .325 and a slugging percentage of .344.
While those numbers don't lie, neither does the calendar. It is very early.
"This is what, [16] games into the season? I ain't going to panic about this," said Red Sox hitting coach Chili Davis. "I've got some good hitters here. I know they can hit, they know they can hit."
In two of the three games against the Rays, the Red Sox scored just once. Boston won the opener of the series, 1-0, only to lose the last two games.
Jake Odorizzi limited the Sox to three hits over 6 2/3 innings in the series finale.
"Tonight, the guy just stayed out of the zone with his fastball as much as he could and then used his changeup pretty well," said Davis. "Got to give him a little credit. But we did hit some balls hard. We hit some balls hard this series -- just haven't had any luck."
Of the nine primary starters, only Xander Bogaerts (.302 average) is hitting above .263.
Mookie Betts, David Ortiz, Mike Napoli and Shane Victorino are all hitting below .200.
Hanley Ramirez (five homers, .854 OPS) and Dustin Pedroia (four long balls, .816 OPS) have hit for the most production.
But the offense just hasn't hit its collective stride.
"When they do, look out," said Davis. "That's all I've got to say. When they hit it -- look out. We've got a real good offense here. I think teams know that, and they're pitching against us extremely carefully and they're not going to be able to do that all year."
The Red Sox haven't gotten many breaks offensively either.
"We're hitting into a shift at times," said manager John Farrell. "We're not getting a basehit to fall. Mookie looks like he's got a tweener and [Kevin] Kiermaier makes a heck of a diving catch to preserve a couple of runs. We're not catching any breaks right now, offensively."
Ian Browne is a reporter for MLB.com. This story was not subject to the approval of Major League Baseball or its clubs.