Machado's homers change the narrative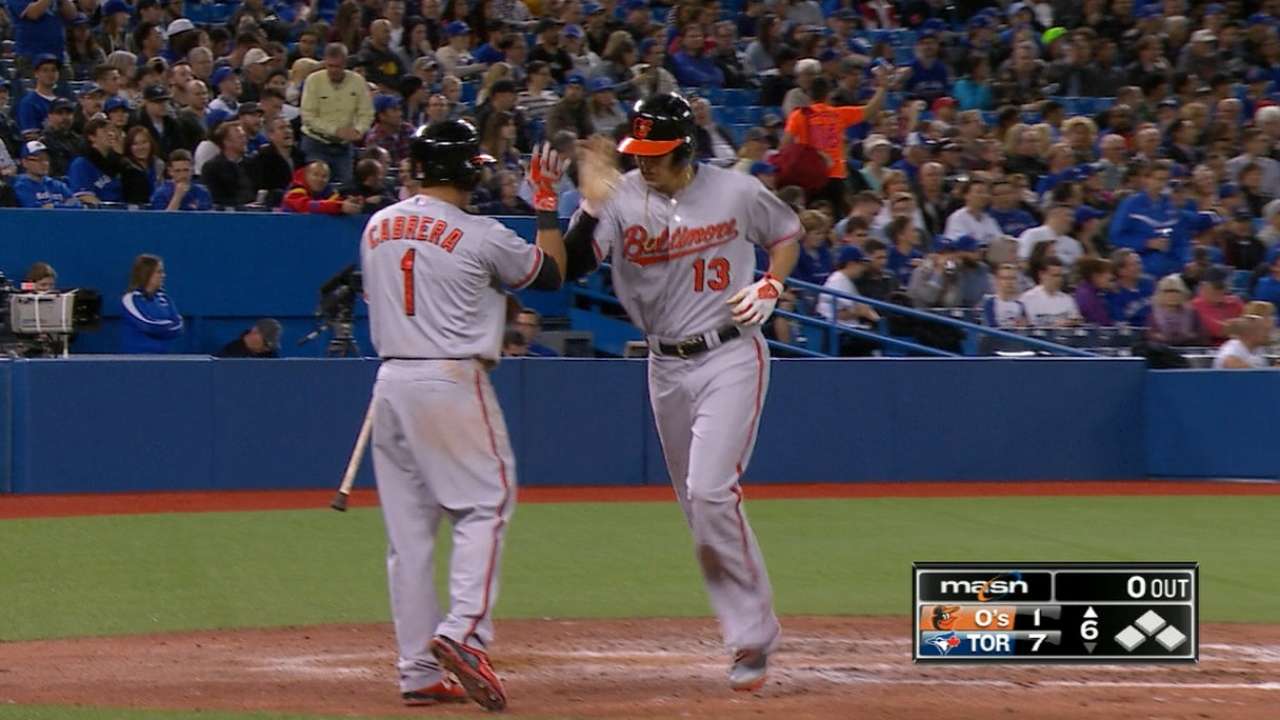 TORONTO -- Manny Machado almost single-handedly pulled the Orioles back into Thursday's 7-6 loss to the Blue Jays, but his two-homer night wasn't quite enough.
After he broke up Drew Hutchison's perfect game with a homer to lead off the sixth inning, Machado came to the plate in the ninth to face Toronto closer Miguel Castro with two runners on, one out and his team down four runs. The 22-year-old battled back from an 0-2 count, and on the sixth pitch of the at-bat sent a fastball into the second deck in left field, turning what once appeared to be a blowout into a one-run game.
"It was a little too late," said Machado, who was 2-for-4 with four RBIs in the game and 5-for-10 with six RBIs in the Orioles' three losses at Rogers Centre.
As clutch as his ninth-inning homer was, Machado's ability to get to Hutchison was more impressive because the Blue Jays starter had retired the first 15 batters he faced.
"He was being aggressive, so I was going up there being aggressive," said Machado, who registered his third-career multi-homer game. "I wasn't trying to hit a homer. I was trying to make contact. I was trying to hit something hard somewhere."
After going 1-for-19 with no extra-base hits in the first six games of the season, Machado's bat has come around. In 10 games since April 13, he's hitting .305 (11-for-36) with three homers and 10 RBIs.
Machado said he's not taking his recent uptick at the plate any more seriously than he did when he was struggling.
"I'm just taking it day by day, one at-bat to the next," he said. "Forget about if I started off slow, if I started off hot, it doesn't matter. At the end of the day, we still have 700 at-bats left. You gotta keep grinding every day."
Jamie Ross is an associate reporter for MLB.com. This story was not subject to the approval of Major League Baseball or its clubs.