MLB.com Columnist
Lyle Spencer
Giants' sweep shows character of champions
World Series winners return to form against Dodgers
SAN FRANCISCO -- It's an odd-numbered year, and we all know that generally doesn't bode well for the even-keel Giants of San Francisco, World Series champions in 2010, 2012 and 2014.
But before you rush to judgment and dismiss these guys on the basis of numerology and a sluggish start, consider that they still have the same manager in Bruce Bochy, the same superstar field leader in Buster Posey and a skilled, capable cast of athletes with a history of doing great things when it matters most.
If they manage to alter the perceptions and make an odd-numbered year as memorable as the past three even-numbered ones, the Giants might recall the past three days and a sweep of the Dodgers as the springboard.
"We weren't playing the type of baseball we're capable of playing," Bochy said in the afterglow of Thursday's 3-2 matinee victory in 10 gripping innings at AT&T Park. "I think this was a test for us, and they rose to the occasion. [The Dodgers] came in hot, and we had to play our best ball against those guys."
The sudden return to form came on the heels of a numbing stretch of nine losses in 10 games -- including three in a row at home to the Rockies and three of four to the D-backs.
The Giants were reeling, all right, already six games behind the Dodgers as the two-time defending National League West champions arrived Tuesday with a seven-game winning streak.
Now the Giants are 7-10, three games off the lead, and getting that winning feeling back as they head to Colorado and then to Los Angeles for six more division games.
"Winning is contagious," right fielder Justin Maxwell said following a brilliant series with the bat and glove. "And I hope we keep it going."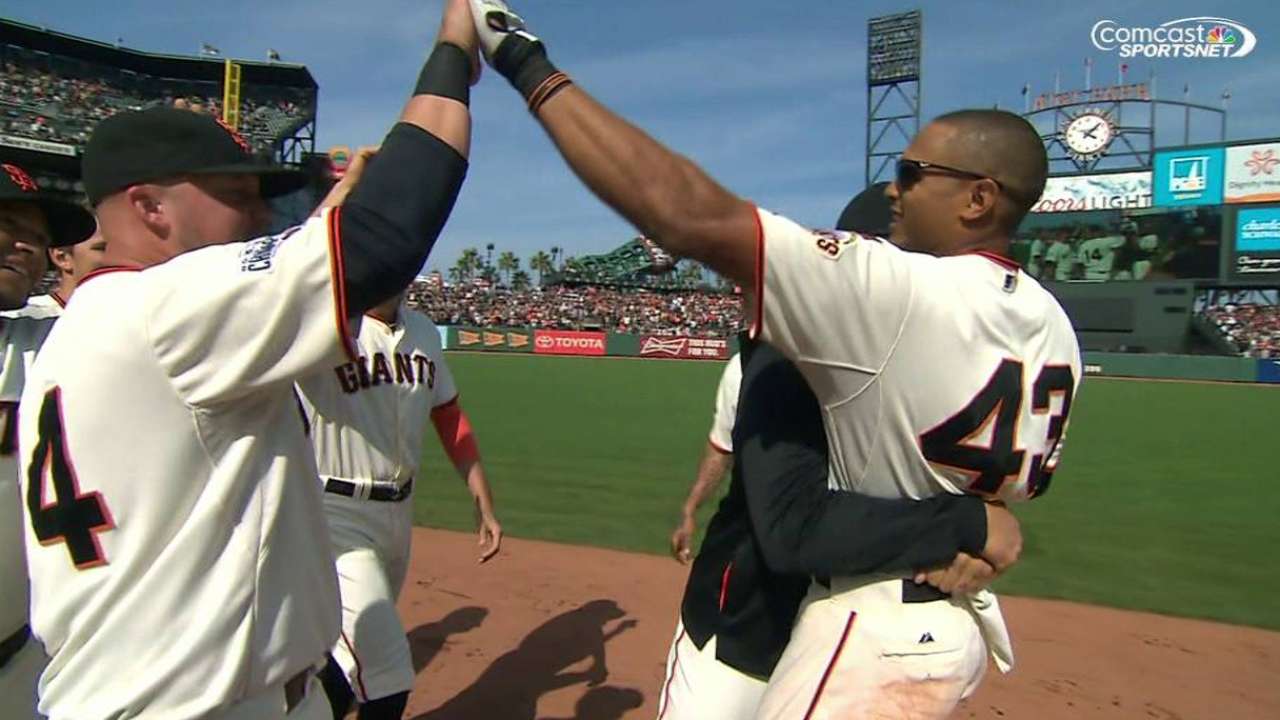 New to the cast and making the most of his opportunity as Hunter Pence waits for a broken forearm to mend, Maxwell delivered the game-winning hit off Juan Nicasio after Howie Kendrick had stolen one two innings earlier. The Dodgers' second baseman was fully extended with his stab of Maxwell's bases-loaded bullet headed for center field and two runs.
"Any chance I get to help the team ... it's all good, everything's good," the well-traveled Maxwell said. "I'm just happy to be playing. Nobody gave up; that's the mindset here. It was the same thing on both those at-bats. I was trying to hit the ball hard and stayed within myself."
Maxwell heads to Denver with a .300/.400/.500 slash line in 30 at-bats, showing the range of skills he'd displayed for the Nationals, Astros and Royals in six seasons. No stranger to walk-off heroics, he twice has won games with grand slams, in 2013 and 2009.
"Good teams have guys step up when you lose people," starter Ryan Vogelsong said, "and he's definitely stepped up for us."
Vogelsong's six solid innings in a duel with fellow emergency starter Mike Bolsinger were marred only by solo homers off the scalding bats of Alex Guerrero (.474) and Adrian Gonzalez (.414).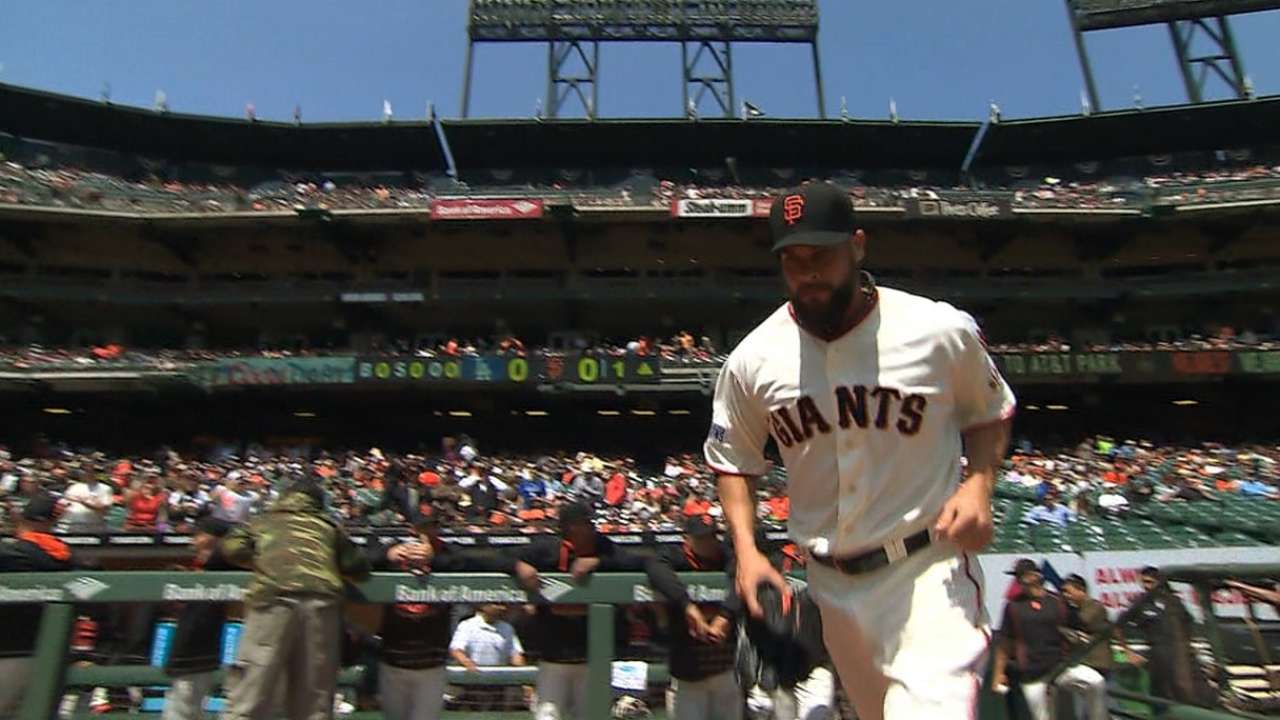 A proven October performer with a 3-0 record and 2.92 ERA in eight postseason appearances, Vogelsong is happy to do some stepping up of his own with Matt Cain and Jake Peavy grounded.
"You look for little things to drive you, because it's such a long season," Vogelsong said of the momentum suddenly gathered. "We're going to have that going in there [to Coors Field]. They're a good team."
The NL West looks stronger than most insiders had imagined. Only the Giants are sub-.500, with the Padres, Rockies and D-backs joining the Dodgers on the north side of the ledger.
After holding his own against Clayton Kershaw in Wednesday night's marquee matchup seized by the Giants, Madison Bumgarner didn't take kindly to the suggestion the champs stole one.
"I don't think you'll ever come in this clubhouse and find anybody surprised we won," MadBum said.
His deadly-serious eyes were more emphatic than the ace's words. Very clearly, they said, champions are to be respected, even when they're down.
The Giants overcame disappointments offensively late in Thursday's game when golden opportunities were erased by Kendrick's glove in the eighth and Pedro Baez's heater after Brandon Crawford's tying triple with none out in the ninth.
"When Crawford hits the triple and we couldn't get him in ... that can be deflating," Bochy said. "And they had maybe the hottest hitter in baseball [Gonzalez] up there in the 10th. But our guys kept fighting, grinding."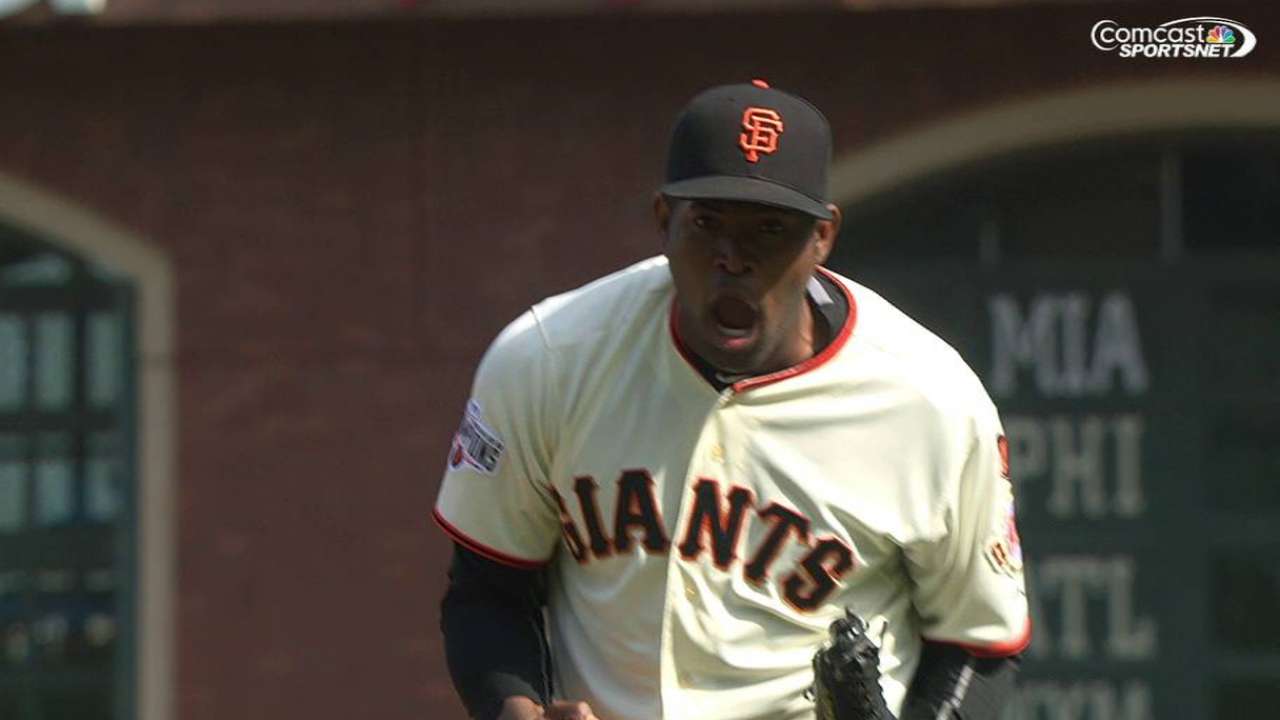 Gonzalez, a .330 career hitter with runners in scoring position, struck out against Santiago Casilla to leave the bases loaded. This set the stage for Angel Pagan's leadoff single, steal of second and Maxwell's bullet down the third-base line.
Suddenly, the Giants were looking and acting like champs again.
Lyle Spencer is a national reporter and columnist for MLB.com. Follow him on Twitter @LyleMSpencer. This story was not subject to the approval of Major League Baseball or its clubs.