Bolsinger makes case to remain in Dodgers' rotation
Right-hander allows one run in 5 2/3 innings against Giants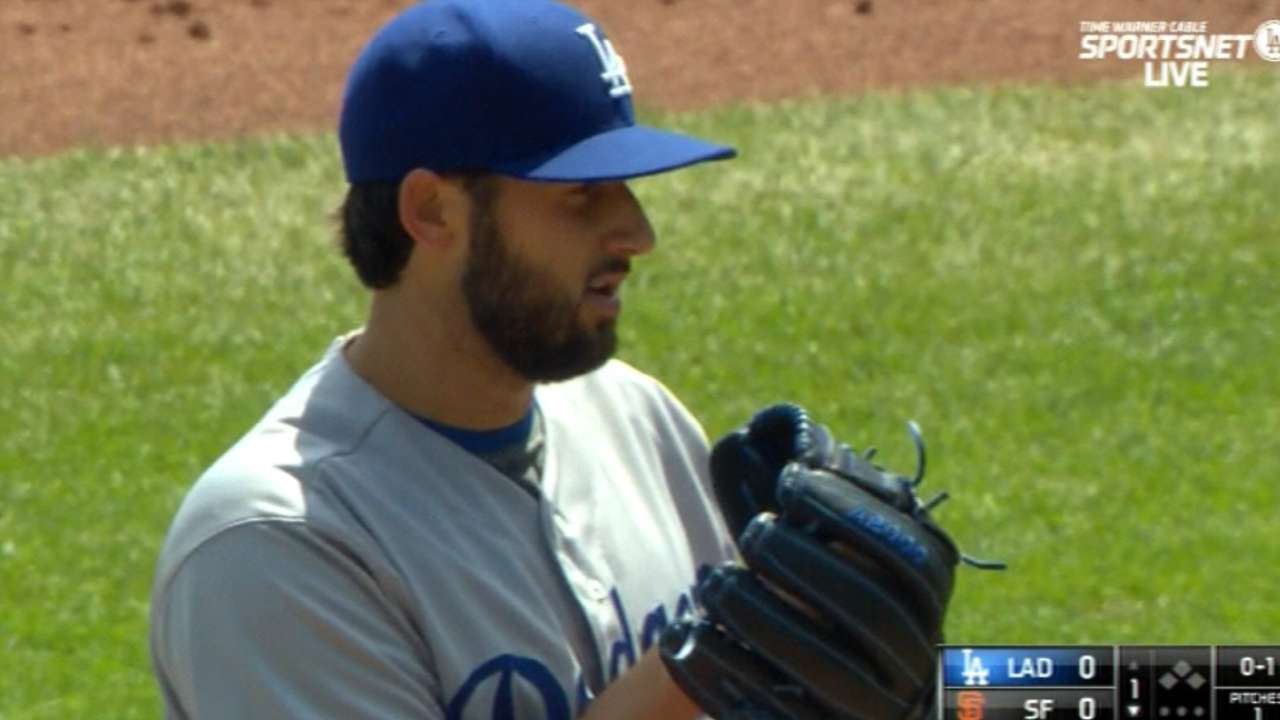 SAN FRANCISCO -- Dodgers starter Mike Bolsinger suited up and packed his bag like the rest of his teammates on getaway day after Thursday's 3-2 loss to the Giants. Except he didn't know where he was headed next.
San Diego with the big league club? Back to Triple-A Oklahoma City?
While the Giants may have finished off a sweep of the rival Dodgers on Thursday, they didn't get much going against Bolsinger, who was effective in his Dodgers debut. The right-hander went 5 2/3 innings, allowing an earned run on five hits and two walks while striking out five.
"It's tough to say. In a way, yeah, I think I have [proved myself]," Bolsinger said. "Whatever happens, happens. I just want to put myself in the best possible situation so that if something comes up, they think of me."
The Dodgers have been relying on four regular starters to begin the year due to a schedule that featured three off-days in two weeks. But now that the team will be getting into the heart of the season, the competition for fifth starter is up for grabs while Hyun-Jin Ryu rehabs his injured shoulder.
Bolsinger left the game in the sixth inning, but not before freezing Buster Posey with an 86 mph fastball to get a called strikeout. But most of the day, Bolsinger relied on his slider-fastball combo to get ahead of hitters before dropping the hammer on them with the curveball to get the punchout.
Dodgers manager Don Mattingly pulled Bolsinger after he gave up a two-out RBI single to Brandon Belt. Mattingly said he thought Bolsinger wasn't as sharp in his final two innings, taking him off the mound after 81 pitches. But the 27-year-old said he felt fine physically after the game.
"It's hard to run out of gas out there when you hear that crowd like that," Bolsinger said. "It kind of pumps you up. Everything felt good. That's just a decision they make and I always respect those decisions."
Eventually the bullpen gave up a couple of late runs to send the Dodgers to defeat, but Bolsinger made a strong case to be the team's fifth starter going forward.
Alex Espinoza is a contributor to MLB.com. This story was not subject to the approval of Major League Baseball or its clubs.