MLB.com Columnist
Anthony Castrovince
Homer potential just one dimension of Bryant's game
There's anticipation to see power, but Cubs third baseman has shown even more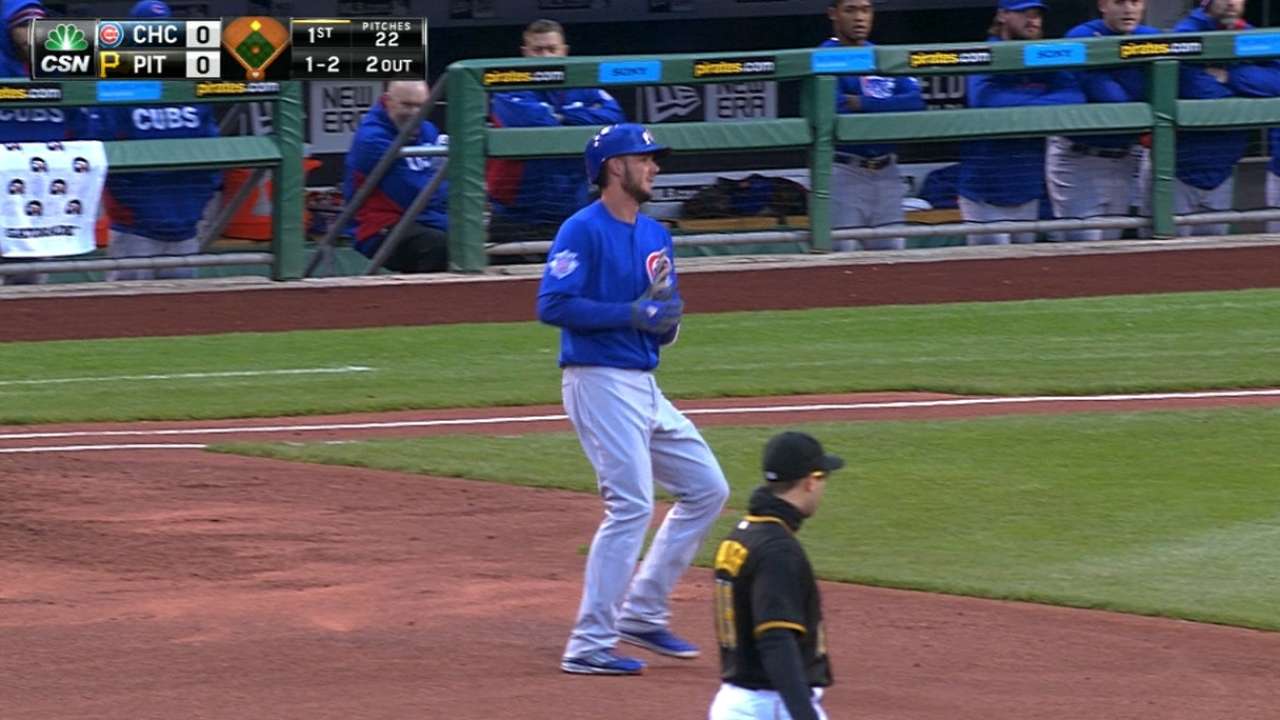 PITTSBURGH -- Kris Bryant has been up in the big leagues for a week now, and he's still looking for his first home run -- unless you count that Francisco Cervelli-aided scamper around the basepaths at PNC Park the other night.
But in the course of compiling a 1.035 OPS, four doubles and seven RBIs in seven games, what Bryant has quickly demonstrated is that he's far more than just the home-run hitter he's known and expected to be.
He's already more than just the third baseman we expected him to be, making his first professional appearances in center field on Wednesday and Thursday.
Bryant hit a bunch of baseballs that cleared walls in the Cactus League this spring, prompting intense national scrutiny of the service-time manipulation that preceded his highly anticipated arrival to the Cubs last Friday. And though our inherent interest in Bryant's homer abilities is understandable -- especially considering that only three players in the National League went deep 30 or more times last year -- the hype overwhelms our appreciation for everything else Bryant does so well.
Here are four non-homer-related things we learned about Bryant in his first week in the bigs:
1. He's versatile
Nobody is expecting Bryant to become the second coming of Ben Zobrist, whose value is significantly heightened by his able handling of multiple positions -- not even Joe Maddon, who has managed both players. But Maddon's trust in Bryant to do something he hadn't done since college (and only five games in college, at that) by putting him in center field this week was telling. Bryant is big (6-foot-5, 215 pounds), but he's also quick, strong-armed and willing to take on whatever is required.
"As a baseball player, you don't want to be pigeonholed into one position," Bryant said. "I like to put myself all around the diamond."
That attitude can and probably will evolve as Bryant becomes a more established figure at this level. Most players value defensive stability, lest the daily "which glove do I need?" game get in the way of what they do at the plate. But for now, Bryant's willingness and potential capacity to handle the hot corner, the outfield corners and apparently center field is a big asset to a Cubs team juggling so many special young position players in its infield.
2. He's aware
Go back and watch that aforementioned Little League-style "home run" from Monday night again. Bryant got caught in a rundown between third and home, and he only scored because the Pirates' catcher, Cervelli -- for the second time on that play -- couldn't handle the throw.
Maddon didn't mind it a bit, though. He loved the awareness Bryant showed on the basepaths, making the aggressive turn around third because he could see the overthrow coming to the plate. It goes back to what scouts have been saying about Bryant: He makes the most of his average speed with his plus instincts and reactions and his tight turns on the bases.
"Going first to third, taking the extra base at second ... that's the kind of stuff I look at," Maddon said. "In Spring Training, he did some real nice things on the bases."
3. He adapts
A scout noted that pitchers facing Bryant are "not going to get him out the same way repeatedly." Bryant demonstrated this by following up his 0-for-4, three-strikeout debut against the Padres (in which he excitedly chased pretty much every breaking ball in the dirt) with a 3-for-6 showing the rest of the weekend.
"The real good hitters, if you get them out the same way a couple times, they can adjust off of that," Cubs hitting coach John Malle said. "If a guy's not that great of a hitter, he can only hit mistakes. But [Bryant] is the kind of hitter who can make adjustments from series to series or almost at-bat to at-bat."
Ultimately, this comes down to the maturity to understand yourself as a hitter and the weaknesses the pitcher is attempting to pounce upon. That's something scouts who have seen a lot of Bryant insist he has in spades.
4. He's a freak
Bryant did a lot of impressive things for a 24-year-old in his first week of action. But getting hold of a near-perfect pitch from Francisco Liriano -- a 0-1 pitch that was inside, off the plate and at the knee to a hitter with swing-and-miss tendencies -- and banging it off the fence to the opposite field was the most impressive.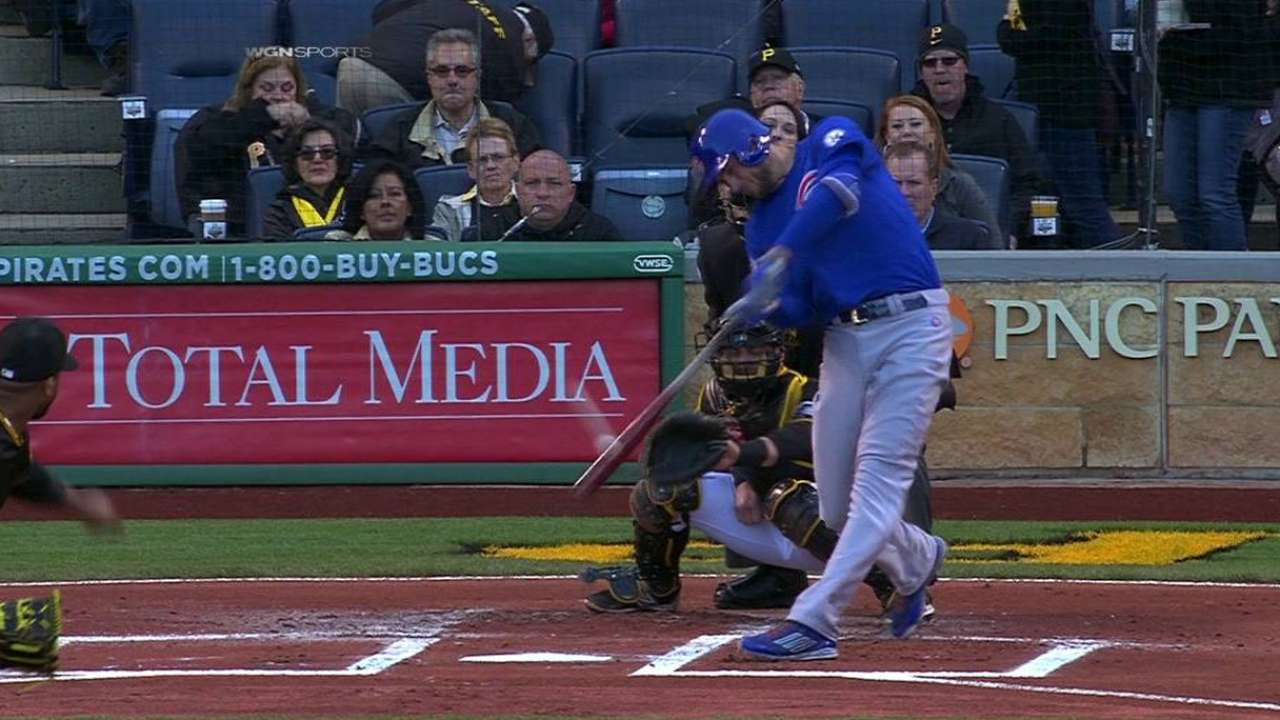 It's fun watching players crush 450-foot home runs off mistake pitches right down the middle, but it's even more fun watching Bryant do something to a baseball that very few human beings -- even human beings who have elevated to the highest professional level of the sport -- can do.
We think of Bryant as a power hitter, naturally. But power to all fields is what makes him truly special. He doesn't have the crazy velocity off the bat like Giancarlo Stanton, but Bryant is going to drive balls off his bat that surprise you not only in terms of their final locations but also their original ones.
None of this is meant to imply Bryant is a perfect baseball player or that he'll establish himself as an MVP candidate as quickly as Mike Trout did. He might not even be the most prominent Rookie of the Year candidate on his own team. At this early juncture, Jorge Soler still holds that distinction.
Bryant will make mistakes. On Thursday, he got a bad jump on a hooking Josh Harrison liner to center, which landed for the double that set up the game's go-ahead run. On Wednesday, with the bases loaded and two out in the fifth, he missed a take sign and swung through a 3-0 pitch from a wild Vance Worley (and Bryant would go on to fly out to end the inning). With Bryant -- at this stage of his career, especially -- you're going to get a lot of swings and misses, as evidenced by his 28.5-percent strikeout rate in Triple-A.
The point is not to paint Bryant as a savior, as so many others have. The point is that home runs aren't the entirety of what makes him special. As he's shown in this first week, home runs are not the only reason to watch him.
That said, we can't wait for him to hit one.
Anthony Castrovince is a reporter for MLB.com. Read his columns and follow him on Twitter at @Castrovince. This story was not subject to the approval of Major League Baseball or its clubs.