MLB.com Columnist
Bernie Pleskoff
Realmuto could be Miami's long-term solution at catcher
Marlins' No. 2 prospect has improved defensively since position switch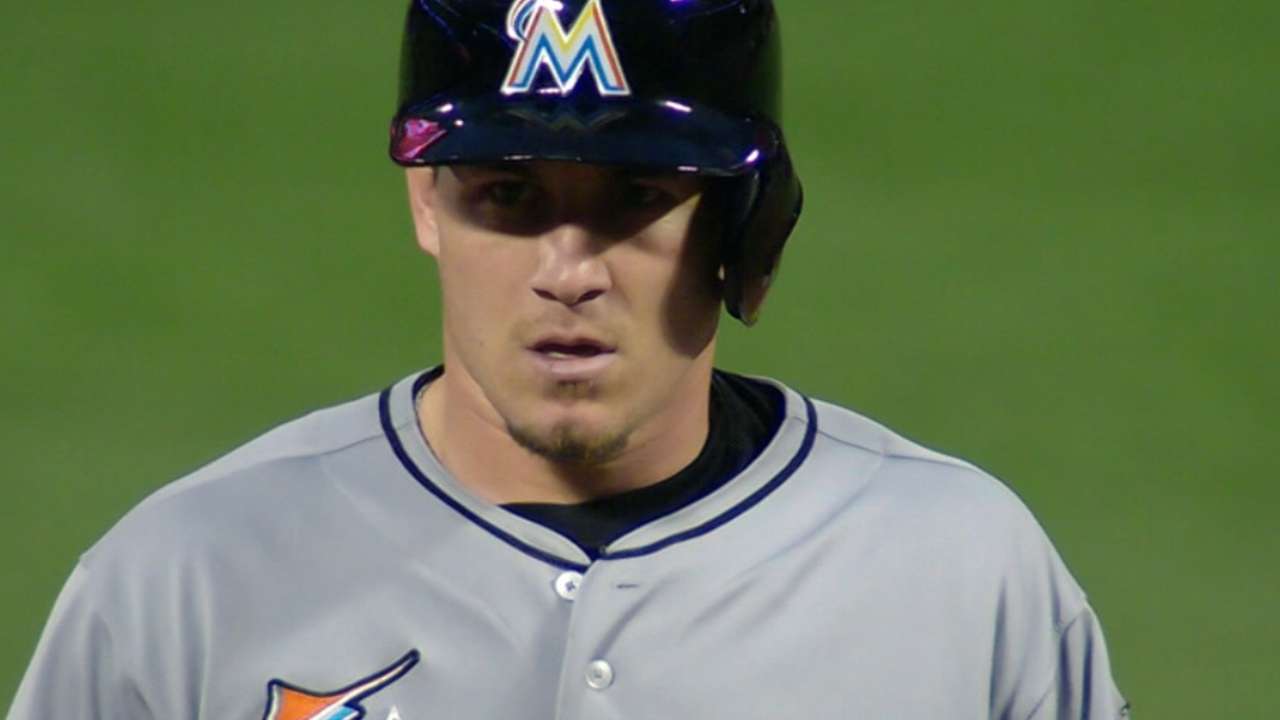 J.T. Realmuto may well be the new full-time catcher for the Marlins. While he made his debut with the club at the age of 23 on June 5, 2014, it was Realmuto's recent promotion to the big leagues on April 13 that could change the overall look of Miami's catching corps.
The solidly built, 6-foot-1, 205-pound catcher is No. 2 on the Marlins' Top 30 Prospects list.
Realmuto had a tremendous high school career as a multi-sport athlete at Carl Albert High School in Midwest City, Okla. He was an award-winning shortstop, and he hit .595 and scored 119 runs during his senior year. In addition, Realmuto had 28 home runs and 26 doubles, among his 88 hits. He also played quarterback on the football team and basketball for the Titans.
Realmuto's athletic prowess earned him a spot at Oklahoma State University, but he chose to sign a professional baseball contract. Miami selected him in the third round of the 2010 First-Year Player Draft and converted him to catcher, which has proven to be a very wise decision.
Overall, Realmuto has a solid, dependable bat and is improving defensively. An extra bonus is his ability to run well, especially for his size.
I first scouted Realmuto in the 2012 Arizona Fall League. He appeared in 14 games and hit .222. Realmuto was still adjusting to his new role as a catcher, and he concentrated heavily on that aspect of his game.
As a hitter, Realmuto makes excellent contact and has good plate discipline, striking out rarely and consistently hitting for a good batting average. In parts of six Minor League seasons, he has a .268 average and is coming off a 2014 season at Double-A Jacksonville in which he hit .299 in 375 at-bats. It was Realmuto's second full year with the club, and his batting average improved 60 points from the prior season.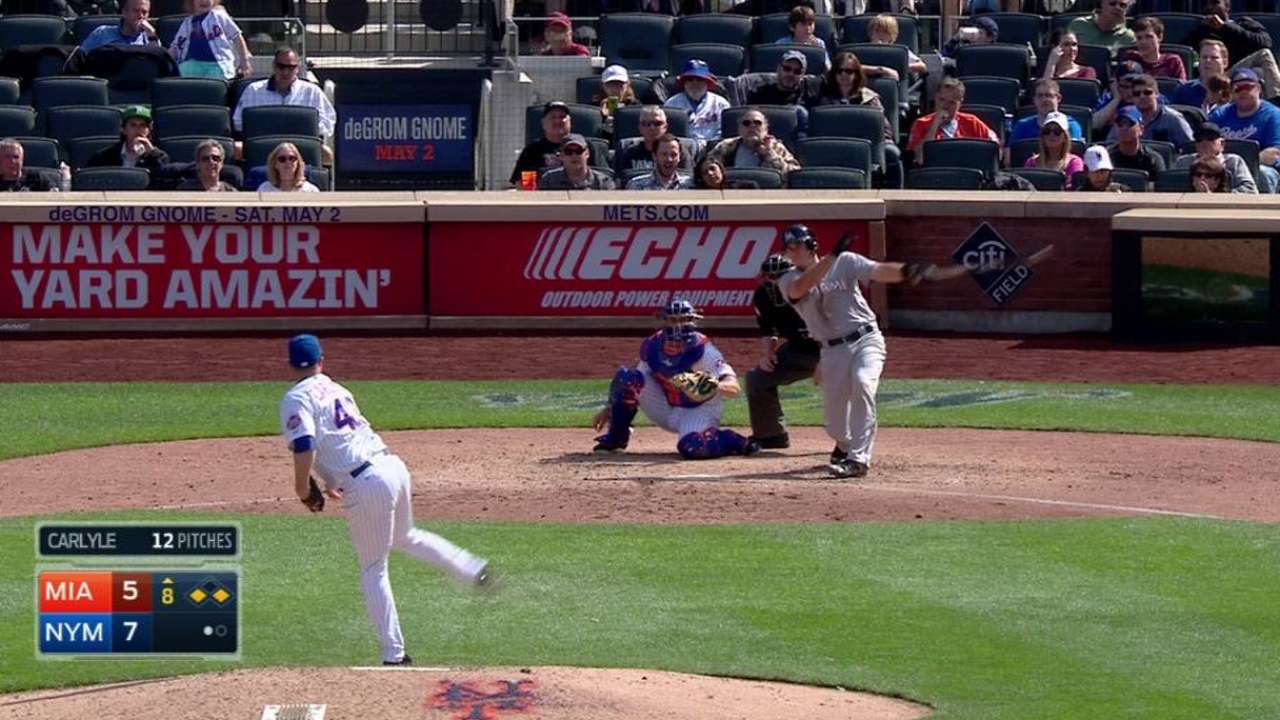 Realmuto hasn't yet shown the type of power he had in high school. However, as he matures and learns how to handle big league pitching, his raw power could emerge. Realmuto is a good enough athlete to find a way to get on base and score runs.
His running ability is often overlooked, but he can run better than most catchers. While stolen bases may not be one of his primary assets, Realmuto still could steal a few bases here and there. That said, the opposition will take note of his running ability. Realmuto will be smart and quick on the basepaths.
He has a short, compact swing that is designed to use the entire field. Realmuto can take pitches and doesn't try to power the ball out of the park.
He
made steady progress learning how to catch in the Marlins' Minor League system, although his defensive development took a toll on his offense at times. Realmuto has done an excellent job learning how to catch, and he has made the best of his athletic ability behind the plate. With quick feet, he blocks balls well and shifts accordingly to make accurate, quick throws to second base. Realmuto's receiving skills and handling of top-quality pitching arms in Miami's organization has been very good.
In his Minor League career, Realmuto has thrown out an average of 37 percent of the runners trying to steal. Last year at Jacksonville, he threw out 39 percent, and there is every reason to believe his quick release and accuracy will continue to improve.
Realmuto may have a chance to become the everyday catcher for the Marlins. Of course, that will depend on how well he handles the pitching staff, and if he can hit big league pitching consistently. Realmuto has an excellent future as a catcher.
Bernie Pleskoff has served as a professional scout for the Houston Astros and Seattle Mariners. Follow @BerniePleskoff on Twitter. This story was not subject to the approval of Major League Baseball or its clubs.