MLB.com Columnist
Hal Bodley
Big Papi, big influence: Sox new and old look up to Ortiz
Veteran's leadership clear as Panda, Hanley settle in with Boston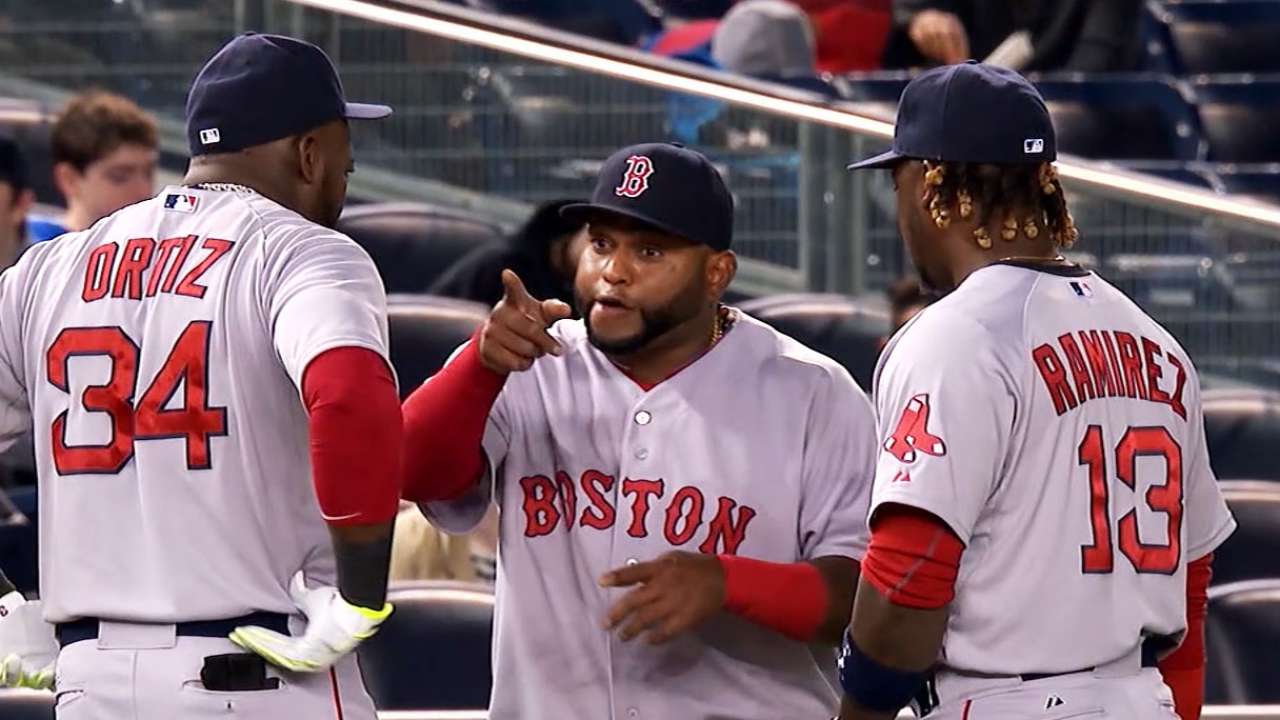 ST. PETERSBURG -- Mike Schmidt was already one of the best players in the National League when Pete Rose joined the Phillies in 1979, but Rose kept lecturing Schmidt that he could be even better.
The All-Star third baseman responded by winning three National League MVP Awards, blasting 548 homers and being elected to the Hall of Fame in his first year of eligibility. Schmidt is arguably the best third baseman in baseball history.
Pablo Sandoval and Hanley Ramirez came to the Red Sox with enormous talent and impressive credentials this offseason, but patriarch David Ortiz keeps telling them they can do better -- a la Rose. It's fitting the trio is on the cover of this year's Red Sox media guide, Big Papi in the middle, arms on the shoulders of Sandoval and Ramirez.
Three hours before a Red Sox-Rays game the other night at Tropicana Field, Panda and Big Papi were jawing with each other in Spanish, loud and animated. Later, Ramirez arrived and joined in.
"They look to him with a lot of comfort and confidence, because he's with them each and every day," said manager John Farrell, who has the Red Sox clinging to a slim lead in the American League East. "David is such a leader for them on what to expect here, the environment that he has thrived in and how to deal with all that is Boston and embrace it."
Pitcher Clay Buchholz puts it this way: "When David speaks, you listen and everybody follows his lead. It's never really about him."
Ortiz, 39, is the longest-tenured Boston player. He says it's important, and to a degree, his responsibility to make certain newcomers fit in.
"Whenever you come to a new ballclub, you want to get familiar with things," Ortiz said, moving to a quiet corner in the noisy clubhouse. "I guess me being here has made it easier for them. We have a lot of fun, but the most important thing is we all have one goal and that is to win ballgames and play our best on the field.
"That is something I always talk to them about. Panda is a winner -- he's been part of three World Series -- and Hanley has a batting title. It's easy to deal with that type of player. They know what the situation is."
Hours later, Big Papi would launch a towering homer against the Rays, the 469th of his career, which moved him ahead of Chipper Jones for 32nd place on the all-time list.
That sets the tone for what this team, which finished last in 2014, is trying to accomplish with the celebrated new pieces.
"It's different when you talk to a player who's done it instead of a coach or someone from the outside," Ortiz said. "It impacts you differently."
Sandoval said of Ortiz: "He's one of the greatest teammates you can ever have. He's been around a long time and done everything, but he has tremendous energy. The way he is in the clubhouse brings everything together. We feel like a family and we're having fun. I've been learning so much from him."
Ortiz has known Ramirez for years. Hanley was signed by the Red Sox in 2000 and played his first Major League game with them in 2005 -- he had two at-bats -- before being dealt to the Marlins, where he remained until traded to the Dodgers in July 2011.
Red Sox general manager Ben Cherington, attempting to add punch to the offense, spent $183 million during the offseason to sign Ramirez and Sandoval, both free agents.
When Sandoval was in the Minor Leagues and Ortiz was rehabbing an injury, Big Papi took Panda aside and helped him with advice he's never forgotten.
"He watched me the whole game," said Sandoval. "He saw the way I hit and told me to keep everything simple, do this and do that, and work hard to get to the big leagues. 'Don't lose your mind,' he said. 'Be humble.'"
And at the 2014 World Series in San Francisco, the two talked.
"He didn't say a thing about me signing here," said Panda. "The only thing he told me was, 'I love the way you play in the postseason.' So, I just wanted to come here, to be Papi's teammate -- 162 games, all that with him, is very exciting."
Because both Ortiz and Ramirez are from the Dominican Republic, their relationship has evolved over the years.
"He tells you how good you can be," said Ramirez. "There are a lot of guys in the Dominican now in the big leagues he helps. I was with him in the Dominican this winter, and he was working every day. He doesn't stop working.
"He's like a brother to me; he's somebody I can trust. The Red Sox are like coming home for me. Guys look up to him because of the heart he's got -- and the way he plays the game."
Of course, it goes without saying that when Ortiz was suspended one game for making contact with umpire John Tumpane during an argument against Baltimore on Sunday, it's not the type of leadership envisioned. Papi is appealing the suspension.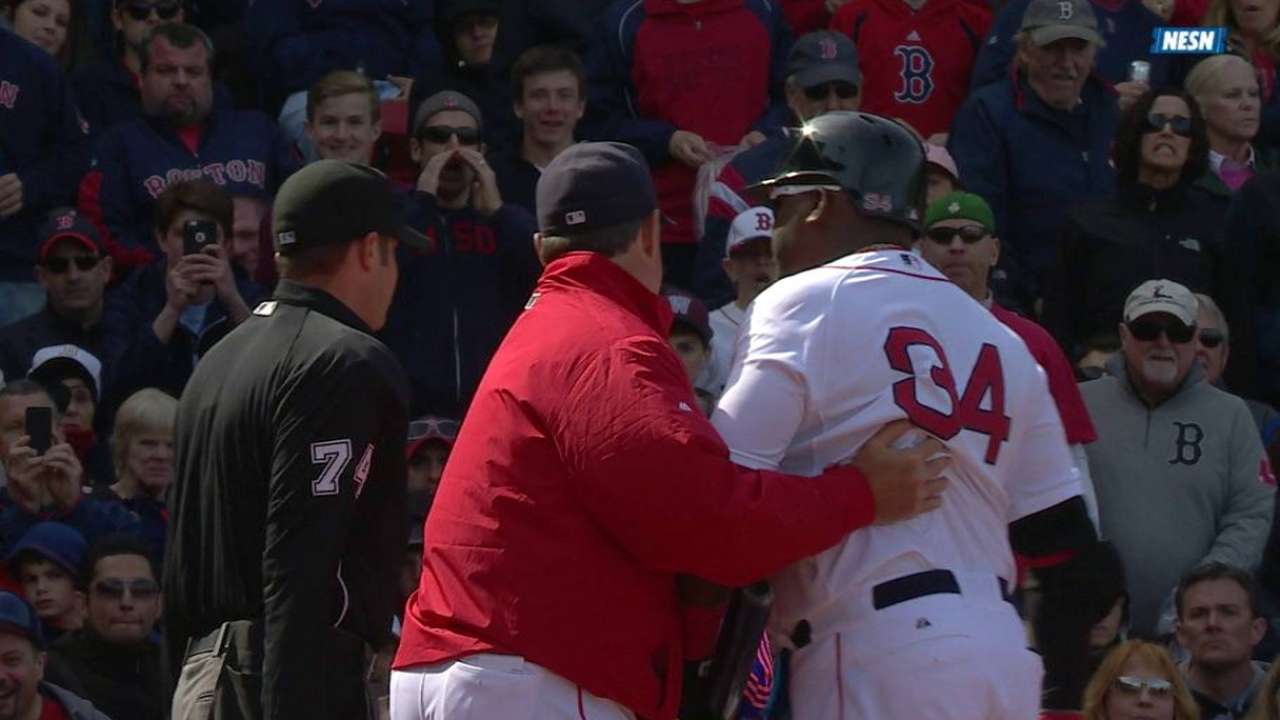 "You're involved in a baseball game you're trying to win," Ortiz said. "When you feel like something is wrong, you're going to say something about it, then move on."
And getting along with umpires is an integral part of the equation.
That issue aside, Farrell believes in his veteran leader.
"David has the willingness to take these guys under his wing and speak to them directly," Farrell said. "When you have a player who's been in the big leagues 19 years, he's seen a lot. He's able to take the good with the bad and keep things even-keel.
"For those two guys coming back into Boston, he's a tremendous resource."
Bottom line: When Big Papi speaks, his teammates listen.
Hal Bodley is the senior correspondent for MLB.com. Follow him @halbodley on Twitter. This story was not subject to the approval of Major League Baseball or its clubs.