MLB.com Columnist
Jonathan Mayo
Pipeline Inbox: Could Buxton be a bust?
Jonathan Mayo responds to fans' questions about baseball's future stars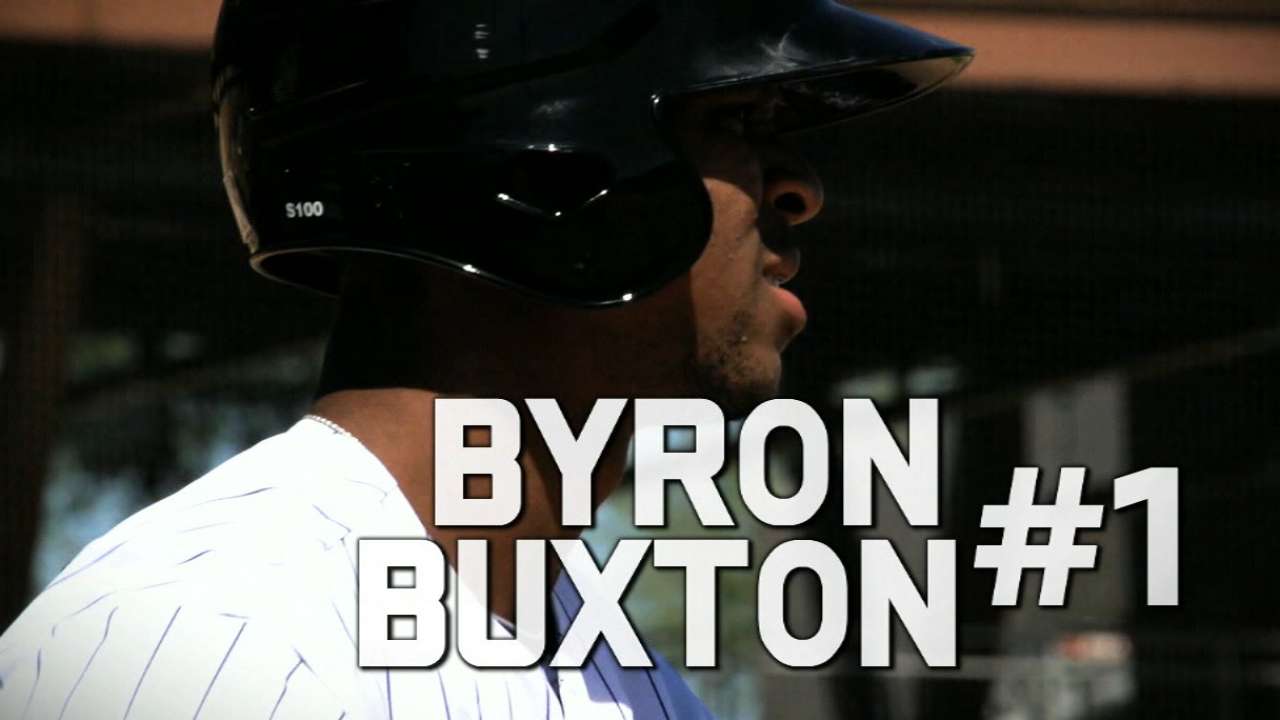 Do you think Byron Buxton is a bust? He couldn't make contact with Double-A pitchers.
-- Jason M., Minneapolis
We're two weeks into the Minor League season, and you're already calling Buxton a bust? Does sample size mean anything?
Yes, our No. 1 prospect is off to a slow start, hitting .180 (9-for-50) over his first 50 at-bats with Double-A Chattanooga. While Buxton does have three extra-base hits, he has struck out 14 times, perhaps the reason for the comment about him not being able to make contact.
But I think we need some perspective here. Even if we're using a conservative estimate, it's safe to project that Buxton will have 400 at-bats this year. That means he's only amassed one-eighth of his at-bats for the year. Reading too much into a 50 at-bat stretch at any point in the season is really not worth the energy it takes.
If Buxton is still scuffling in late May, we can talk. But he's healthy, his swing is fine and he's working hard. It's possible the slow start can be attributed more to the fact that Buxton played only 31 real games in 2014. The tools will start to show as he gets more reps and the season wears on.
With all of the offensive struggles, when will we see the likes of Rob Refsnyder, Tyler Austin or Aaron Judge in the Bronx? When will the Yankees learn that some homegrown talent is what started the run in the 1990s and gets the fan base excited?
-- Colin C., Trenton, N.J.
You are right in that the Yankees need to return to what led to that run in the '90s -- developing homegrown talent. I do believe they have rededicated themselves to that effort, and their farm system is much stronger than it was a few years back. That said, it's not something that happens overnight, and patience is an important part of the process.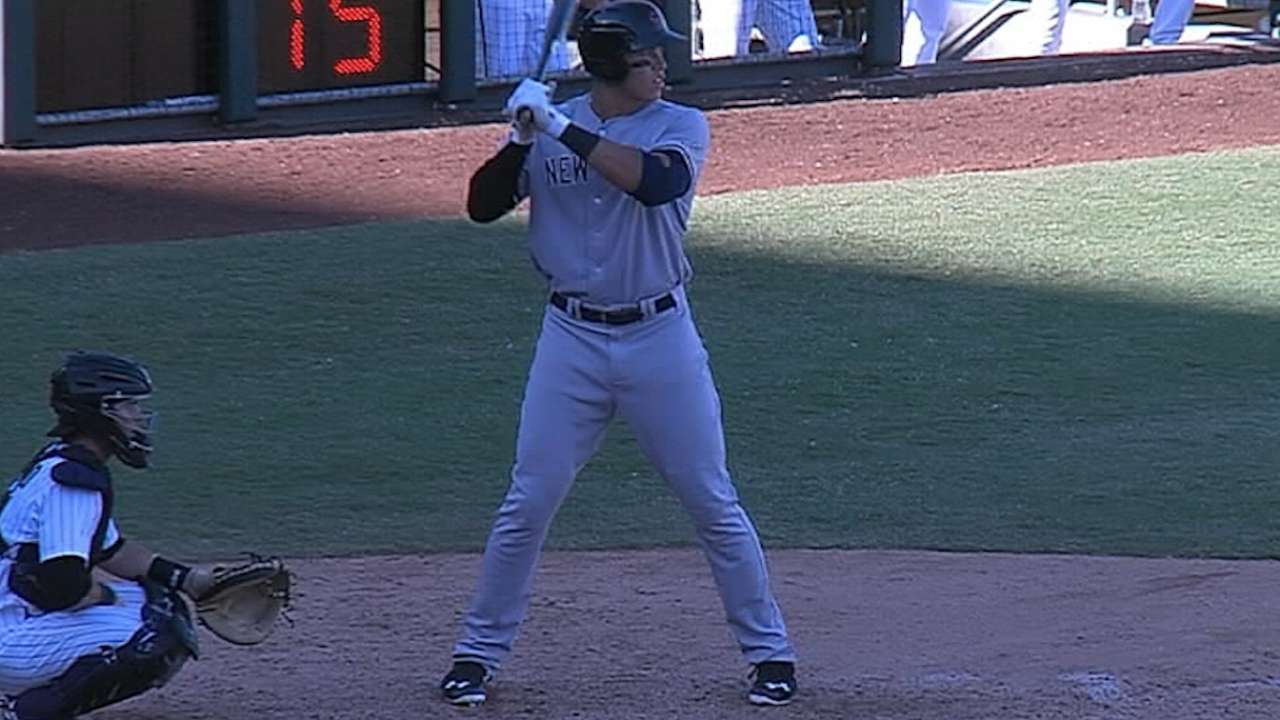 I say that because as much as it would be great to infuse the big league roster with young talent from the farm, those prospects actually have to be ready. The players you're asking about might contribute in New York within the next year or so, but Refsnyder is the only one in Triple-A. While he's going to be a big leaguer, it's not like he broke out of the gate on fire. That said, Refsnyder is one prospect you refer to who I see making an impact in 2015, especially with Stephen Drew not producing to date. Keep in mind that Judge didn't play above the Class A Advanced level until this season, and Austin has had a hard time staying healthy and productive. In other words, I think some delayed gratification will have to be in order. They'll get there, but bringing them up now isn't the right move developmentally.
Matt Olson and Joey Gallo have the best power in the Minors. Who will be a better overall hitter?
-- Cecil R., Charlotte, N.C.
The Twins' Miguel Sano would like to have a word with you. But since you asked about the comparison between the A's and Rangers' top prospects, we'll stick to those two. Gallo gets the nod in terms of raw power, as he's one of a few in the Minor Leagues with an 80 power grade. He obviously uses it in games regularly, as the only player in pro ball at any level to hit 40 or more homers in each of the past two seasons.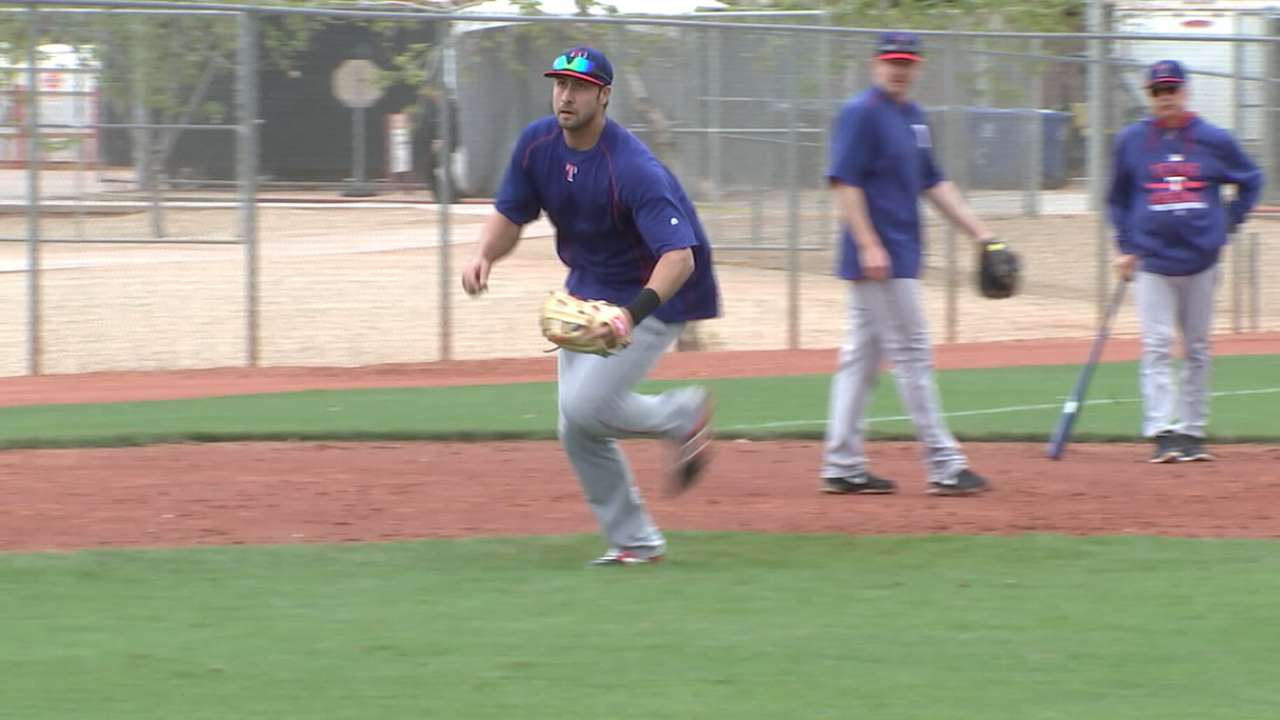 Olson, of course, is no slouch, with 37 homers a year ago and 60 in the past two seasons. He's off to a bit of a slow start, albeit with three homers, in Double-A, and Gallo has yet to play coming off of minor heel surgery. While both do swing and miss a good amount, we have Olson graded out as a better hitter. He gets a 50, largely because of his tremendous plate discipline (117 walks in 2014). Gallo gets a 45, though he has been better at making adjustments than many expected, and his walk rate spiked last year. In the end, it's a bit of a toss-up, but I'll say that Olson will end up hitting for a slightly better average, with Gallo showing more home run power, once they both arrive in the Majors.
After the three recent Major League Baseball debuts, who do you see as next three prospects to get called up?
-- Bill H., Ocean Springs, Miss.
It certainly has been a banner time to be a prospect fan, hasn't it? Archie Bradley is pitching well. Kris Bryant is up. What else could you ask for? The three most recent debuts Bill is referring to are Addison Russell of the Cubs, Kevin Plawecki of the Mets and Carlos Rodon of the White Sox, all of whom made their big league debuts on Tuesday. So, who's next?
Some of it obviously depends on need/opportunity, and if injuries crop up, which are things we can't really project (that's how Plawecki got the call, after all). But here are five guys who could very well be the next in line:
1. Francisco Lindor, Indians: The shortstop wowed everyone during Spring Training, and it's only a matter of time before he gets called up. Jose Ramirez hitting .174 is only whetting Tribe fans' appetites for Lindor.
2. Noah Syndergaard, Mets: The right-hander is building up slowly in Triple-A after some forearm tightness, so this might take longer. But if there's a need in New York's rotation, he'll be ready.
3. Jon Gray, Rockies: Gray competed for a spot in Colorado's rotation all spring. After some seasoning in Triple-A, the hard-throwing right-hander could be ready.
4. Blake Swihart, Red Sox: Is the combination of Ryan Hanigan and Sandy Leon not exciting you? Swihart is off to a solid start in Triple-A.
5. Andrew Heaney, Angels: Many felt Heaney would break camp in the rotation after coming over via trade during the offseason. The lefty will be in Anaheim at some point when the need arises.
Jonathan Mayo is a reporter for MLBPipeline.com and writes a blog, B3. Follow @JonathanMayoB3 on Twitter. This story was not subject to the approval of Major League Baseball or its clubs.