Panik keeps cool, delivers winner vs. Dodgers
Despite delays in ninth, five-man infield, Giants infielder tallies walk-off
SAN FRANCISCO -- Joe Panik employed a football analogy to describe the extended delay preceding his game-winning plate appearance Wednesday night.
"Honestly, my first reaction was, 'Now I know what an NFL kicker feels like getting iced at the end of a game,'" said Panik, who split the uprights by launching a ninth-inning sacrifice fly to give the Giants a 3-2 triumph. "I felt like I was standing at home plate for a while."
Panik indeed remained patient as Dodgers manager Don Mattingly covered more ground at AT&T Park than a cotton-candy vendor. First, Mattingly insisted that San Francisco's Gregor Blanco should have been called out for making physical contact with third-base coach Roberto Kelly after rounding the bag on Brandon Belt's single.
Mattingly returned to the visitors' dugout, but quickly emerged to implement his stratagem of using a five-man infield against Panik with the bases loaded and one out.
Right fielder Yasiel Puig moved in to play third base, Juan Uribe positioned himself near the shortstop hole, Jimmy Rollins was stationed near the second-base bag, Howie Kendrick remained in a traditional second baseman's area and Adrian Gonzalez manned first. None of it mattered as Panik hoisted J.P. Howell's first pitch to medium-deep right-center field. Forced to retreat to catch the ball, Joc Pederson had no chance to throw out Blanco, who scored to break a 2-2 tie.
"I was pretty much jogging to home plate," Blanco said.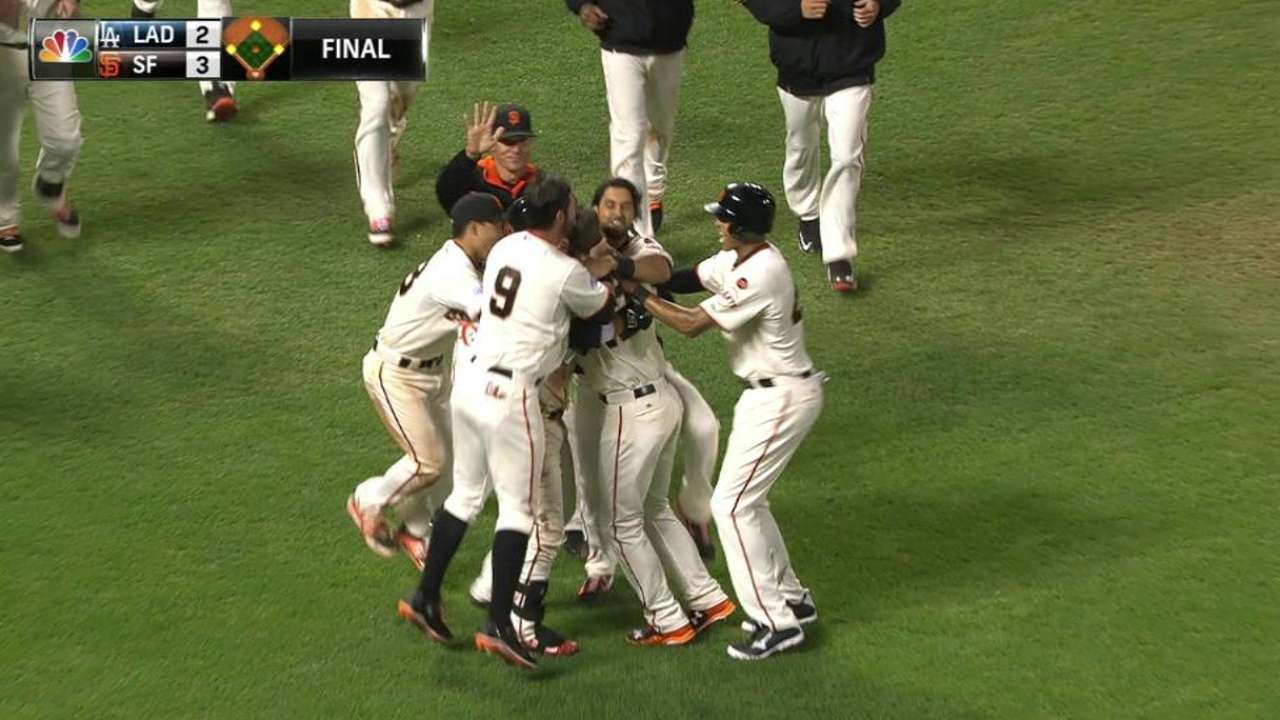 Had Panik hit the ball almost anywhere on the ground, the Dodgers would have had an excellent chance to record a force at home or even an inning-ending double play. But Panik delivered on his intent to drive Howell's pitch skyward.
Panik described his approach: "Just look for something elevated in the [strike] zone. Once they bring in five infielders, you want to hit the ball hard, but you want to make sure it's something you can get up in the air."
Instead of sensing rising anxiety, which is the feeling a football coach tries to inflict upon an iced placekicker, Panik felt increasingly calm.
"I was just kind of tuning everything out, just making sure I was loose and relaxed," he said. "It felt like awhile. When it came down to it, I made sure I had my game plan right and there was no second-guessing."
Giants manager Bruce Bochy maintained utmost confidence in Panik, a left-handed batter who didn't start against Los Angeles lefty Clayton Kershaw. Panik entered the game as a pinch-hitter in the seventh inning before being inserted at second base.
"Joe showed that he has great concentration and poise last year during postseason," Bochy said. "The thing I liked about [Wednesday's sacrifice fly] was he didn't wait around."
Panik's success reflected the Giants' improved situational hitting against the Dodgers, who have lost the series' first two games after arriving here with a seven-game winning streak. The Giants are hitting .375 (6-for-16) with runners in scoring position against Los Angeles, compared with .187 (20-for-107) in those situations entering the series.
"We executed, and that was the difference in the game tonight," Bochy said. "I said we had to play better ball, and the guys responded."
Chris Haft is a reporter for MLB.com. Read his blog, Haft-Baked Ideas, and follow him on Twitter at @sfgiantsbeat. This story was not subject to the approval of Major League Baseball or its clubs.