Arenado's dazzling 'D' once again on display
Rockies' Gold Glove third baseman saves multiple runs with sparkling performance
DENVER -- Rockies third baseman Nolan Arenado had his left wrist wrapped in a mini ice boulder. But when that hand had a glove on it, it was hot throughout Wednesday night's 5-4 victory over the Padres.
After missing the past two games with left wrist soreness, Arenado made four dazzling fielding plays. One of them, a dive for a Wil Myers grounder that ended the seventh and likely saved two runs, had much to do with the final result -- the end of the Rockies' losing streak at five games.
"Not playing the last couple of days, I don't think that's the reason we lost, but it's just nice to get back on the field and help my team win," said Arenado, who also doubled in a first-inning run and singled to start the ninth-inning rally that ended with Daniel Descalso's pinch-hit RBI single with the bases loaded and one out.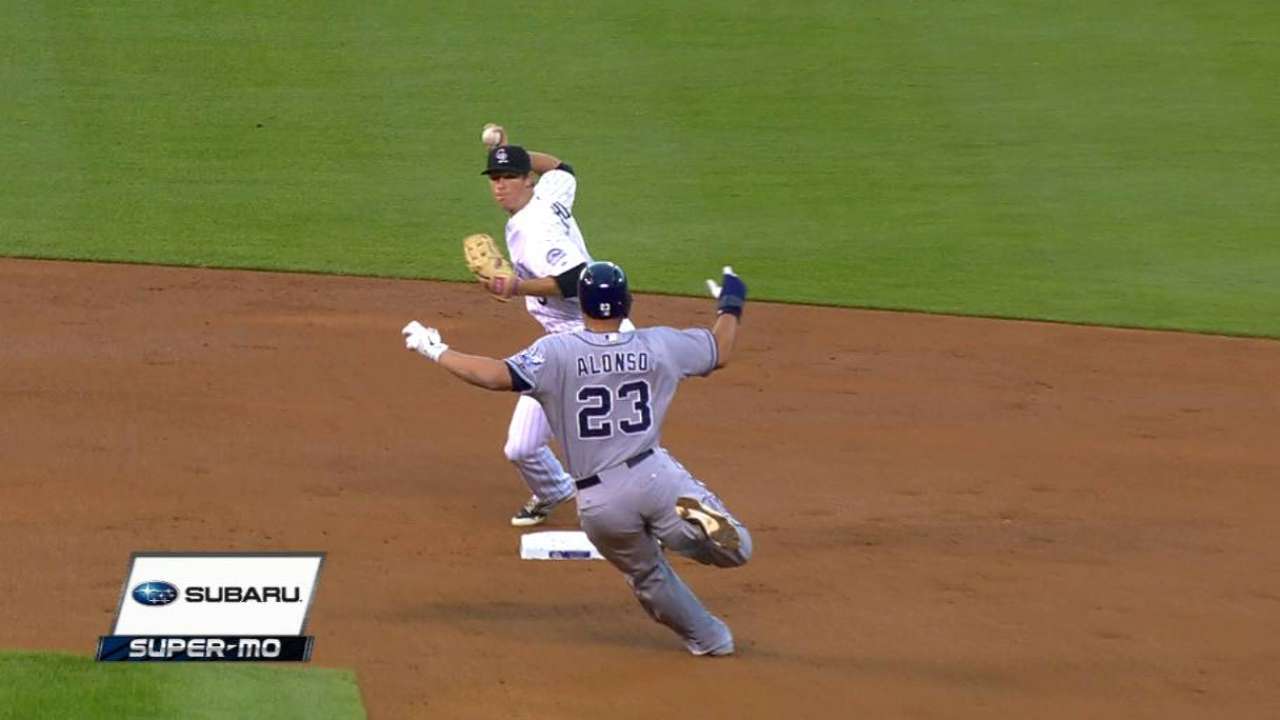 Arenado dominated the second with plays on Derek Norris to start a double play and Will Middlebrooks to end it, then made a backhand snatch beyond the rear edge of the infield and threw out Justin Upton to end the fourth.
The Padres scored twice in the seventh for a 4-3 lead and had runners at second and third with two outs when Myers tried to surprise pitcher Kyle Kendrick by swinging at a 3-0 pitch. But Arenado wasn't surprised. He moved to his left, dove and prevented further runs.
"I had a feeling he was going to swing," Arenado said. "I thought I saw one of the coaches on the other side give sort of [a sign] … so I made sure I was ready. Sometimes 3-and-0 you can get like, 'Ah, he's going to take.'
"I dove, made a play and thank God we got him out."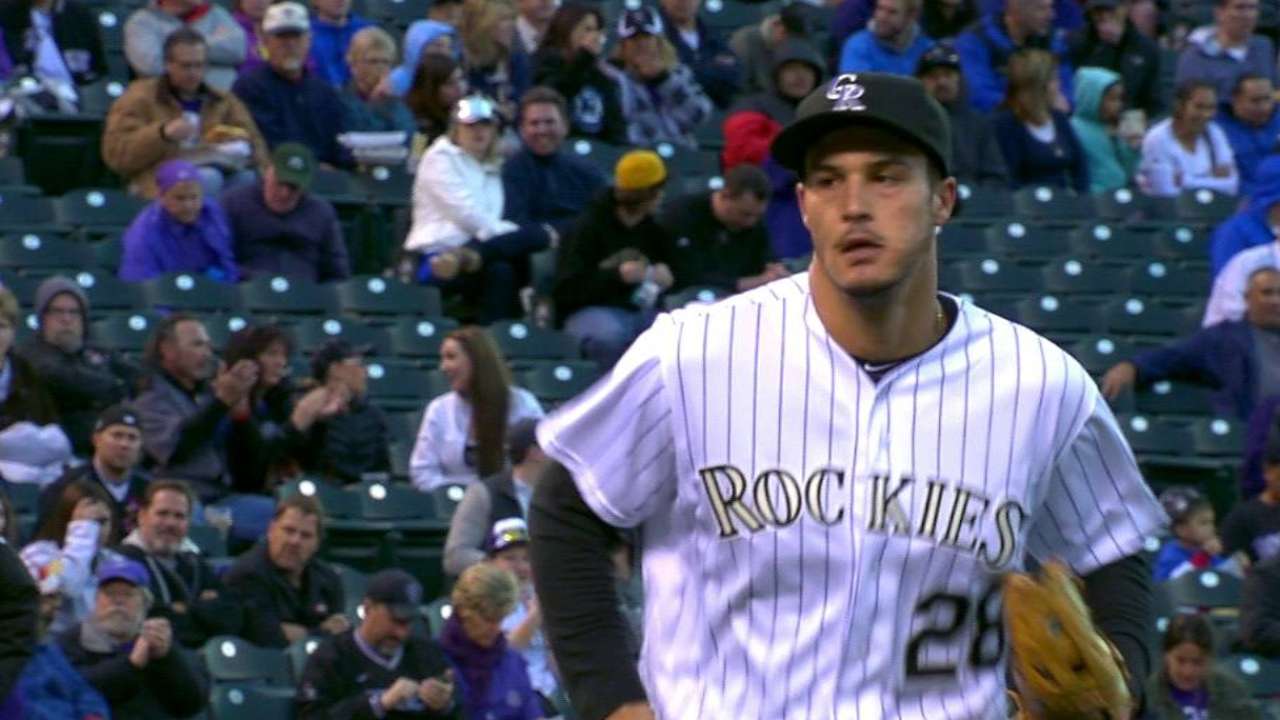 Kendrick said, "If he doesn't make that play, they score two runs and it's a different ballgame."
Instead, Corey Dickerson, who left Monday's game due to plantar fasciitis in his left foot and pinch-hit Tuesday, also heralded his return in the eighth with his second homer before Descalso won it.
Arenado said the postgame ice on the wrist had nothing to do with his standout defensive plays.
"A couple of times when I swung bad, I felt it a little bit, but that was my fault for swinging at bad pitches," he said. "All in all, I felt good and it doesn't feel bad now."
Thomas Harding is a reporter for MLB.com. Read his blog, Hardball in the Rockies, follow him on Twitter @harding_at_mlb, and like his Facebook page, Thomas Harding and Friends at www.Rockies.com. This story was not subject to the approval of Major League Baseball or its clubs.