Rendon reports no issues after extended spring game
Injured third baseman to begin Minor League rehab stint Friday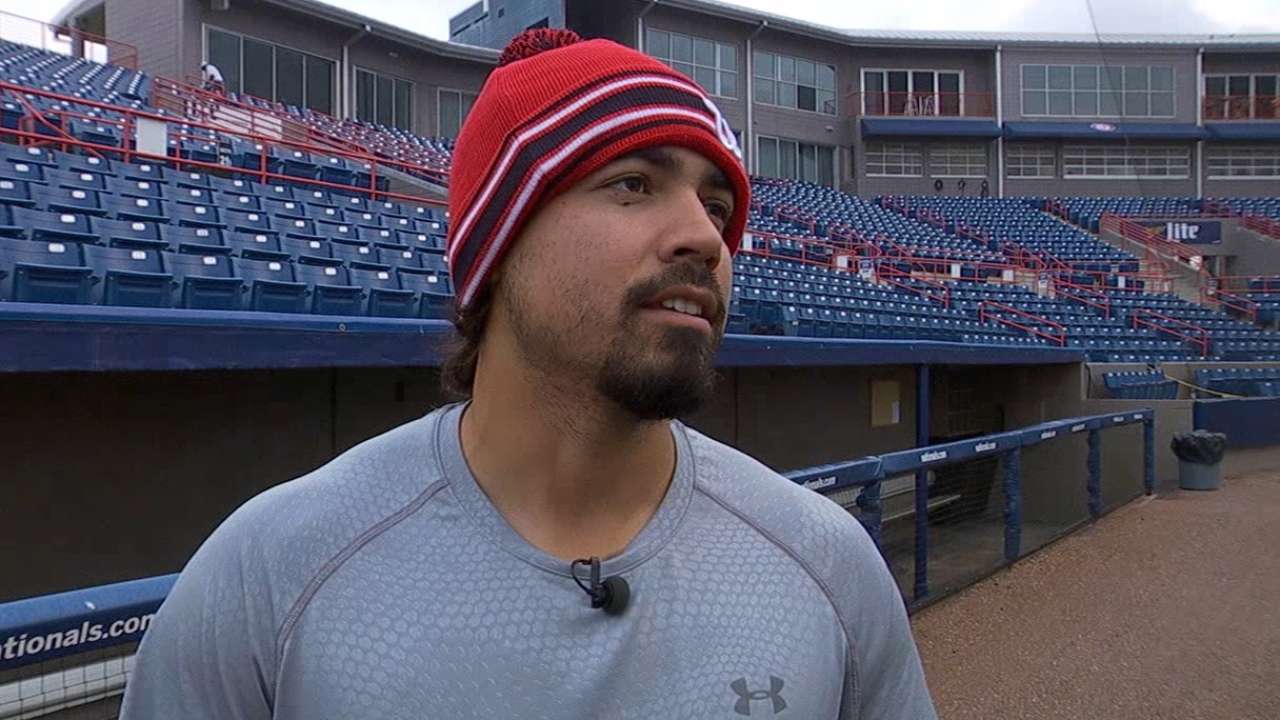 WASHINGTON -- Anthony Rendon's rehab from a sprained left MCL moves to the next step.
The third baseman played five innings in extended spring training Wednesday and had "no issues" according to Nationals manager Matt Williams.
The plan now goes as follows: Rendon will fly to D.C. and work out with the team. From there, he'll begin another rehab assignment with Double-A Harrisburg starting Friday. After another five-inning stint and assuming no setbacks, Rendon will play seven innings Saturday, rest Sunday and then consecutive games, going seven and then nine innings. The goal involves ramping up activity where he can play nine innings without issue.
"As long as he feels good, that's all I'm concerned about," Williams said. "If he gets all those games under his belt, then he's gonna have upwards of 25 at-bats, 30 at-bats total. You would expect that to be halfway-ish through Spring Training-type scenario, where he'd be feeling pretty good about his swing anyway. So we'll see."
Rendon played second and third base during his breakout 2014 campaign. Washington added Yunel Escobar this offseason to handle second. However, Williams indicated Rendon might need to spend time at the position upon returning depending on the recovery.
"Well, I don't think [Rendon playing third] is definite at this point. Giving guys days off during the course of the season, I can't say that he won't play second base depending on where we're at," Williams said. "But right now, we're gonna play him at third base for all the obvious reasons."
Whenever Rendon returns, Williams believes any knee fears shouldn't play a factor.
"When he's ready to go and ready to play, at this level anyway, there shouldn't be a concern about his knee," Williams said. "It'll be 100 percent. He shouldn't have issues with it, and it wouldn't be any different than a guy that has not had that injury playing out there. There's still risk if you're playing second that somebody could slide into you. That risk is there at third, too, but we want to mitigate any risk at this point and make sure his swing is there, make sure he's ready to play, then make those decisions."
Worth noting
The Nationals recalled left-handed pitcher Matt Grace from Triple-A Syracuse on Wednesday and placed left-handed reliever Felipe Rivero on the 15-day disabled list, retroactive to Saturday, with a GI bleed.
The 26-year-old Grace reaches the Major League level for the first time in his career after allowing three earned runs in 7 2/3 innings over five games this season at Syracuse. Last season he went 5-1 with a 1.17 ERA in 50 appearances with Double-A Harrisburg and Triple-A Syracuse.
Rivero, 23, made his Major League debut Friday night in Washington's 7-2 win over the Philadelphia Phillies. He allowed one earned run on three hits with two strikeouts.
Benjamin Standig is a contributor to MLB.com. This story was not subject to the approval of Major League Baseball or its clubs.