Jackson earning Maddon's trust out of bullpen
Cubs manager rolling with short bench; Rizzo sets club mark for plunkings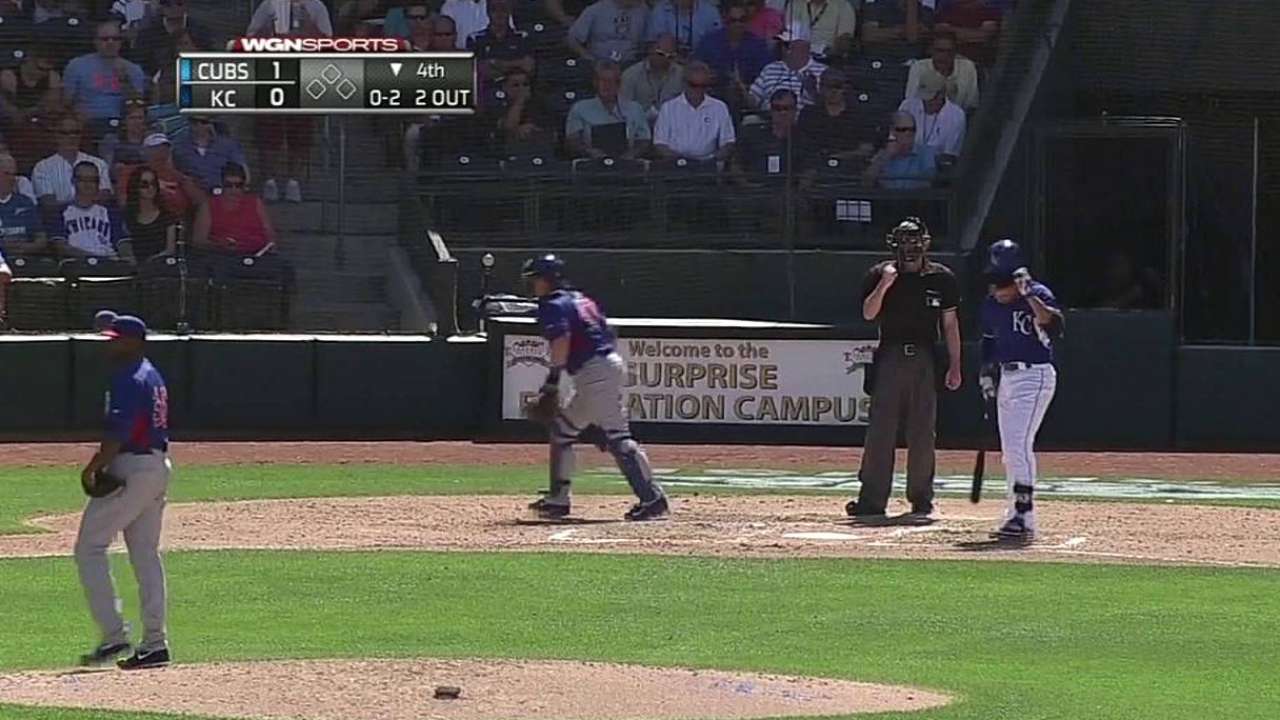 PITTSBURGH -- Edwin Jackson, moved from the rotation to the bullpen this season, has done well enough that he will be used in tougher situations in games, Cubs manager Joe Maddon said Wednesday.
Jackson picked up his first win of the season in relief on Tuesday, throwing one inning against the Pirates. He struck out one of the three batters faced.
"Jacks is starting to take to it," Maddon said of the right-hander's switch after eight seasons as a starter.
The Cubs have to make sure Jackson has enough time to warm up, and will most likely continue to have him start innings rather than enter in the middle. The move is not a reflection on how Brian Schlitter (9.64 ERA) or Jason Motte (6.43 ERA) are doing, Maddon said.
"I'm not saying you're not going to see Schlitter or Motte," Maddon said. "You always kind of like when it first starts out, you play it like it was first drawn up and don't try to make too many adjustments too soon until you need to try something differently. More than anything, I think Jackson has earned the right or opportunity to pitch in more opportune moments or more difficult moments for him."
Extra bases
• The Cubs are carrying 13 pitchers, but Maddon hasn't felt a need yet for an extra bench player.
"It's an American League kind of group, offensively speaking," Maddon said of the Cubs' regulars. "Whatever speed we have, we've been taking advantage of. If you don't have to pinch-hit for a lot of guys, you'll have less guys on the bench than in the bullpen."
Plus, the Cubs can count on pitcher Travis Wood, who hit two pinch-hit home runs this spring.
• Anthony Rizzo has been hit by a pitch six times in 13 games, setting a franchise mark for the month of April. Maddon isn't going to caution the first baseman.
"Maybe he should wear a pad," Maddon said. "Get the Barry Bonds autographed elbow pad, something like that. You can buy that -- I guess Walmart is selling them right now very inexpensively. That's something I would encourage him to wear."
• Last year, when the Cubs employed a defensive shift, the third baseman normally moved between the second baseman and shortstop. This season, the Cubs' infield simply shifts collectively to the left.
"Part of it is I don't want [third baseman] Kris Bryant turning double plays," Maddon said. "He's not used to it. You could take Kris Bryant and put him all the way over in that hole, but that's not necessarily his best spot to be that nimble, deep kind of guy. ... My biggest concern is putting a guy in the potential double-play slot who is really not used to it or comfortable with it."
• Justin Grimm, on the disabled list with right forearm inflammation, threw a bullpen session at the Cubs' complex in Mesa, Ariz., where he is rehabbing. There is no timetable for his return, or for reliever Neil Ramirez, who also is at the facility. Ramirez is on the DL with right shoulder inflammation.
• Tsuyoshi Wada threw 89 pitches over 5 1/3 innings Wednesday in his second rehab start for Triple-A Iowa. The left-hander, who is on the DL with a groin injury, gave up two earned runs on six hits and four walks while striking out five.
Carrie Muskat is a reporter for MLB.com. She writes a blog, Muskat Ramblings, and you can follow her on Twitter @CarrieMuskat. This story was not subject to the approval of Major League Baseball or its clubs.