MLB.com Columnist
Tracy Ringolsby
For Rockies to thrive, starters must give 'pen a breather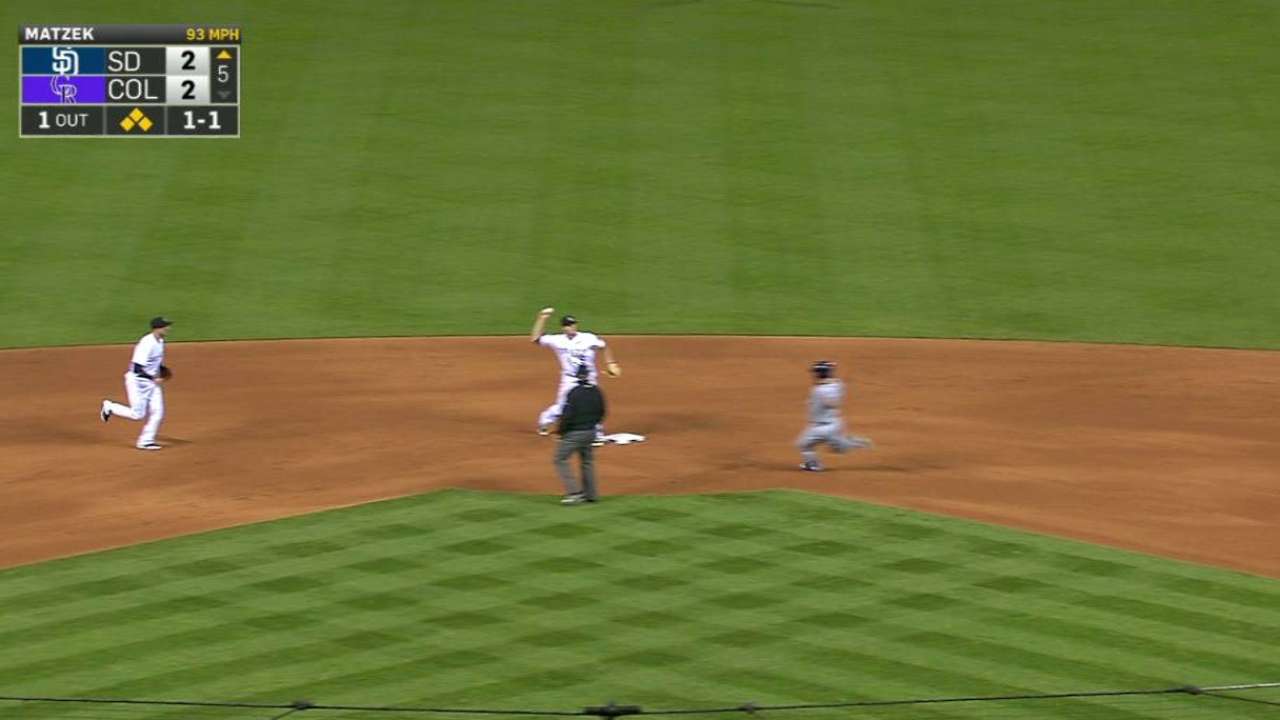 DENVER -- The Rockies want to see signs of encouragement.
Their No. 1 starter, Jorge De La Rosa, did come off the disabled list and rejoined the rotation Monday.
The emerging prospect, Tyler Matzek, again showed Tuesday night -- in a 7-6 loss to the Padres -- that he now has the moxie and ability to limit damage on nights he isn't overpowering, allowing two runs in five innings of an 85-pitch challenge.
But the hope has been tarnished by the reality.
It is not just that De La Rosa survived only two innings in a ballpark where he has the second-best home-field winning percentage in all of baseball since 2008 or that Matzek needed 85 pitches to get through five innings and allow only two runs.
No, it's that those back-to-back efforts that allowed the Padres to claim wins in the first two games of a four-game series at Coors Field are symptomatic of a burden that is being placed on a bullpen that has the potential to be so good if it gets a chance to catch its breath.
The relievers are panting right now.
Kyle Kendrick's seven innings on Opening Day in Milwaukee is the only time a member of the rotation has worked more than six innings, and there are only four other times a starter has gone six -- Jordan Lyles on April 7, April 12 and Sunday, and Matzek at San Francisco last Wednesday.
The starting pitchers have averaged a National League-low 5.12 innings a start, which has forced the relievers to work 52 1/3 innings in 14 games, the most of any bullpen.
That's called overload.
And nobody knows that better than the members of the rotation.
"The bullpen is best when you use it in the seventh, eighth and ninth innings," said Matzek. "When they have to come in earlier, they are not going to be effective."
The relievers have come in earlier in nine of the Rockies' 14 games.
It also leaves manager Walt Weiss unable to be as proactive as he would like to be in a late-game situation.
Tuesday was the perfect example.
The Rockies were protecting a 5-3 lead going into the eighth. After Rafael Betancourt gave up a leadoff single and gets a strikeout, Weiss called on left-hander Boone Logan to face a lineup that had three consecutive left-handed hitters scheduled to come up.
Logan hit Yonder Alonso with a pitch, and pinch-hitter Yangervis Solarte flipped a single into right field. After getting a break when a squeeze attempt failed, Logan fielding an Alexi Amarista bunt and throwing out Alonso at the plate, Logan served up a game-tying single to Wil Myers, and Derek Norris doubled home two more runs for a 7-5 Padres lead.
"When the bullpen is light on a particular night, I think it is tough to empty the bullpen in one inning," Weiss said.
Weiss has shown he will use closer Adam Ottavino in a four-out save situation, but he had to get an inning out of Ottavino as part of a seven-inning demand put on the relievers by De La Rosa's Monday mess. It's too early in the season for Weiss to demand too much out of the right-hander, who assumed the closer role a week earlier.
"There are times I will go to Otto to get an out in the eighth, but I was reluctant to bring him in [in the eighth on Tuesday] with what's gone on," said Weiss.
Weiss' hope is to see the rotation grow from its early-season struggles, and is encouraged by the way Matzek has battled in his two starts at Coors Field. He came out of the 5-1 home-opening victory against the Cubs after the first two batters reached base in the fifth. But he stranded seven baserunners in the first three innings, and had thrown 84 pitches -- only 40 for strikes -- by the time he was lifted.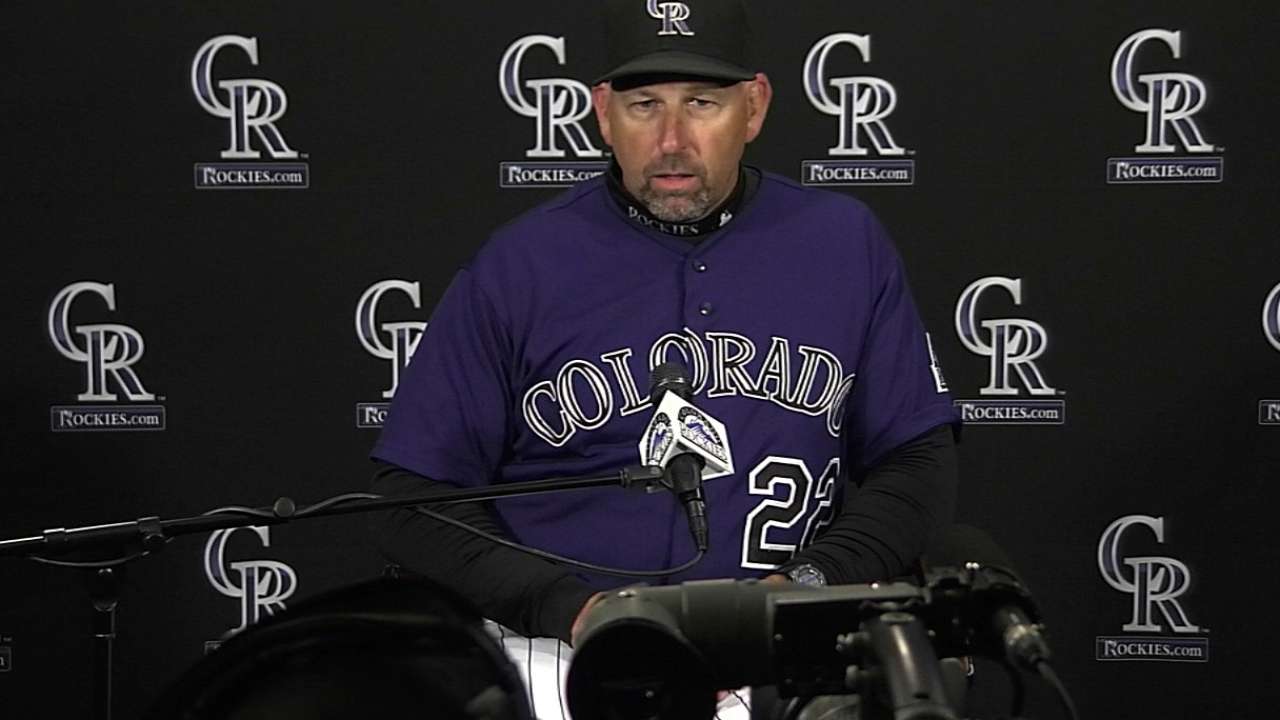 And on Tuesday he was able to limit the damage to two runs in five innings despite 11 baserunners. The fact he left both games with a lead was a positive.
"In the past when stuff was not going well, I'd crumble," Matzek admitted. "I've moved past that. I've been able to hang in and keep things together."
That is a big step for the former first-round Draft pick.
He, however, knows he and the rest of the rotation have to be better than that so they can provide some relief for the bullpen.
Tracy Ringolsby is a columnist for MLB.com. This story was not subject to the approval of Major League Baseball or its clubs.