MLB.com Columnist
Mike Bauman
Offense now clicking on all cylinders, and touching all bases
After slow start to season, Reds launch 5 home runs in mauling of Brewers
MILWAUKEE -- Look at the Cincinnati lineup. If there was any question about when the offense was going to hits its stride, it couldn't be if, it had to be when.
True, the Reds arrived here two games ago, with their offense sputtering, averaging barely three runs per game. They were on a four-game losing streak. The outlook was not particularly positive.
Eighteen innings and 22 runs later, this same group is healed, cured, rehabilitated, or at the very least, headed toward full productivity. A 6-1 victory Monday night was a healthy sign, but it was just the warmup act for their offensive outburst Tuesday night in a 16-10 victory over the Brewers.
The Reds hit five home runs in this one. They hit grand slams in the third (Jay Bruce) and the fourth (Todd Frazier). The Brewers hit one, also, making this just the fourth game in history in which three grand slams had been hit.
Reds stage impromptu derby in Milwaukee, outslug Crew
But on the Reds' substantial side of the ledger, this was the first time a team had hit grand slams in consecutive innings since the San Francisco Giants did it in 1998. But that was a hitters' era, in more ways than one.
Zack Cozart hit two home runs for the Reds. He was not part of the earlier offense shortcomings. For the Reds, the last two games are indicative of what their offense can produce. That doesn't mean grand slams every inning. It means a consistent offense that can take pressure off the pitchers.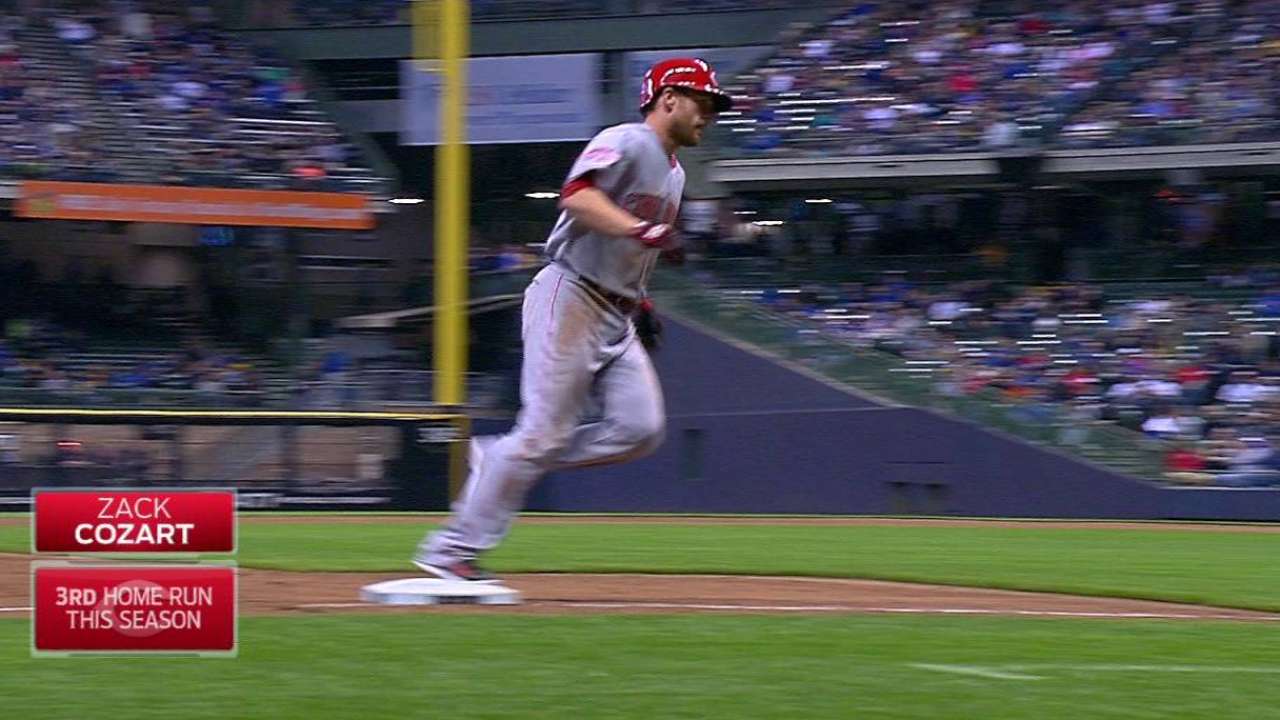 "We want to make it as easy as possible on our pitching staff so they don't think they have to throw a shutout all the time," Cozart said. "We've had consistent, good at-bats in this series, even when we're making outs. Making their pitchers work, making them go to their bullpen. We've been consistent with that the first two games.
"We're trying to build off that. We know how good we can be offensively; we're just trying to be more consistent. These two games were definitely a step in the right direction."
The Reds' starting and winning pitcher on this night, veteran Jason Marquis, was suitably grateful for the offensive support. "For myself, tonight, thank God for the offense, they did a great job of putting some runs on the board," Marquis said. "Tonight was just a weird one for me. At times I was as crisp as I could be, and when I did make a mistake, seemed like they were ready to jump all over it."
After the Reds took a 4-0 lead in the third, the Brewers tied the game with four in the bottom of the same inning. Marquis finished with five runs allowed over five innings, but he also struck out eight in those five innings.
"That was what was weird about it," Marquis said. "I had great stuff at times and mediocre stuff at times. Sixty to sixty-five percent of the time I had great stuff, but there are games where your mistakes get maximized, and tonight was one of those. But my offense bailed me out, allowed me to get deep enough in the game to get a win. And it was fun to watch the bats come alive."
One bat that has been alive throughout is the one being used by Joey Votto, who homered in this game.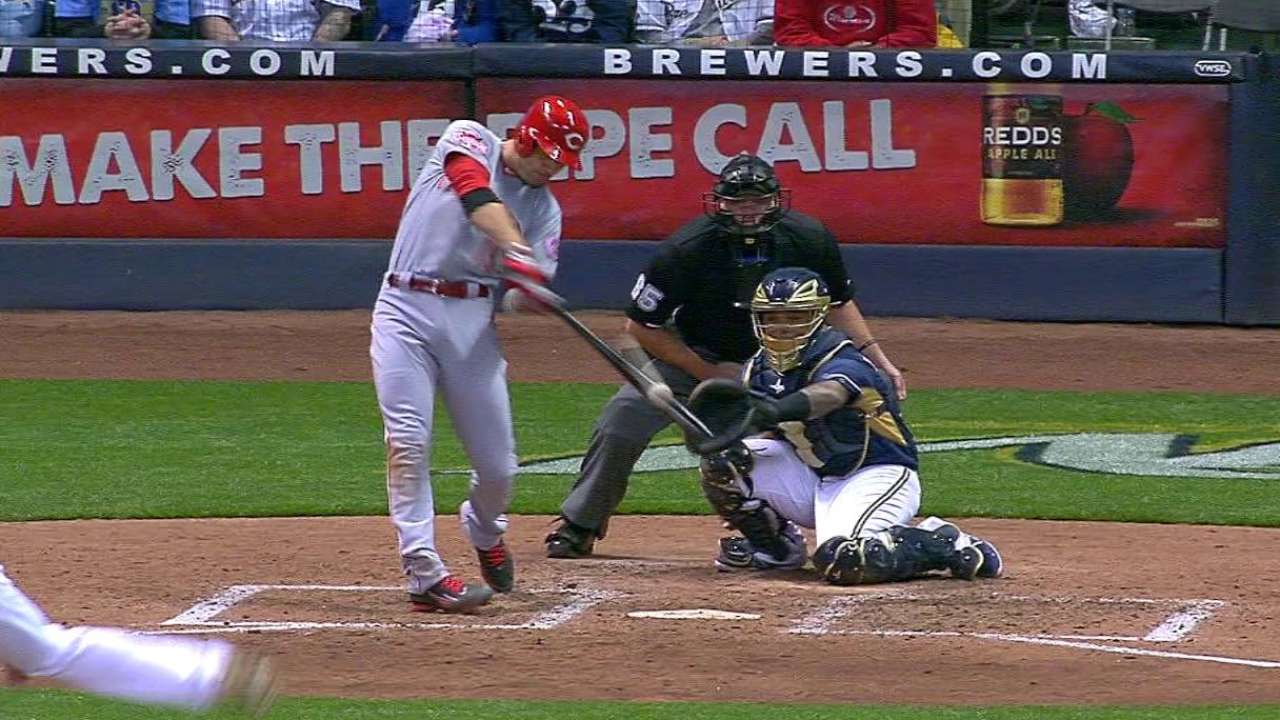 So far, this season, he has been, well, Joey Votto. The days of complaining that Votto was too passive, too patient, too selective, are somewhere in the mists of the past. Votto has six home runs in the first 14 games of this season and a slash line of .377/.492/.792.
"I think it's vintage stuff with him now," Reds manager Bryan Price said. "It almost looks like he knows what's coming. He's very comfortable at the plate. Every swing looks competitive, every at-bat it looks like he's going to win the at-bat. It's not just the high on-base, or the base hits, but he's pulling some balls and hitting some balls out of the ballpark. It's really fun to watch.
"What an impact he's had on our offense. He's really been our constant, to this point."
So with two strong offensive performances in hand, when can we say that the corner has been definitively turned for the Reds?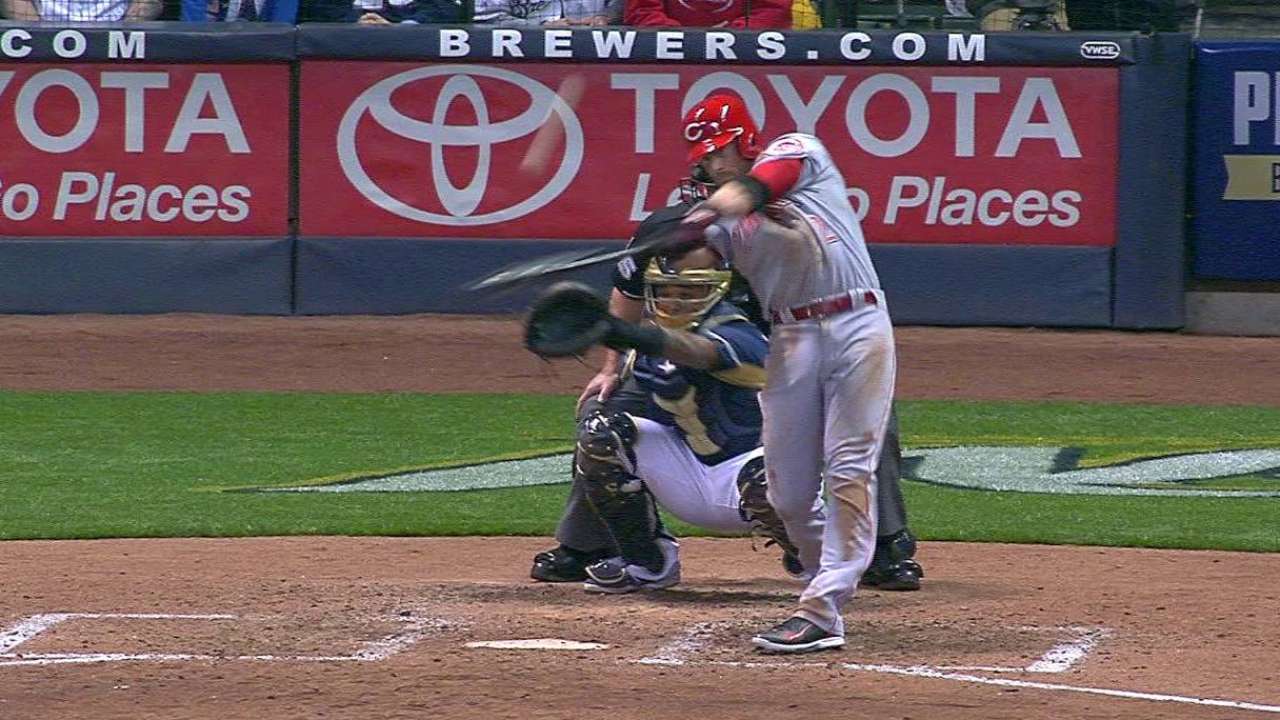 "Probably until the next time you go three or four games scoring one or two runs a game," Price said with a small smile. "You know how the game is. It has its ups and down and we're all trying to plateau, we're all trying to stay consistent and it's just a very difficult game to play well, consistently.
"From an offensive standpoint, we got to our power in this series, we've had a lot of baserunners and I'm proud that we've worked up the pitch counts of the starters and gotten into the bullpen. I really do believe that you win games by getting into that secondary bullpen mix. It just bodes well as far as winning games. It's hard to do, but it's important."
Mike Bauman is a national columnist for MLB.com. This story was not subject to the approval of Major League Baseball or its clubs.