Castro displays Cubs' no-quit attitude in win
With support from strong lineup, shortstop ties game in ninth to cap four-RBI performance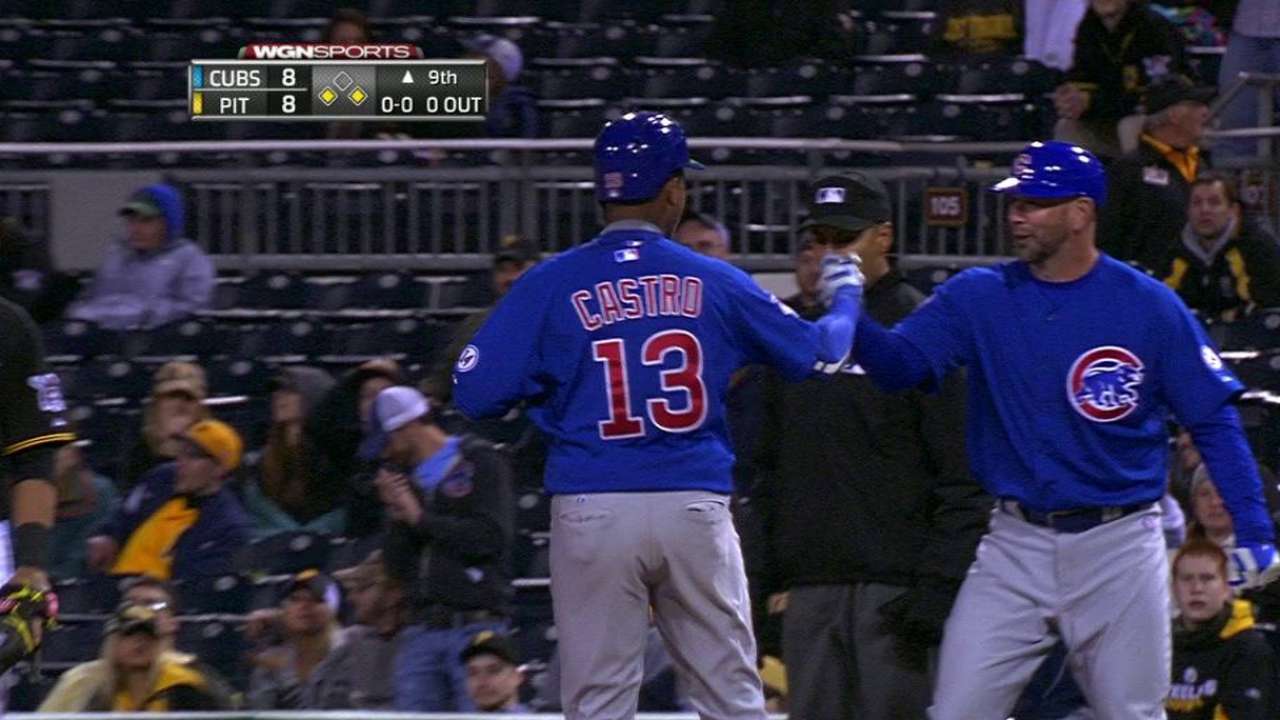 PITTSBURGH -- Last year, the Cubs were 0-79 when trailing in the ninth inning. In the first eight games this season, they've already won four games in their last at-bat, including Tuesday's 9-8 come-from-behind win over the Pirates.
"Talking with [Chris] Coghlan, [we said] we wouldn't win that game last year or the year before," Cubs shortstop Starlin Castro said. "We quit [last year]. If we were losing after seven innings, we quit. Now, we never quit. If we get extra innings, we play hard, we never quit."
The Cubs scored three runs in the ninth off Pirates closer Mark Melancon, with Castro delivering a two-run single.
"Right now, he is engaged," Cubs manager Joe Maddon said of Castro, who homered in the sixth and went 3-for-5 with four RBIs. "He is engaged on every pitch offensively and defensively. When he did not get it done early in the game, he was upset with himself. He's totally invested right now. It's really fun to watch."
Castro is batting .352 in the first 13 games and finally playing for a team with a winning record. The Cubs have finished fifth in Castro's first five seasons in the big leagues.
"This is the time I've waited for," Castro said. "I put in my mind, every day you can't be good, but you try 100 percent. This is the moment I've waited for in my life."
It helps that he has support. On Monday in a 5-2 win over the Pirates, the Cubs' Nos. 2-4 hitters, Jorge Soler, Anthony Rizzo and Kris Bryant, were a combined 9-for-12 with three RBIs. On Tuesday, Rizzo, Soler, Bryant and Castro were 9-for-18 with six RBIs.
"The strength of our lineup is that we believe anyone can do it at any time," Rizzo said. "We're really happy with the way we're grinding out at-bats early. We're making pitchers work -- that's what we want to do every time, every at-bat be stressful for the pitcher."
The Cubs trailed, 8-6, going into the ninth when Rizzo singled off Melancon's first pitch and Soler doubled off the next one.
"When I saw Rizzo get on base and the double by Soler, I said, 'That guy has no chance with us today,'" Castro said.
Bryant walked to set up Castro's two-run single, and one out later, Welington Castillo delivered a run-scoring ground out.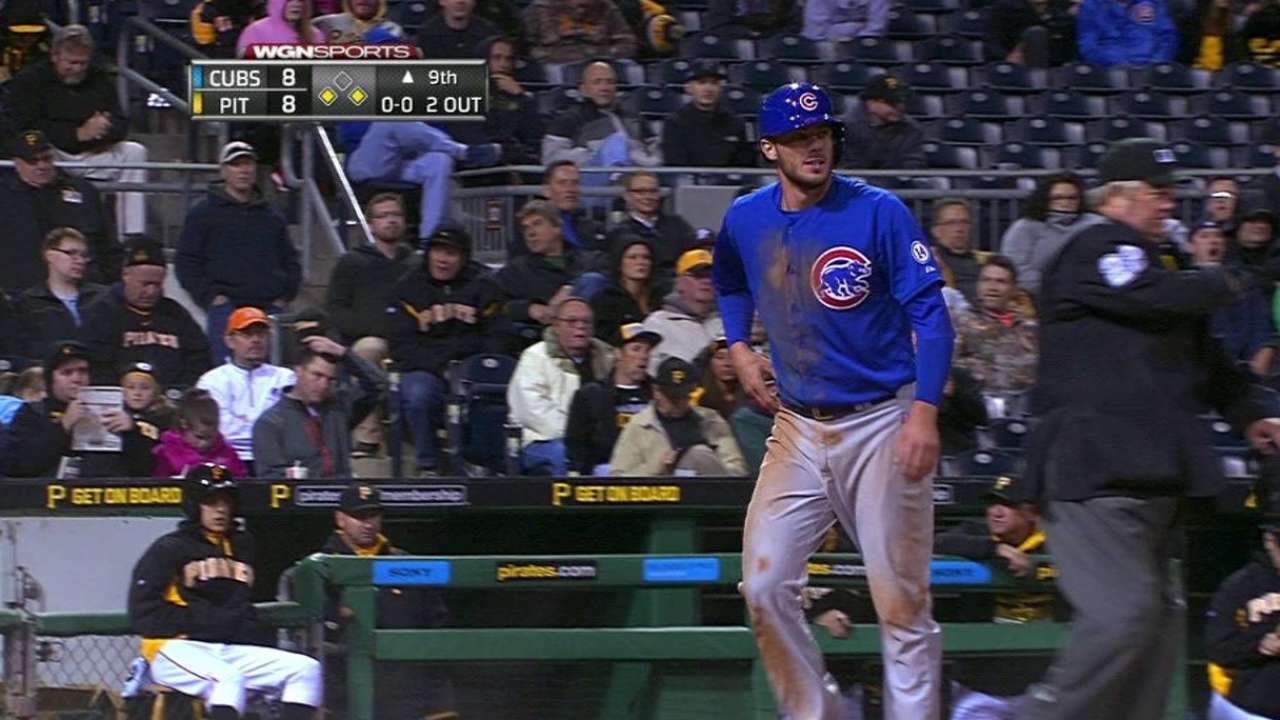 "That's the best one I've been a part of," Rizzo said of the rally. "Coming back like that, seesawing back and forth all game -- this is what we do, we don't quit."
It was fun for Addison Russell, too, who was making his Major League debut at second base for the Cubs.
"They played this game just like little kids -- they had fun," Russell said. "I'm happy to be part of it."
Carrie Muskat is a reporter for MLB.com. She writes a blog, Muskat Ramblings, and you can follow her on Twitter @CarrieMuskat. This story was not subject to the approval of Major League Baseball or its clubs.