Archer lives on the edge in solid outing vs. Red Sox
Right-hander fans nine over 5 2/3 innings
ST. PETERSBURG -- Chris Archer danced on the edge of the volcano for most of his 5 2/3 innings, but at the end of the right-hander's outing he'd barely gotten singed.
Archer did not allow an earned run while surrendering seven hits and a walk, striking out nine before giving way to Brandon Gomes with two outs in the sixth during a 1-0 loss to the Red Sox on Tuesday.
That ended an evening that might not have been Archer's prettiest work, but it ranked up there with his grittiest.
"I felt like I was commanding everything," Archer said. "Good team, man. Early, they were very patient, kind of waited me out, spoiled some pitches, didn't get themselves out early and the pitch count got a little up. There are going to be those nights."
Archer's first test came in the second when he allowed a leadoff single to Hanley Ramirez. After Archer struck out Pablo Sandoval, Ramirez stole second. Archer then struck out Daniel Nava looking before retiring Shane Victorino on a popout to second.
Trouble found Archer again in the third when a single and a walk with one out put runners at first and second. That's when Archer got the ground ball he needed, getting Dustin Pedroia to hit one back to him on the mound. He threw to second baseman Ryan Brett, but the Rays second baseman's throw bounced to first and Logan Forsythe could not grab the ball, which skipped past him. The error allowed the game's only run to score.
Archer had runners on base for the final 2 2/3 innings he pitched and continued to escape. The highlight of those escapes came in the fifth when he struck out David Ortiz swinging with two aboard to end the inning. Archer showed some emotion after the strikeout, punching his fist into his glove. That prompted reporters to revisit last year's verbal battle that took place between Ortiz and Archer.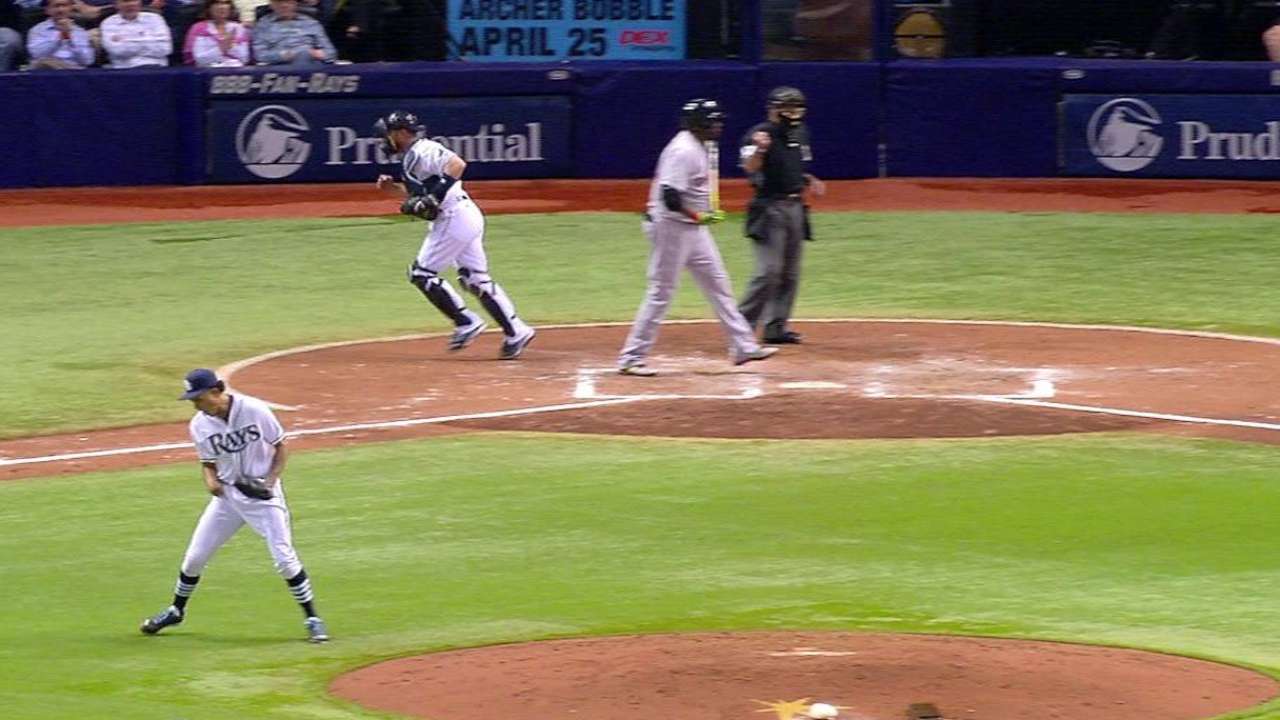 "I said this in Spring Training, we've talked one-on-one about it, but it's a game, man, and you have to have fun," Archer said. "Emotion, showing emotion is part of having fun and playing a game. I wasn't going to hold back my excitement and my teammates appreciate it."
Gomes offered aid for Archer's final escape in the sixth when he took over for Archer with two out and runners on first and second. He retired Brock Holt on a flyout to end the inning.
The unearned run surrendered by Archer snapped a career-long 16-inning scoreless streak. He has not allowed an earned run since the sixth inning of his Opening Day start against the Orioles.
Archer has been "outstanding for three, four starts now," Rays manager Kevin Cash said. "Really looked good. I haven't been around as long as [pitching coach Jim Hickey] and some of the other guys but he's on a very impressive run right now."
Bill Chastain is a reporter for MLB.com. This story was not subject to the approval of Major League Baseball or its clubs.