Lights, camera, action: Behind the scenes of Statcast
Aerospace technology, radar, physics all go into groundbreaking tracking tool
WASHINGTON -- Last week at Fenway Park, Red Sox outfielder Mookie Betts made a spectacular catch to rob Nationals batter Bryce Harper. The broadcasters couldn't do much more than ooh and aah and show the replay as many times as they had time for.
Those limitations began to dissolve Tuesday night at Nationals Park with the official unveiling of Statcast, Major League Baseball Advanced Media's bold leap into a high-tech future, when previously unimaginable aspects of the game will be measured, compiled and compared.
Viewers would have learned that Betts reacted in .059 of a second. That he ran 103.25 feet to make the catch. That he reached a maximum speed of 17.85 mph. And, intriguingly, that his "route efficiency" -- based on a scale in which 100 represents perfection -- was 95.45.
And that only hints at the breadth of the system that borrows technology from the aerospace industry, with optical cameras and radar that capture 2,000 samples per second, plus Newtonian physics, and combines it all with a program that understands the dynamics of baseball. The result is dazzling.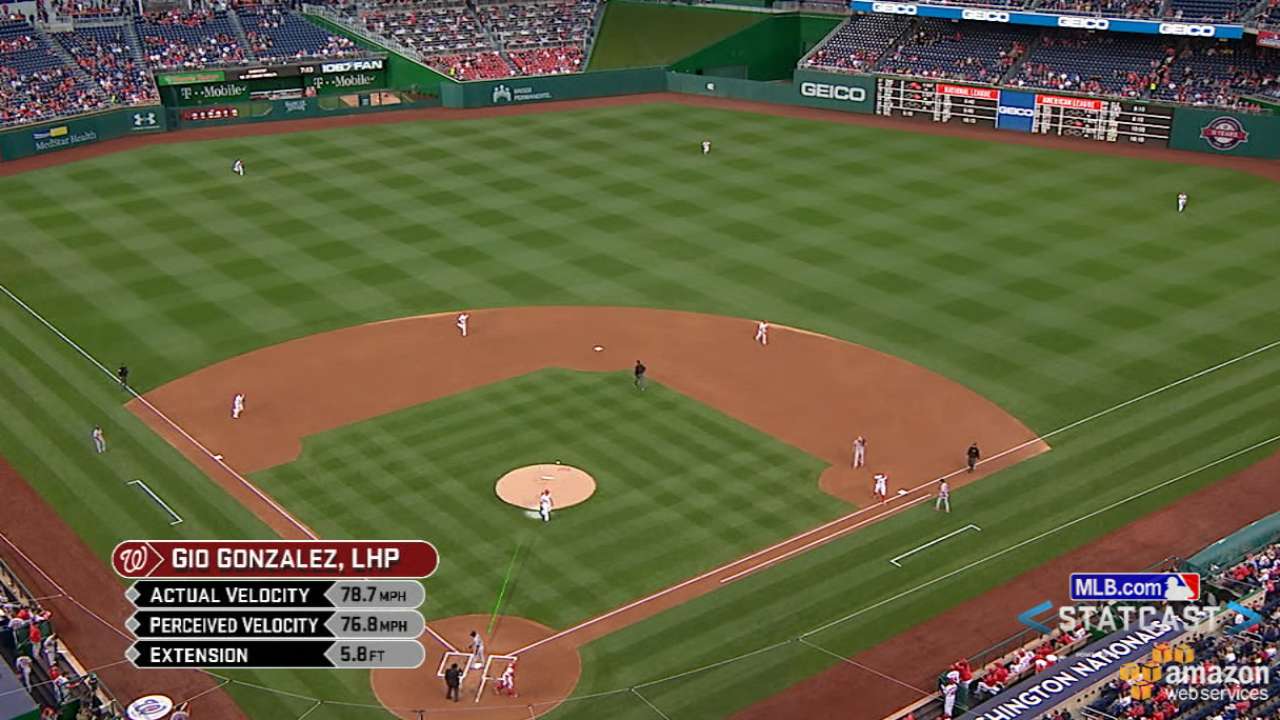 The extension of a pitcher, how far in front of the rubber he actually releases the ball, is measured along with the spin rate of the pitch. There's velocity, of course, but also perceived velocity: how fast the pitch appears to the hitter. By calculating the speed of the ball off the bat, the launch angle and even the weather, accurate estimates of how far home runs would have actually traveled had they not struck an obstacle before landing can now be accurately measured.
"Accuracy was absolutely the key. We had to make sure the system was absolutely repeatable and accurate so that you could make measurements ballpark to ballpark, year to year, player to player. And that's why we've been focusing on it as long as we have," said Joe Inzerillo, MLBAM's chief technology officer during a media preview before Tuesday night's Cardinals-Nationals game.
Tech-tacular! Nats' walk-off W caps Statcast debut
The rollout was on an MLB Network Showcase game. But Inzerillo expects the technology to spread to the national broadcasts and then the regional sports networks in coming months.
This won't just be a game-changer for television, either. It is likely to profoundly impact the way fans follow the game and even how front offices construct their teams.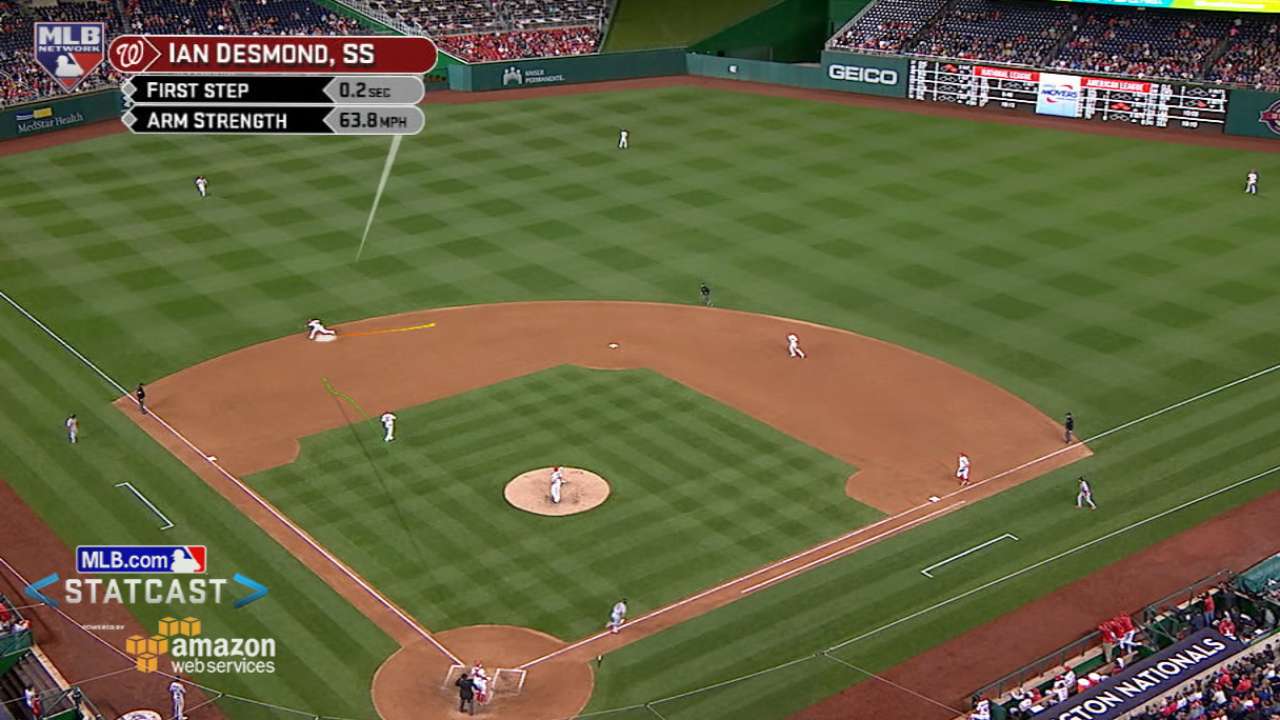 Some of this information is already available on MLB.com and on the At Bat app. And the amount is expected to increase rapidly, although Inzerillo pointed out that five orders of magnitude more information are being collected than ever before. "We have to make sure the information we're putting out is understandable, valid and also something fans can sort of build on as we release more and more and more data down the road to, again, tell the narrative of the game and enhance the enjoyment of the sport by being able to make relative comparisons," he explained.
So far, the highest speed of a ball off the bat was by Seattle's Nelson Cruz on his walk-off single against the Rangers on Sunday: 119 mph. The most efficient outfield route recorded to date was 99.7 by the Yankees' Jacoby Ellsbury on Monday night.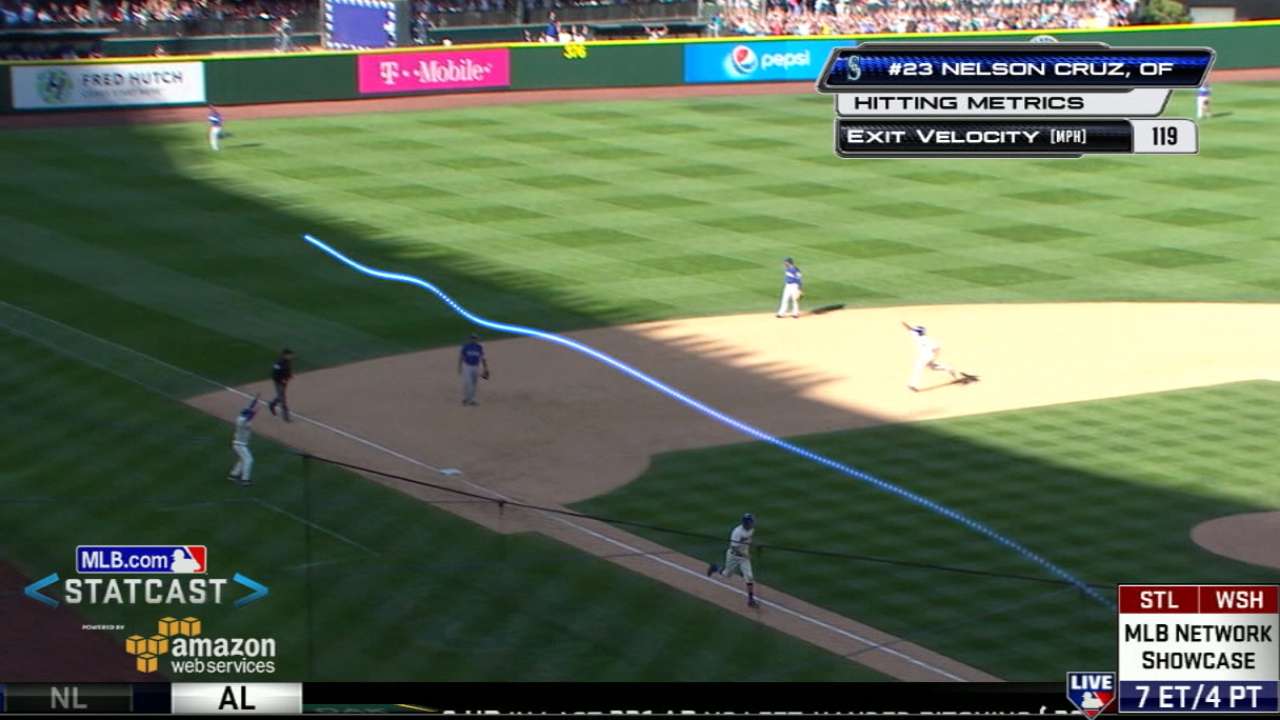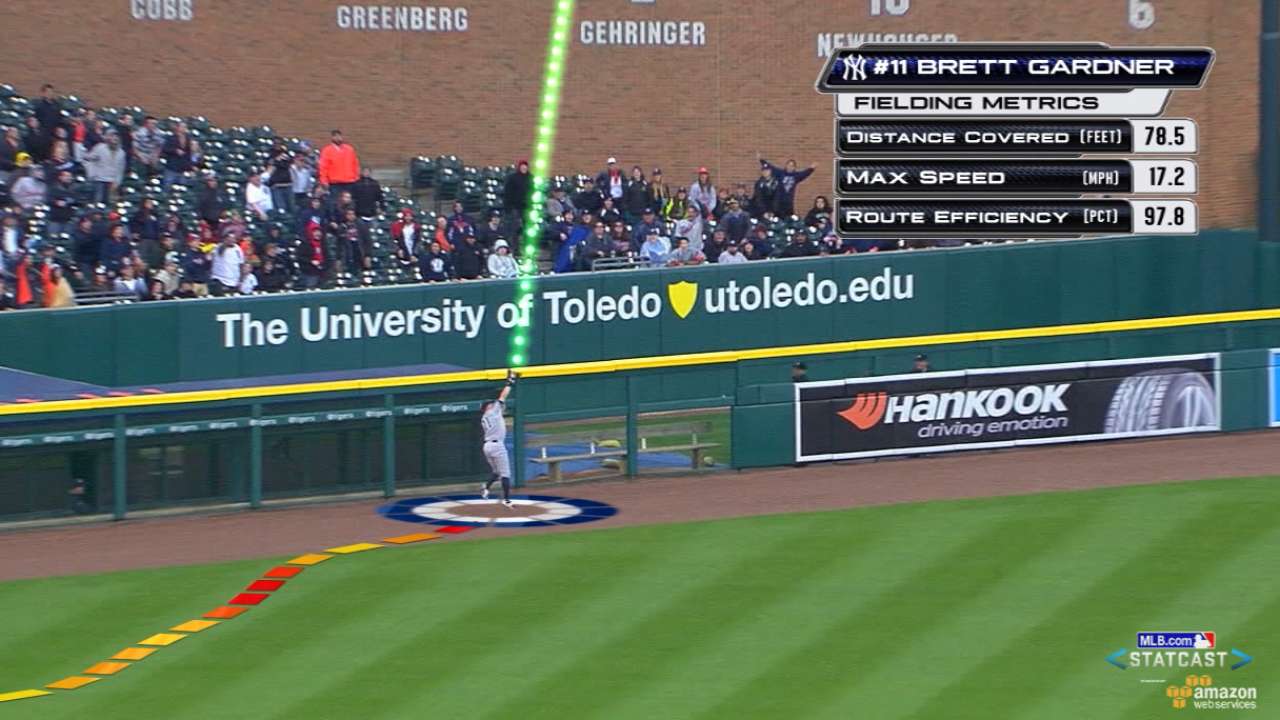 It's envisioned that in the not too distant future, once sufficient data is compiled, there will be leaderboards similar to those that now rank ERA and RBI leaders with categories such as reaction time and route efficiency.
"That's the goal, a whole list of the top guys in every category," said Dave Patterson, senior vice president of production at MLB Network. "Our biggest challenge right now as a network is to put everything in context. Like route efficiency. Well, that was a great route. But compared to what? Or a guy's speed. We know Bryce Harper is fast, but we have to put things into context. And as we get further in the season we'll get more and more data."
Teams are already receiving reams of the new information; inevitably some will find a way to mine enough value out of it to give them a competitive advantage.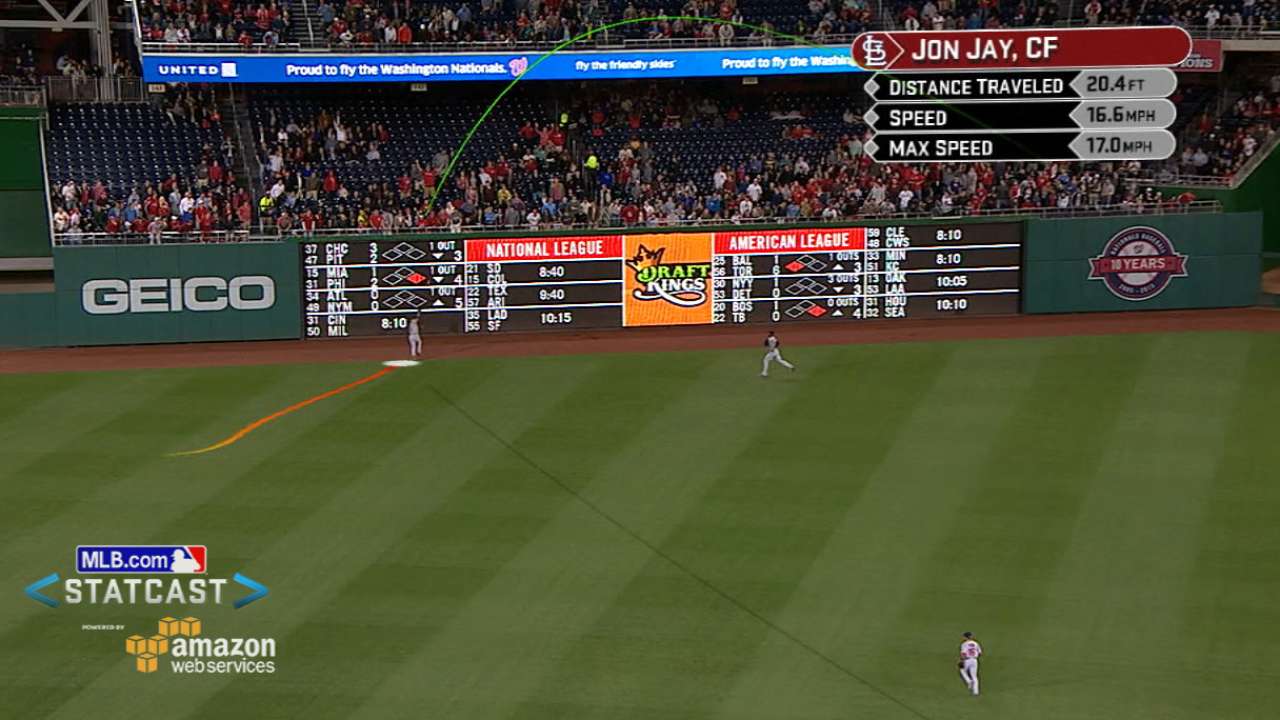 "Right now it's about understanding the data, understanding what it's going to give you," Inzerillo said. "It's not something that's immediately actionable today. That's something that's going to change very rapidly as we continue to collect more and more data."
The visible portion of this complex wonder appears misleadingly simple. Down the third-base line are two optical "eyes" spaced 15 meters apart. Each eye is actually a cluster of three cameras that "see" the ball in much the way a human eye does. Behind the plate is a Doppler radar array that actually sees the ball being hit and thrown everywhere it goes on the field. Unlike the cameras, the radar isn't affected by rain, shadows or bright sunlight.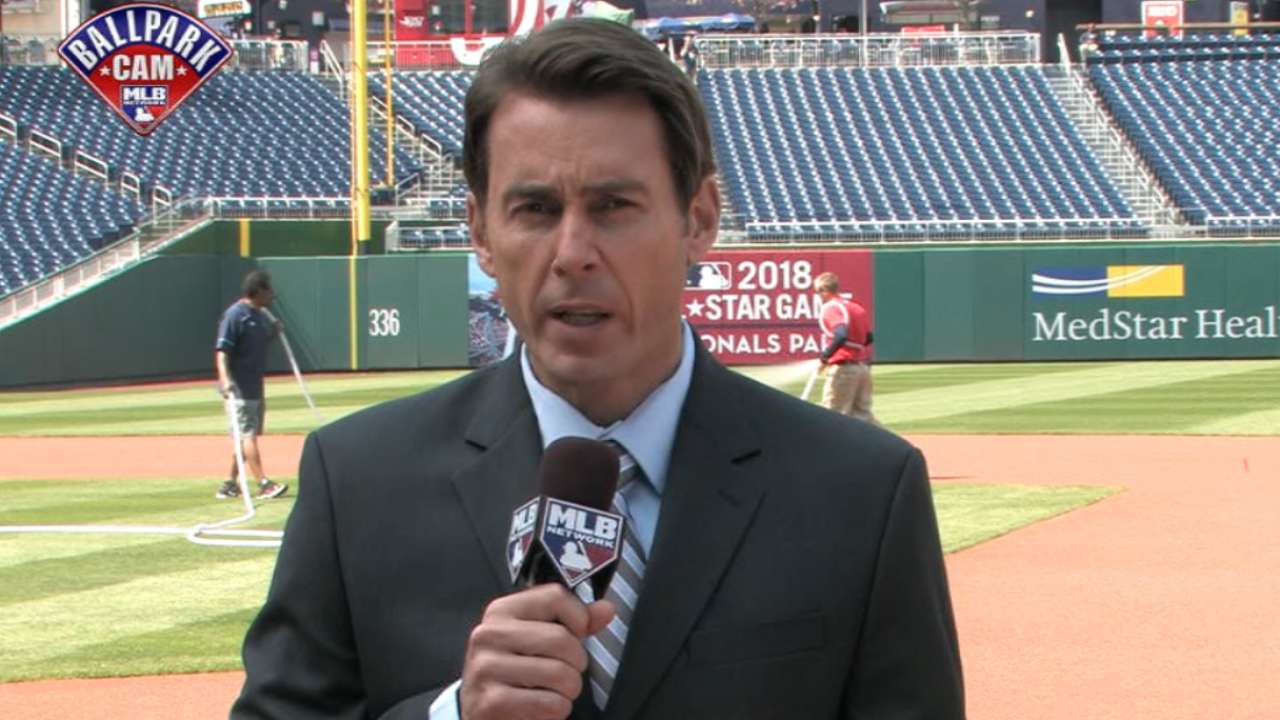 All that is integrated by a computer and made available through the production truck. Some, such as the length of a runner's lead, can be shown in real time. Some of the more sophisticated measurements will be shown along with the more standard replays.
As impressive as all this, baseball is already looking at what might come next.
Get acquainted with glossary of Statcast terms
"The one thing that we don't have is anything that talks about biometrics as far as the players are concerned," Inzerillo said. "We don't have any sensors on the players. One of the things that was very important when we started this process was that we weren't going to alter the ball, alter the uniforms. It was 100 percent passive observation.
"But the system was designed so that, in the future, should any of that come to fruition, we can integrate into the metrics we have now. One of the things that's really important to understand, these are just sensors. Some of them are optical sensors, some are radar sensors. But there's nothing to say we have to confine ourselves to the visual spectrum, either. Infrared. Ultraviolet.
"The way we see this is, the player tracking stuff in and of itself is cool. But it's also a foundational element that we see ever more evolving over time, taking into consideration different types of sensors, different types of artificial intelligence."
Paul Hagen is a reporter for MLB.com. This story was not subject to the approval of Major League Baseball or its clubs.