Russell undaunted in first Majors game at second
Cubs prospect goes 0-for-5 at plate, but handles position well in MLB debut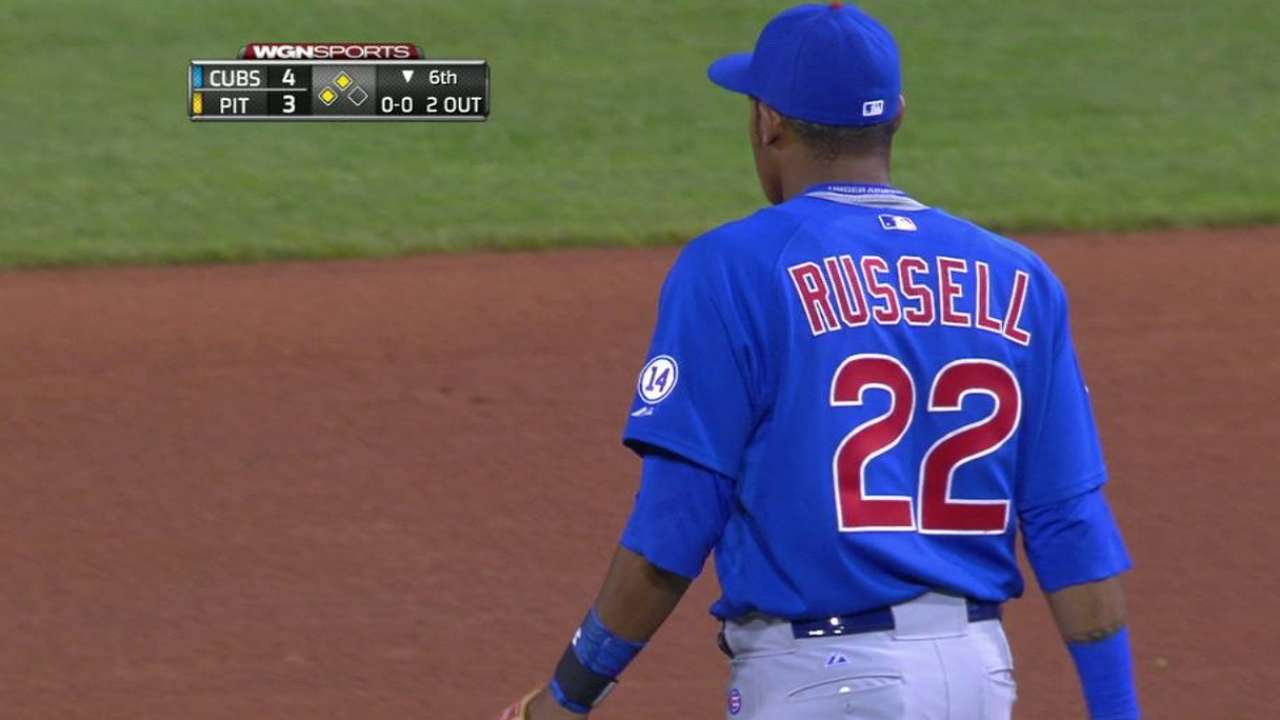 PITTSBURGH -- How many games had Addison Russell played at second base prior to Tuesday's Major League debut? Five.
The 21-year-old infielder handled his first big league assignment well, and the highlight came when he charged to get the Pirates' Jung Ho Kang's ball in the sixth and made a play even though Russell was blocked by a runner.
"At first, it was pretty tough," Russell said of the play. "You have to kind of read or anticipate the hop, and I got aggressive when I saw the ball down on the ground. It came up pretty high, so I knew I had to charge in and just executed the play. I felt pretty confident with that."
He didn't have a game to remember at the plate, going 0-for-5 with three strikeouts, but he did hit the ball hard in the ninth when he lined out to the shortstop. But he could celebrate as the Cubs rallied for a 9-8 win.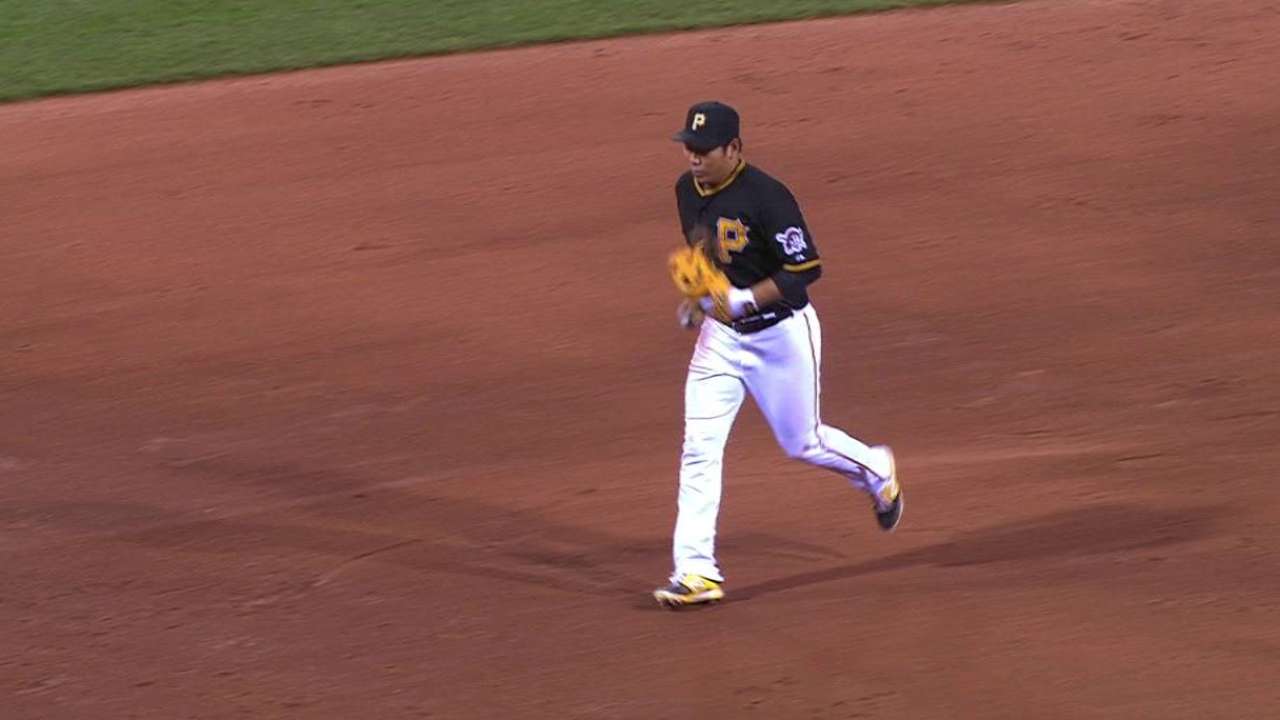 "[The last at-bat] gives me a little more confidence going into [Wednesday]," Russell said. "I'm happy to get the first one out of the way."
Was he nervous?
"To be honest, it was just a natural feel," Russell said. "I wouldn't say it was like every game -- it definitely was new to me. I just wanted to get that first hit out of the way. I have to stay with my approach, and hopefully I'll produce."
Cubs manager Joe Maddon knows there will be bumps along the road with both Russell and Kris Bryant.
"It is unusual to get guys that young to play with that swagger about them," Maddon said. "There's going to be that bad moment, don't get me wrong. As of right now, they're handling all of this extremely well. Being that they're so young, we need to stay with them, talk them through some tough moments. Right now, they're playing at a really high level."
After a game April 15, Triple-A Iowa manager Marty Pevey told Russell he was going to start transitioning to second. They spent about 30 minutes talking about the different footwork and angles.
"Pevey was like, 'Hey, man, you're probably going to have to stick at second and learn the position,' and I said, 'That's fine by me,'" Russell said. "In my head, I had that idea [that it could be a path to the Majors].
"I'm hungry," Russell said. "I wanted to learn more about that position."
On Tuesday, Cubs third-base coach Gary Jones, who works with the infielders, walked out to second base with Russell about four hours prior to the game to give Russell a feel for being in a big league ballpark and talk fundamentals.
"The footwork is probably the hardest part about it," Russell said. "Also the positioning -- if you have a guy who likes to bunt or likes to steal. You have to try to manuever which way you think will work out best for you."
So far, so good.
Carrie Muskat is a reporter for MLB.com. She writes a blog, Muskat Ramblings, and you can follow her on Twitter @CarrieMuskat. This story was not subject to the approval of Major League Baseball or its clubs.