MLB.com Columnist
Tracy Ringolsby
Myers working hard to prove doubters wrong
Padres' reluctant leadoff hitter shining with new team
DENVER -- Wil Myers was the young phenom with the Royals. He was the key offensive player Tampa Bay received in the trade of James Shields. Now, with San Diego, he's just one of the guys.
And he has a point to prove.
"He told me early in Spring Training that he heard little whispers this winter that maybe he was not the player everyone made him out to be," said Padres manager Bud Black. "I think that bothered him."
Right now, it's Myers who is bothering the teams the Padres are playing.
"More than anything," said Myers, "I am playing with a chip on my shoulder. Last year was the first bad year I had in my pro career. When Tampa traded me away, I felt they had given up on me."
Myers never gave up on himself. That's not in his DNA. He is confident, but not cocky. And he certainly hasn't disappointed anybody with the Padres.
With a 2-for-6 effort that included three runs and an RBI in the Padres' 14-3 victory against the Rockies at Coors Field on Monday night, Myers raised his average to .283. "The whispers got to him," said Black.
Oh, and he is doing all that while he hits leadoff.
"He told me early in Spring Training he was going to show that he should hit third, fourth or fifth," Black remembered. "I said, `Wait a minute. You are not going to hit third or fourth because of the two guys [Justin Upton and Matt Kemp] we have here. Let's go in my office and sit down. Let's put a projected team together out there. You don't want to hit leadoff, so who's going to hit leadoff?'"
Black ran through the projected regulars, and there wasn't a logical candidate.
"I told him, 'If you hit leadoff every day you might get the most at-bats in the NL,'" said Black.
The big thing for Black was to have Myers just hit, not get caught up in a lot of technical aspects.
So far, so good. He has scored 13 runs, which leads Major League leadoff hitters, and has driven in eight. He has multiple hits in six of his last 10 games, going 14-for-41 with six doubles, a home run and seven RBIs.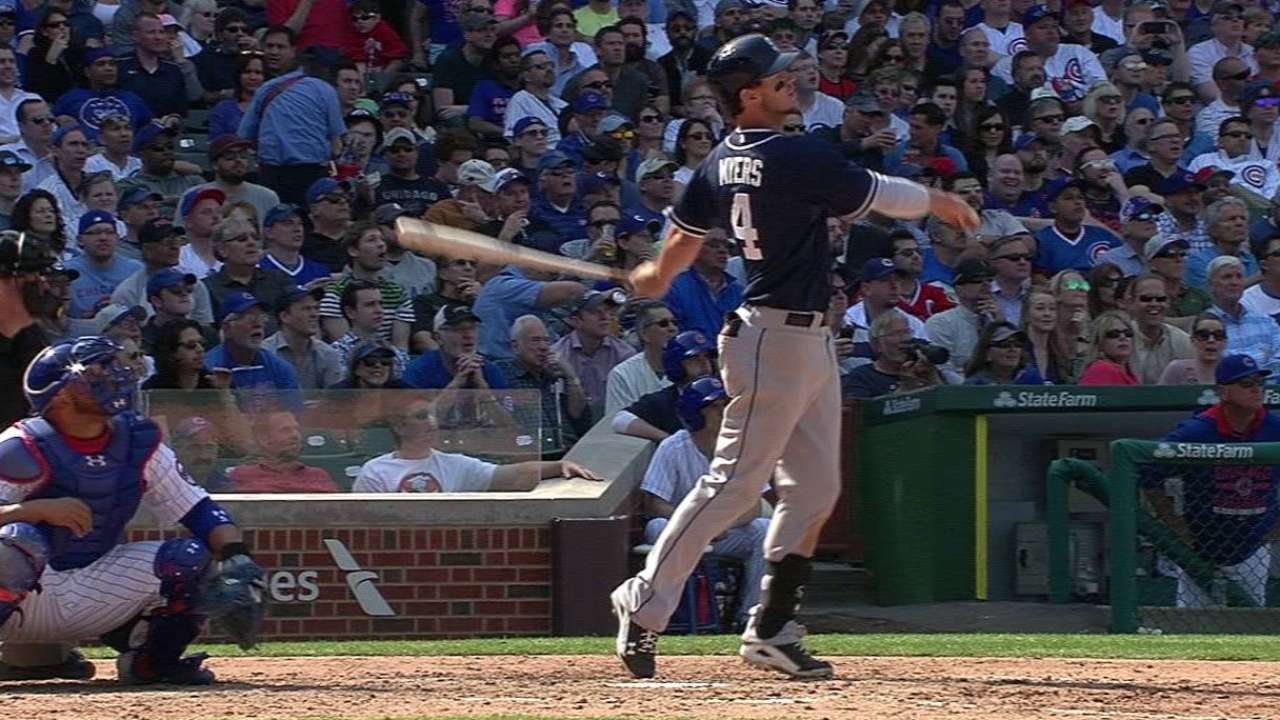 And there was no better example of what he can do to kick-start a lineup than the first inning when he opened the game with a single, the first blow in what became a five-run Padres rally.
Now he has only walked once.
"With the guys behind me in the lineup, I am getting pitches to hit so I am swinging," he said. "If I was hitting down in the lineup I'd probably walk more. They pitch you differently."
Black is not complaining.
"I told him it doesn't matter where you hit, it is how you hit," said Black. "I told him if he goes out there and gets his hits, he's going to score a lot of runs."
He may not be able to force Kemp or Upton out of the three- or four-spots in the Padres' lineup, but he has given the rest of the world a chance to see what made him such a hot prospect with the Royals, and get past whatever disappointment developed over his play in Tampa Bay.
He is only 24, and, as Black put it, "He wants to do well. He's like a lot of players in that regard."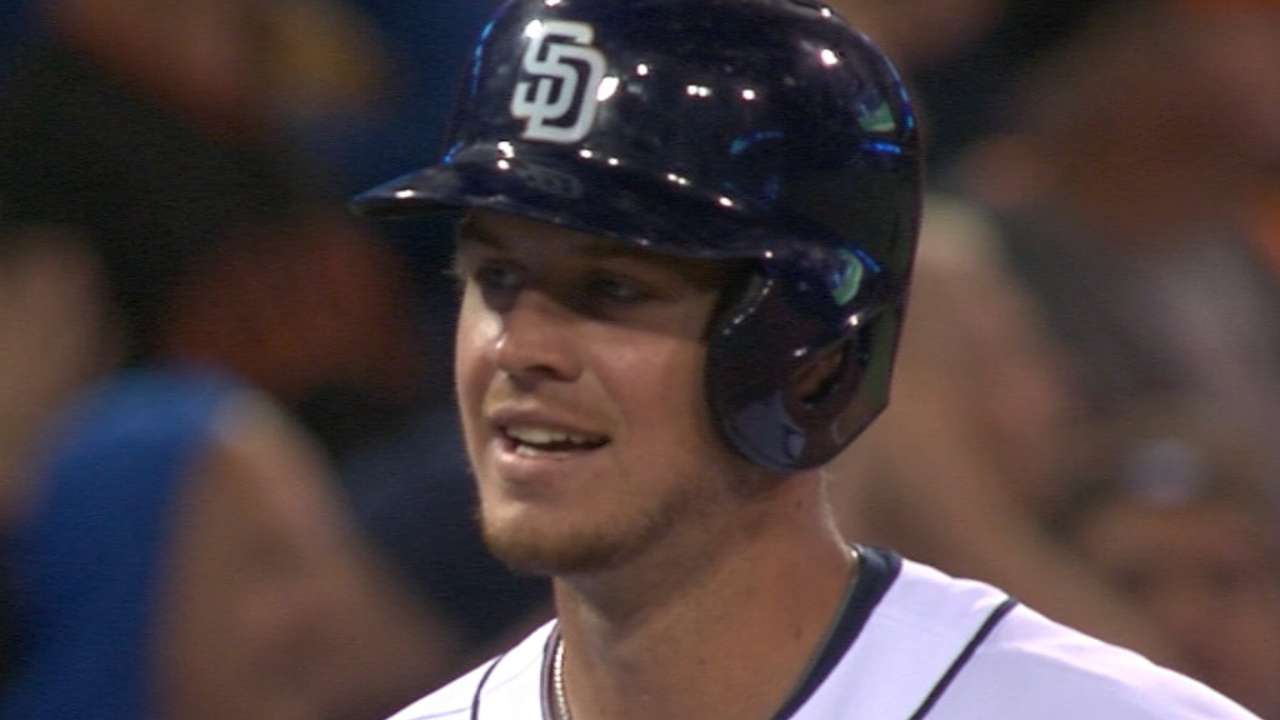 The difference between Myers and a lot of players, however, is his skill set.
He did hit .303 with 66 home runs and 249 RBIs in roughly three years in the Royals' Minor League system.
He was ranked the third-best prospect in Minor League Baseball by MLB.com and was part of that package the Royals sent to the Rays for Shields and Wade Davis on Dec. 9, 2012.
He was the American League Rookie of the Year with Tampa Bay in 2013, but a year ago he battled problems with both wrists. In the fourth game of the season, he stretched the muscles in his left wrist and six weeks later broke his right wrist.
The injuries definitely impacted his production. For some reason, though, Myers doesn't feel Tampa Bay was willing to consider that added element.
That's what gave him that added incentive to produce for the Padres.
"Almost everything I do is to be able to prove them wrong," he said.
So far, he's provided plenty of evidence to support his case.
Tracy Ringolsby is a columnist for MLB.com. This story was not subject to the approval of Major League Baseball or its clubs.