Otero leads bullpen's rescue effort against Angels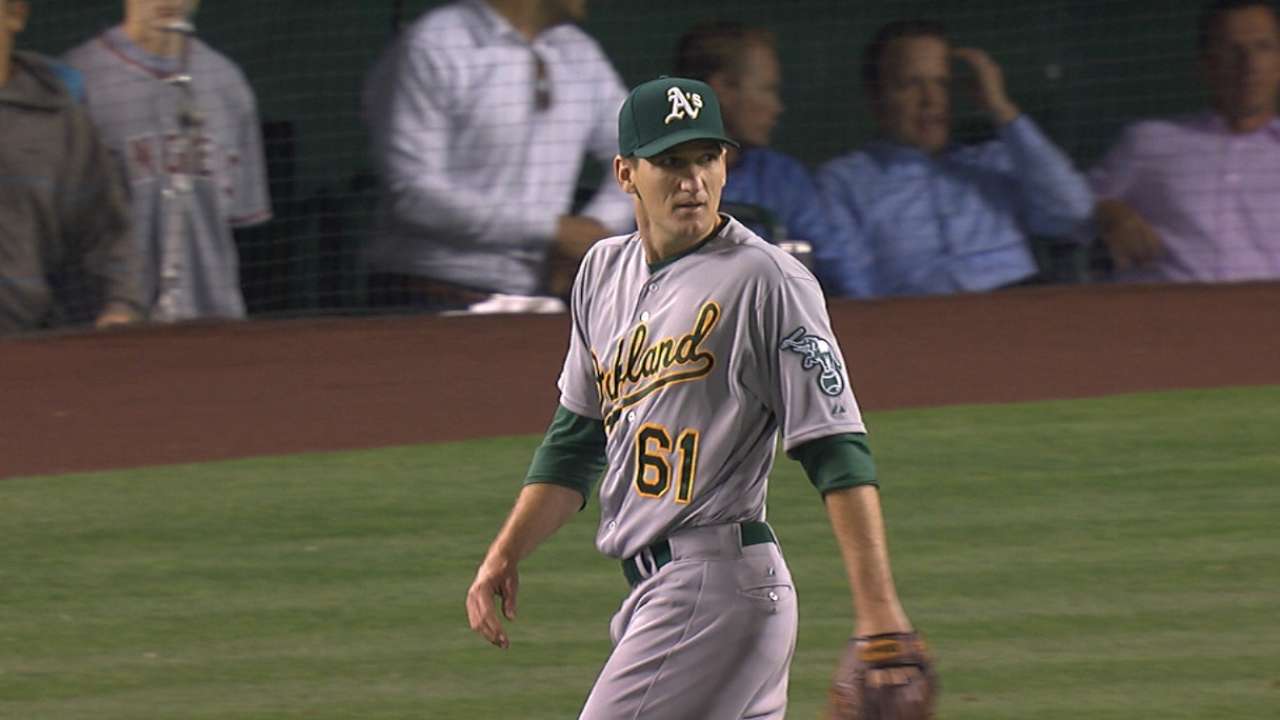 ANAHEIM -- This probably wasn't the recipe A's manager Bob Melvin had in mind when he spoke before the game about the continual process of trying to forge the right bullpen mix. But he sure enjoyed the final product.
Dan Otero led the way with a career-high four scoreless innings, Evan Scribner followed with a scoreless eighth and Tyler Clippard pitched around a pair of baserunners in the ninth for his first save with the Athletics, bailing out starter Kendall Graveman -- who lasted just three-plus innings -- in a 6-3 series-opening win at Angel Stadium.
"That's big," said Melvin. "Confidence for a lot of guys, too. You're talking about Otero getting a little confidence back, Scribner used in a little different role and getting three key outs and finally getting to Clippard in a save situation. We hadn't been able to do that this year."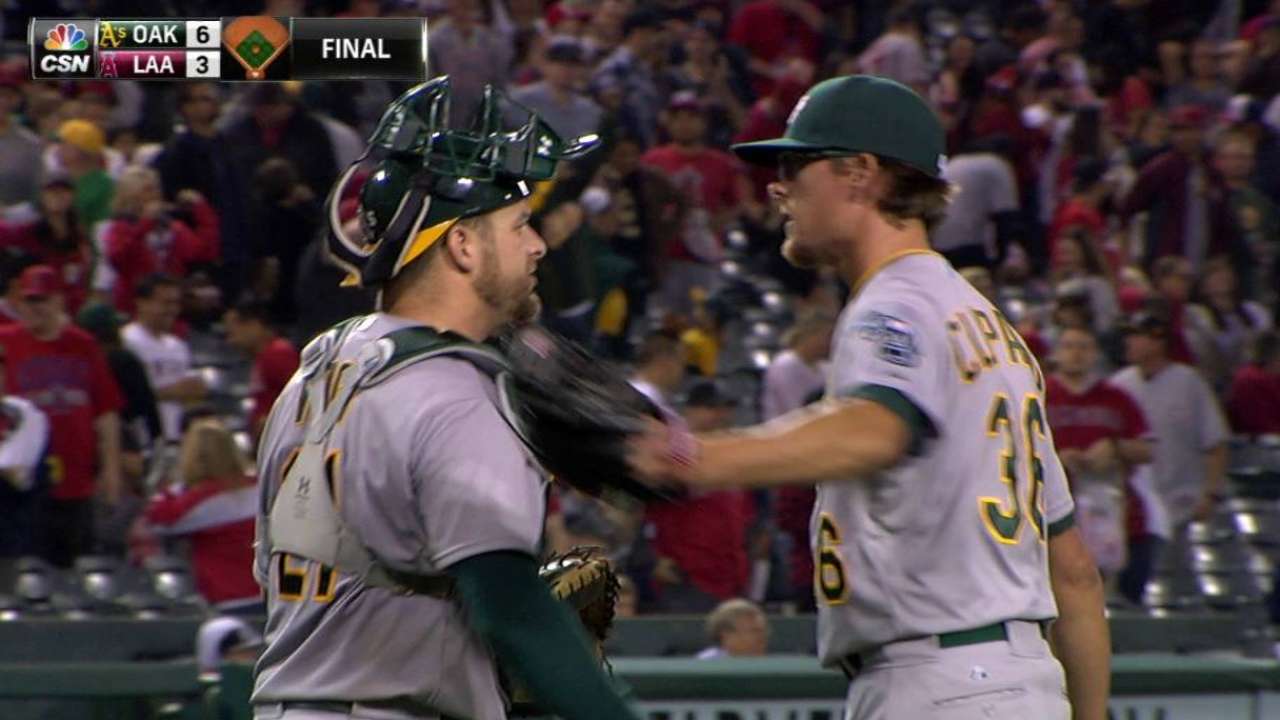 Otero was the star of the show, holding the Angels to one hit while fanning four, cruising his way through the middle innings on just 42 pitches.
His night began with two inherited runners and none out. The right-hander induced a ground ball from Chris Iannetta for a forceout at second base, then struck out Johnny Giavotella and Kole Calhoun, all the while looking like the Otero that routinely navigated such innings with ease last year.
Entering the night, he had a 6.75 ERA in five games this season.
"Dan Otero single-handedly gave us a chance to win this game tonight," said catcher Stephen Vogt. "I think, for him, to come into his type of situation, get out of it, that gave him all the confidence in the world. He was some kind of on point tonight, and that's the guy that we know and love.
"A couple little hiccups to start the year, and no one was worried about it, but to see him come out here and do what he did tonight was exactly what we needed and what everybody else needed, someone to just come in and get us out of a jam."
Melvin anointed him a "lifesaver."
"What looked like was going to be a 10-8 game, he comes in and shuts it down," said Melvin. "To go that long and only throw 40 pitches was terrific. The sinker was back. We'd seen the ball moving a little bit with more run than sink, and he made a little adjustment. We don't win that game without him."
Otero said Vogt spotted something in his delivery last week with his left shoulder that he's since been working to adjust.
"I was just kind of turning my left shoulder in a little bit," he said. "Getting a little too rotational. That's something I've been cognizant of throwing in the outfield, warming up every day. Noticed it tonight it was good, and it helps all my other pitches when I can stay in line, can stay through the catcher instead of spinning off to the first baseman."
Jane Lee is a reporter for MLB.com. This story was not subject to the approval of Major League Baseball or its clubs.