Brewers send Lucroy to DL with fractured toe
Maldonado expected to fill in at catcher; Centeno recalled from Triple-A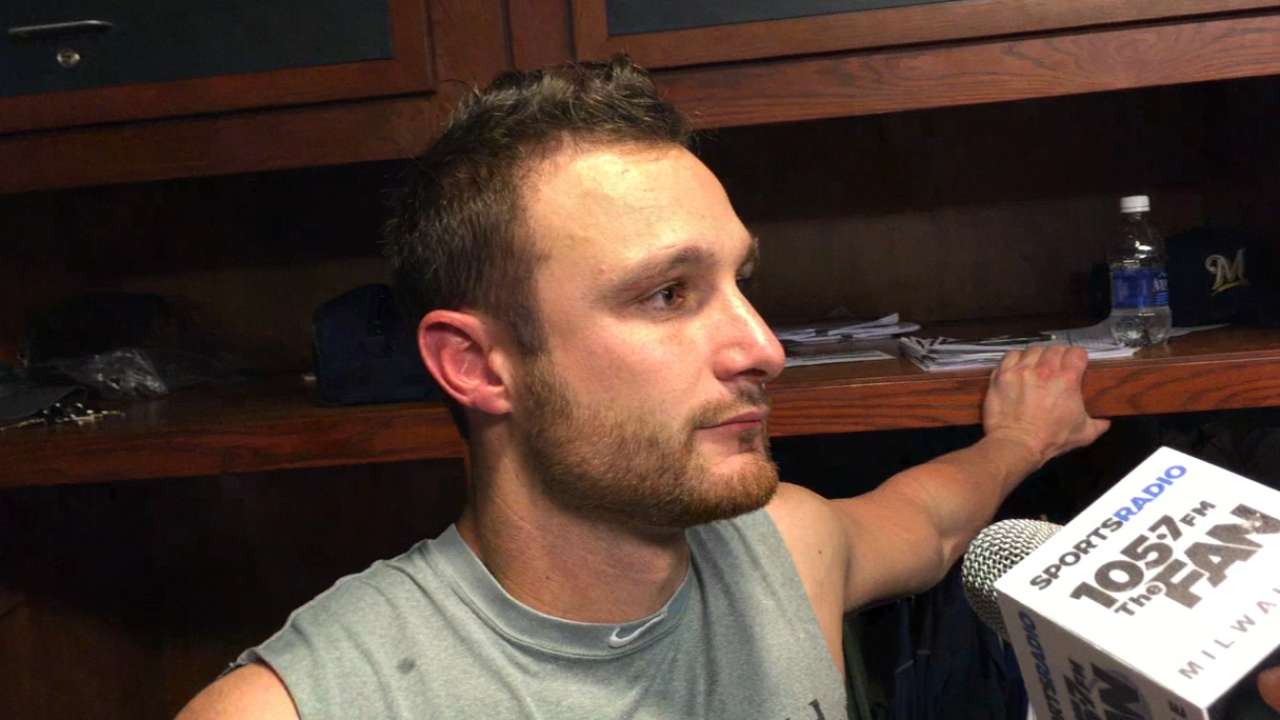 MILWAUKEE -- A bad day got much worse for the Brewers when a club spokesperson delivered word moments after Monday's 6-1 loss to the Reds that catcher Jonathan Lucroy was bound for the disabled list with a broken left big toe. He suffered the injury on a foul tip, something neither Lucroy nor backup catcher Martin Maldonado had ever seen before.
"I've been hit a million times on my feet," Lucroy said. "I was just talking to 'Maldy' about it and he said the same thing: That's the first time I've ever seen a catcher break their toe. It had to be me. It's about par for the course right now."
The Brewers recalled catcher Juan Centeno from Triple-A Colorado Springs to take Lucroy's roster spot. Maldonado figures to handle most of the catching duties.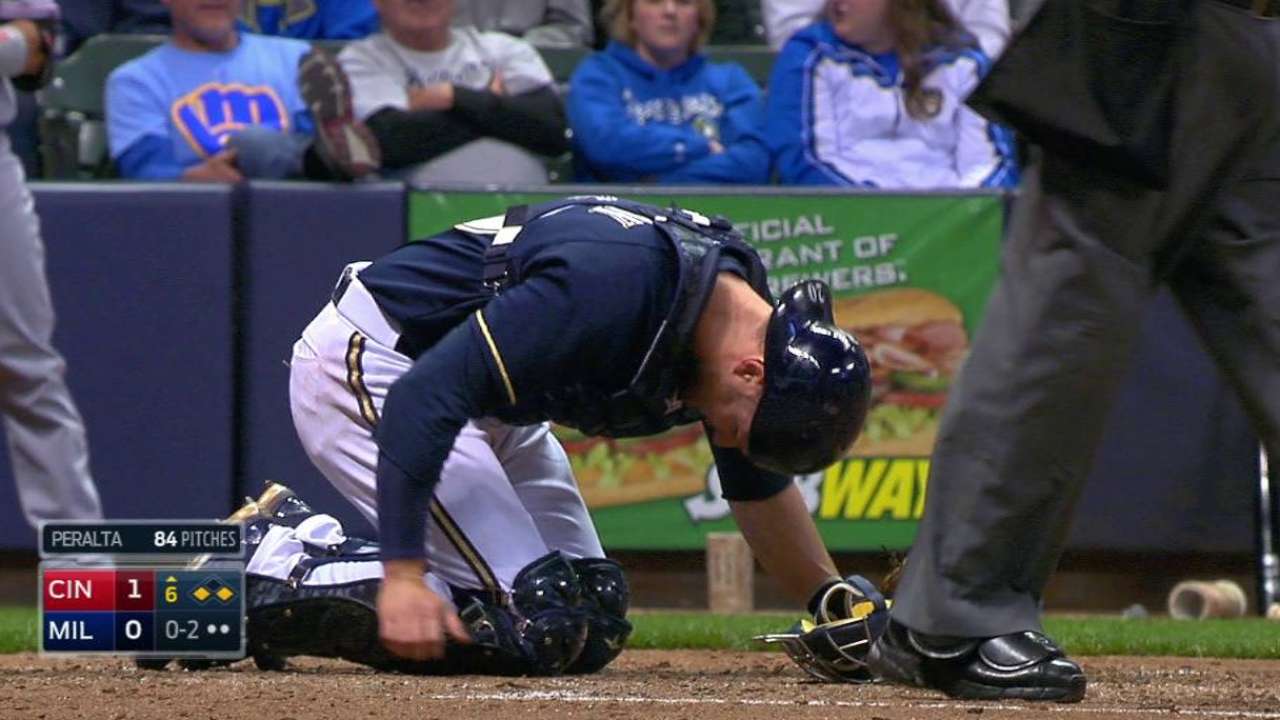 The loss dropped the Brewers to a Major League-worst 2-11, the worst start in franchise history. In the 11 losses, they have scored 20 total runs. Including Ryan Braun's ninth-inning solo shot on Monday, the Brewers have hit four homers all season, fewest in the Majors.
Now they will play on without Lucroy, who finished fourth in last year's National League MVP balloting, and center fielder Carlos Gomez, who finished in the top 20 two years in a row. Gomez was already on the DL with a hamstring injury.
"I can't do anything about it. I have to wait for it to heal up," said Lucroy, who had been given no timetable for that process. "Freak thing. You guys saw it. I don't know what else to say about it other than I have to overcome it, deal with it."
The "freak thing" happened in the top of the sixth inning with Reds shortstop Zack Cozart at the plate. He'd just hit a foul ball that struck teammate Jay Bruce in foul territory near third base, and fouled the next Wily Peralta pitch straight down to Lucroy's left foot.
Lucroy knew it was bad because of the immediate pain and swelling. Manager Ron Roenicke knew it was bad, too.
"You could hear this," Roenicke said, "and it didn't sound good."
Lucroy was already having a rough month. After batting .301 and leading the Major Leagues with 53 doubles last season, he is hitting .156 this year with two RBIs and only one extra-base hit -- a triple.
He will have to wait at least 15 days for a chance to boost those numbers.
"I just feel terrible for him," Braun said. "He cares so much, he's grinding so hard, working so hard, trying to get himself back to where he knows he will be. It's obviously a difficult thing for us whenever you lose a player of his caliber. He has such an impact on the game, both offensively and defensively."
Adam McCalvy is a reporter for MLB.com. Follow him on Twitter at @AdamMcCalvy. This story was not subject to the approval of Major League Baseball or its clubs.