DeSclafani stellar as Reds power past Crew
MILWAUKEE -- Zack Cozart's three-run home run capped a four-run rally in the sixth inning, Joey Votto added a two-run shot in the seventh, and Anthony DeSclafani pitched an eight-inning gem to give the Reds a 6-1 win Monday night over the Brewers.
The Reds entered the night 12th of 15 NL teams in runs and on-base percentage, while the Brewers were last in both categories. For five scoreless innings, those trends held true, but the game turned after Brewers pitcher Wily Peralta popped a bunt for a rally-killing double play in the bottom of the fifth inning, and the Reds capitalized in the top of the sixth.
After Brayan Pena put the Reds on the board with a sacrifice fly, Cozart punished a 1-2 Peralta pitch for a 4-0 lead. An inning later, Votto hit the first pitch of his at-bat with Peralta deep to make it 6-0.
"I felt pretty good, man, but things aren't going our way," Peralta said. "One mistake [to Cozart], that's the ballgame. We need to stop this and start doing a better job."
While Peralta surrendered six earned runs on eight hits and three walks in seven innings, DeSclafani allowed only two hits in a career-high eight scoreless innings. Over his last two starts, he's scattered four hits in 15 innings without allowing a run. The 25-year-old already has three quality starts this season, one more than the Brewers have as a team.
"He was just on," Reds manager Bryan Price said. "He was locked in. He had great pitch quality. Really happy, obviously for our club, but for him, too, as a young guy trying to get established in the league."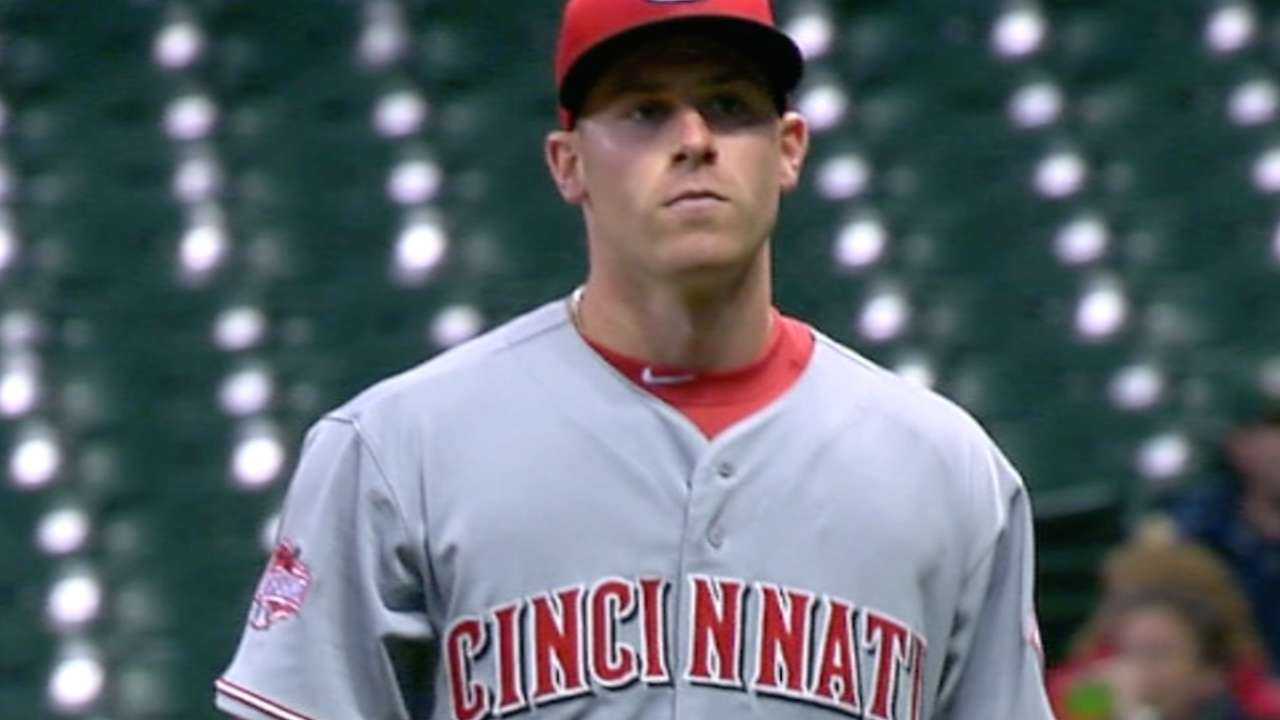 MOMENTS THAT MATTERED
Defensive gem: The Brewers mounted only one serious threat during DeSclafani's outing. In the fifth, with runners on first and second in a scoreless game, Pena made a diving catch of Peralta's fouled bunt attempt and recovered to double Hector Gomez off first to end the inning. The Reds then broke through for four runs in the top of the sixth.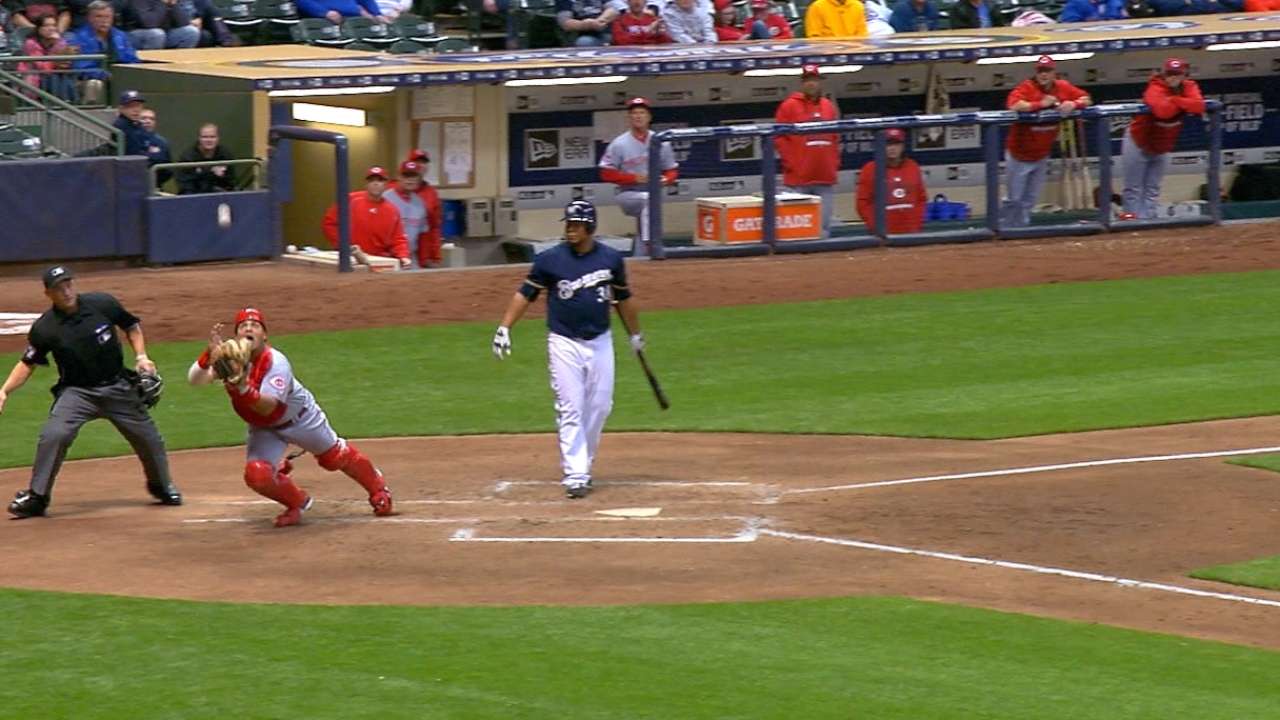 "I was just trying to execute a pitch and trying to get Peralta to kind of jab at the pitch and pop it up, which is what he did," DeSclafani said. "Pena made a great catch." More >
Lucroy joins Brewers' wounded: With center fielder Carlos Gomez on the disabled list with a hamstring strain and second baseman Scooter Gennett sidelined Monday with a cut on his hand suffered during a postgame shower, the Brewers could ill afford to lose another player. But they did in the seventh inning, when catcher Jonathan Lucroy left the game one inning after he was struck by Cozart's foul tip. The Brewers announced after the game Lucroy will be placed on the DL with a broken left toe. More >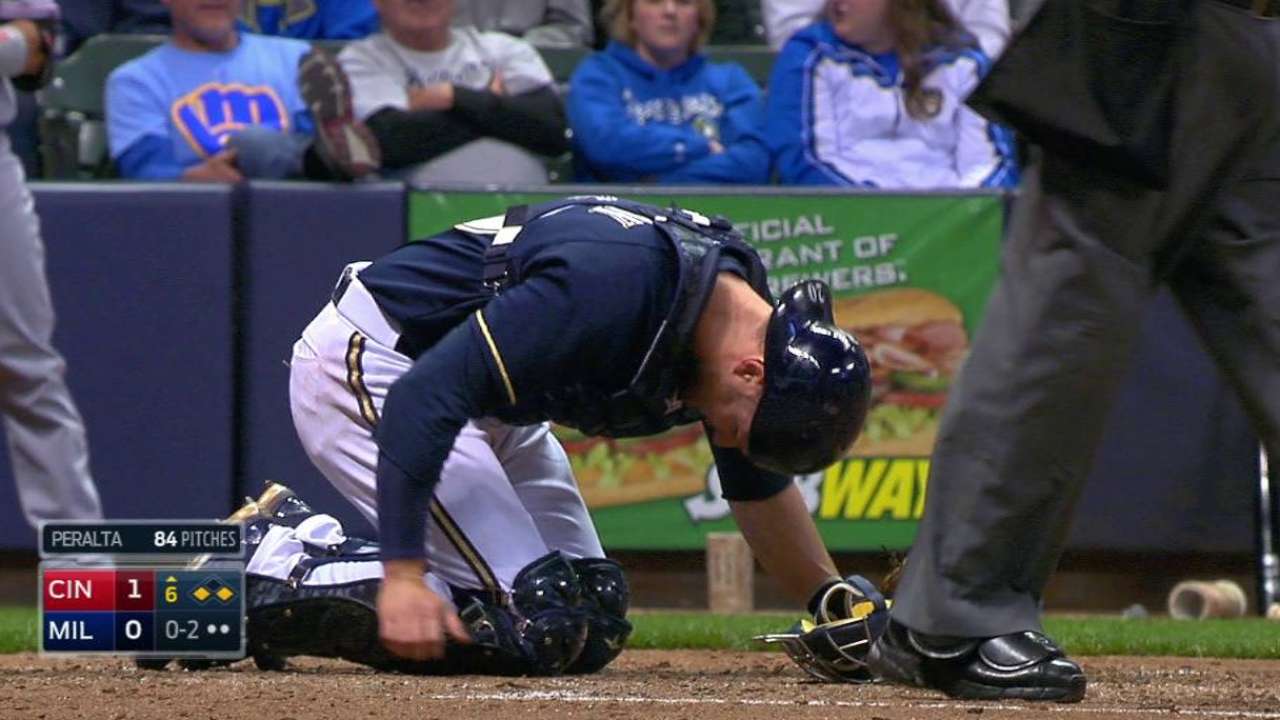 "I don't know what is going on. It is weird," Lucroy said. "We have to adapt, overcome and deal with it. It is just part of life."
Braun blast ends power drought: Ryan Braun's ninth-inning home run was the 231st of his career, pushing him past Prince Fielder for sole possession of second place on the Brewers' all-time list. Only Robin Yount (251) has more. The solo shot also snapped the Brewers' six-game home run drought, their longest since 2002.
QUOTABLE
"In my mind, I haven't thrown any shutout innings. It's just going to be the same approach. Just take it inning by inning and just try to put up zeros. That stat doesn't really cross my mind. I don't care about that. I just want to put up zeros. As long as the team wins, then I'm happy." -- DeSclafani on his 15 consecutive shutout innings
"If any of us had the answer, we would fix it. It becomes contagious, whether things are going good or going poorly. … It's such a weird thing, because we swung the bats so well collectively in Spring Training." -- Braun on the Brewers' offensive woes
More >
IN REVIEW
The Brewers took a run off the board in the second inning with a successful challenge of a call at home plate. Peralta walked Pena and .111 hitter Kristopher Negron before DeSclafani singled to center field. Gerardo Parra's throw home beat the lead runner but was high, and Pena initially was called safe by plate umpire Scott Barry. But upon review, Lucroy applied the tag before Pena's foot touched the plate, and the ruling was overturned.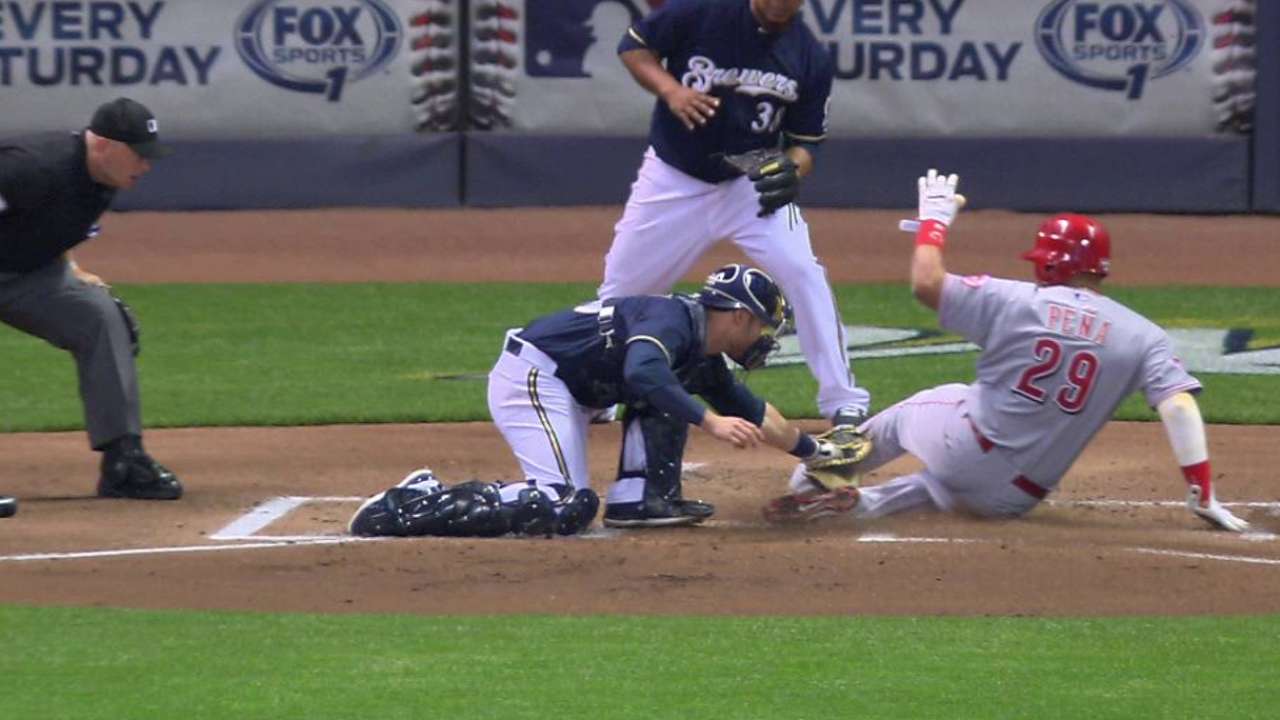 SOUND SMART WITH YOUR FRIENDS
At 2-11, the Brewers have the worst record in baseball and are off to the worst start in franchise history, but all is not lost. They can look for inspiration to the 1951 New York Giants, who began the season 2-12 but rallied to finish the regular season at 98-59, including a National League pennant-clinching victory in game No. 157 on Bobby Thomson's "shot heard 'round the world."
WHAT'S NEXT
Reds: Jason Marquis gets the starting nod for the second matchup of a four-game set Tuesday night at 8:10 ET, 7:10 CT. The right-hander has struggled in his career against the Brewers, going 6-12 in 24 games, including 21 starts, and has lost six of his last seven decisions against them, dating back to 2008. He is 1-3 in nine games, including seven starts, at Miller Park.
Brewers: Mike Fiers met the definition of "quality start" in eight of his 10 Brewers starts last season, but is 0-for-2 in that category to begin 2015. He's coming off a loss to the Cardinals in which he surrendered two runs on seven hits in 5 2/3 innings and owns a 3.08 ERA in six career appearances against Cincinnati.
Watch every out-of-market regular-season game live on MLB.TV.
Adam McCalvy is a reporter for MLB.com. Follow him on Twitter at @AdamMcCalvy. Jim Hoehn is a contributor to MLB.com. This story was not subject to the approval of Major League Baseball or its clubs.