Protective pad in cap gives McHugh peace of mind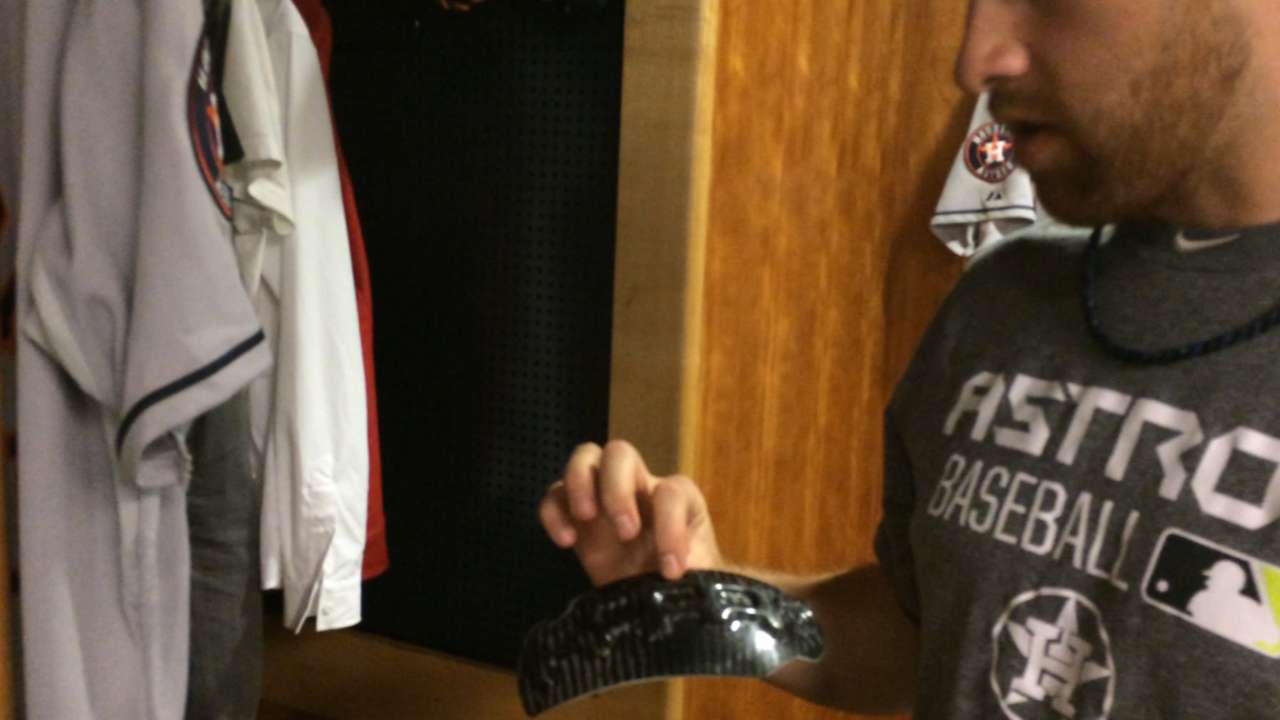 SEATTLE -- You can hardly tell when he's on the mound, but right-hander Collin McHugh is one of the few pitchers in the Major Leagues who wears protective head gear. About halfway through last season, McHugh started wearing a protective pad inside his cap that can't be seen from the outside and protects the right side of his head if a ball is hit back at him.
The pad, a rectangular piece of Kevlar with some padding on the inside, was developed by SST Baseball, which is owned by McHugh's high school teammate, Matt Meier. It fits inside the cap and goes across the front panel.
"It covers that spot [that's exposed] when you rotate," McHugh said. "It's hard to get the glove back up there, and the vast majority of injuries happen on that side. Hopefully, I'll never have to see if it works or not. I think it's a great product and something I'll probably never stop wearing."
McHugh hasn't been struck in the head by a batted ball but said that it's always in the back of a pitcher's mind. The pad gives him some peace of mind.
"You try not to think about it," he said. "Having something in place just in case is a nice little reassurance. If you get hit in the head, it's never going to be a pleasant experience. If it's the difference in going to the hospital or not, I'll take my chances [and use the pad]."
Meier had been using the device with high school kids the past couple of years and asked McHugh if he would be interested in wearing it. As of last season, pitchers are allowed to wear bulky protective caps, but they haven't caught on. The pad McHugh wears is hardly noticeable.
"I think pitchers need something like that, some kind of protection, so it was the perfect chance for me to try it out and see how I feel about it," he said. "After a couple of bullpens of playing catch with it, I really felt comfortable with it."
Brian McTaggart is a reporter for MLB.com and writes an MLBlog, Tag's Lines. Follow @brianmctaggart on Twitter. This story was not subject to the approval of Major League Baseball or its clubs.