Reds' road trip featuring scuffling offense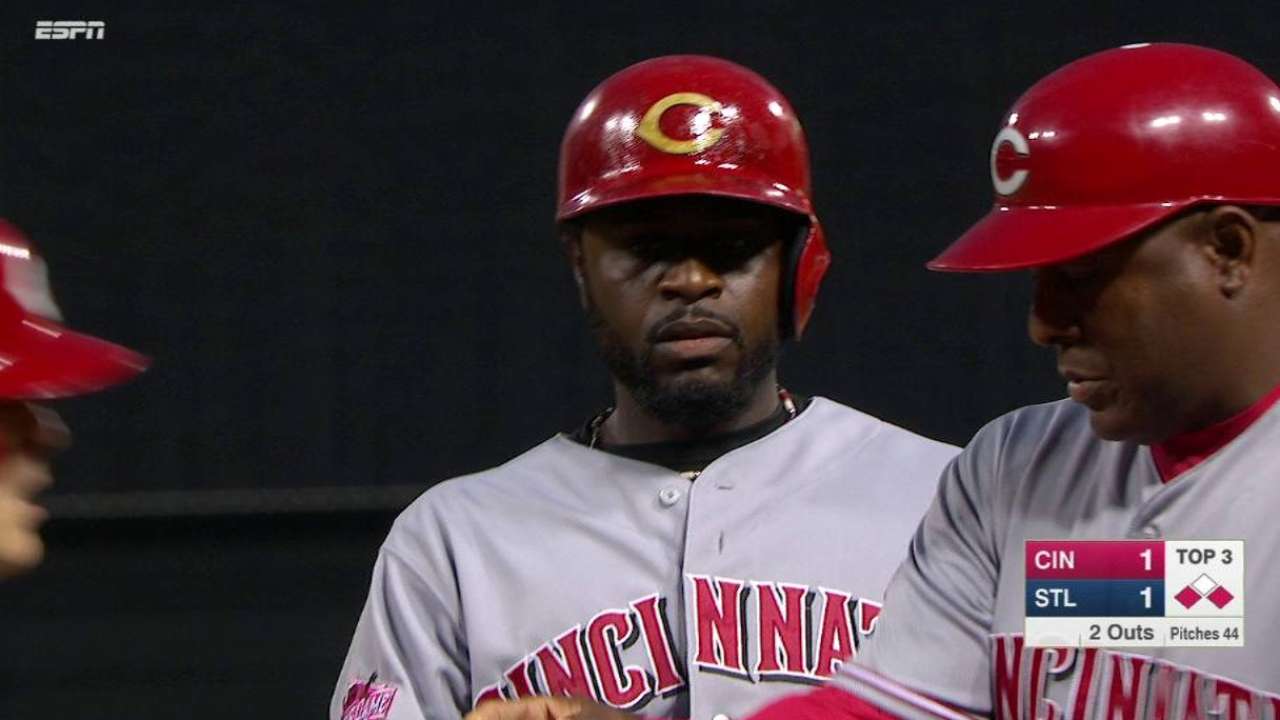 ST. LOUIS -- Even for those who aren't good at math, compiling the numbers for the Reds' offense of late shouldn't be too difficult.
In their four-game losing streak, including Sunday's 2-1 loss to the Cardinals, which got them swept in a series, the Reds have scored just four runs while batting .198 as a team, including 1-for-21 with runners in scoring position. They left the bases loaded in the eighth inning of the series finale.
"It's frustrating. I know we've got a much better offense than we've shown to this point," Reds manager Bryan Price said. "I don't think we're reaching to think the lineup that we have out there is capable of not just scoring runs, but scoring a lot of runs. It's frustrating while we struggle, [but] I'm confident that we're going to be a very nice offensive ballclub."
The Reds had eight hits in Sunday's game, with six of them coming with two outs, which wasted a complete-game, 86-pitch performance by starting pitcher Mike Leake. He allowed only four hits -- but a leadoff home run and an eighth-inning sacrifice fly did him, and the Reds, in. Their lone run scored off Adam Wainwright came on Brandon Phillips' bloop RBI single with two outs.
"In this particular road trip, we're having to kind of come from behind, and that hasn't worked out so well," Price said.
While Joey Votto is batting .364 with seven multihit games in the 12 played, several members of the lineup are struggling. Todd Frazier is 4-for-24 on the road trip, and Jay Bruce is 4-for-23. Marlon Byrd, who did not play on Sunday, is batting .143 in his 11 games. Billy Hamilton, who also didn't play because of a sore right groin, is batting .195.
The club has also played shorthanded, basically with a four-man bench. Besides Hamilton being out, catcher Devin Mesoraco missed his seventh straight game with a left hip impingement. The Reds have maintained since Mesoraco rejoined the road trip on Friday that he was available to pinch-hit. But in the ninth inning after a leadoff single by Brennan Boesch, Price used Brayan Pena to pinch-hit for Leake, and Pena popped out to third base against Jordan Walden. Skip Schumaker left Boesch stranded by grounding out to end the game.
Price was asked if he considered using Mesoraco.
"Uh, no. Nope," said Price, before chuckling a little and taking a pause. "No, I did not."
After the game, Mesoraco was not seen in the clubhouse. His bag was already packed and his chair folded up in his locker -- a sign that he was long gone and not in any position to have pinch-hit, despite being considered available.
Mark Sheldon is a reporter for MLB.com. Read his blog, Mark My Word, and follow him on Twitter @m_sheldon. This story was not subject to the approval of Major League Baseball or its clubs.