Cruz's bat, Lester's glove key on wild Sunday
Royals-A's at odds again, while red-hot Mets win eighth in a row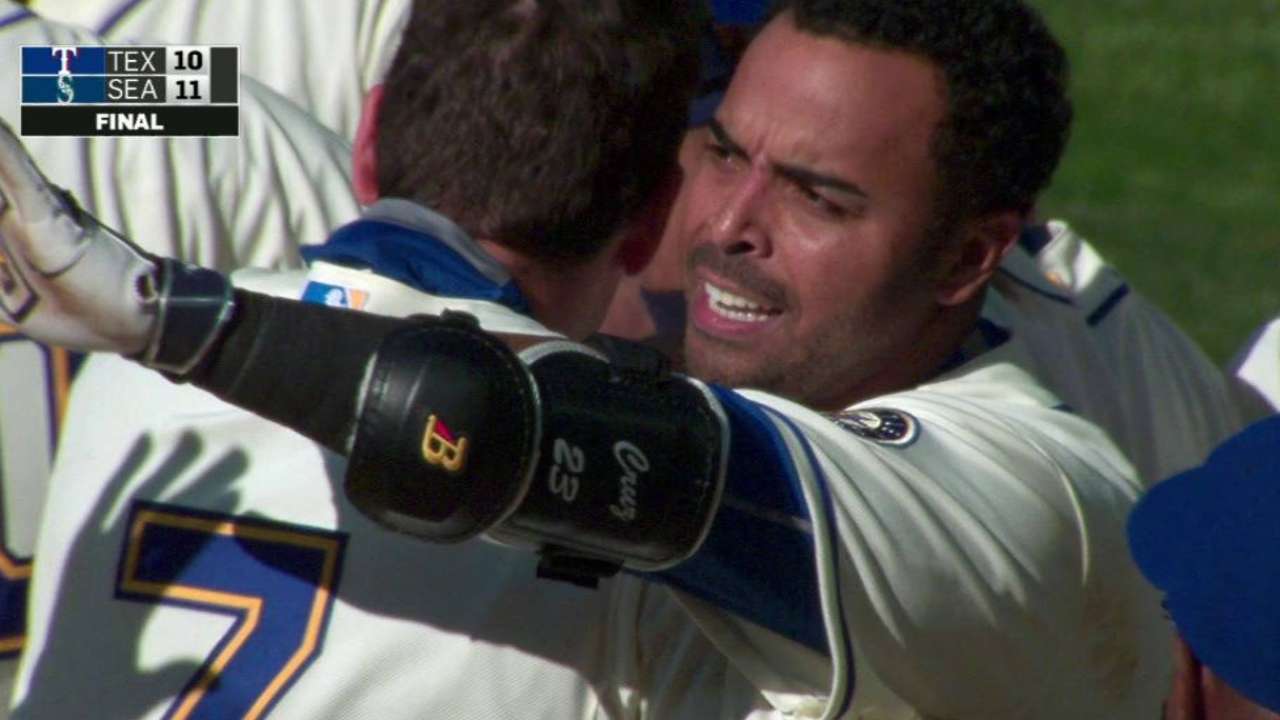 Sunday was a fun day for some teams, a difficult day for others, and quite the crazy day all around in Major League Baseball.
All over the ballparks of the American and National Leagues, eye-opening events and happenings were developing, and with them came storylines that should have significant impact on the fortunes of the teams involved.
Cruz control
In Seattle, there was drama and, ultimately, unbridled joy. The fans packing Safeco Field in Seattle on a picture-perfect spring day not only saw a stirring comeback by the local nine, capped by a wacky walk-off 11-10 win, but they saw a lot more boom from their brand-new "Boomstick," designated hitter Nelson Cruz.
Cruz homered in his first two at-bats, giving him eight long balls this season, all of which have come in the last eight games. The eight homers in his team's first 12 games is the most since Alex Rodriguez hit eight in the Yankees' first 12 games in 2007.
And he wasn't done. Cruz stepped to the plate with the bases loaded and two out in the ninth in a 10-10 game and ripped a single to left-center for the game-winner.
Bad blood rising
Meanwhile, in Kansas City, there was more vitriol on Sunday. It carried over from Friday's series opener between the Royals and A's, which featured a hard slide at second base by Oakland third baseman Brett Lawrie that resulted in a mild knee sprain for Royals shortstop Alcides Escobar.
The benches cleared then and also on Saturday, when Kansas City starter Yordano Ventura drilled Lawrie with a 99-mph fastball, likely as payback for the slide.
Ventura was ejected from that game, and there were more ejections on Sunday. Royals manager Ned Yost and pitching coach Dave Eiland were run after Lorenzo Cain was hit by a Scott Kazmir pitch early in the game, and Kansas City reliever Kelvin Herrera was thrown out after throwing inside and then behind Lawrie late in the game.
Incessant chatter from both dugouts led to Escobar and Royals bench coach Don Wakamatsu, who was acting manager at the time, also getting tossed.
Glove, Chicago style
Things were a bit more light-hearted at Wrigley Field, where a rare occurrence mixed with some true innovation led to one of the cooler "routine" outs recorded in recent memory.
Padres infielder Clint Barmes hit a comebacker to Cubs starter Jon Lester, and Lester fielded the ball, but the ball stuck in his glove, so Lester threw the entire glove, with the ball still stuck in it, to first baseman Anthony Rizzo.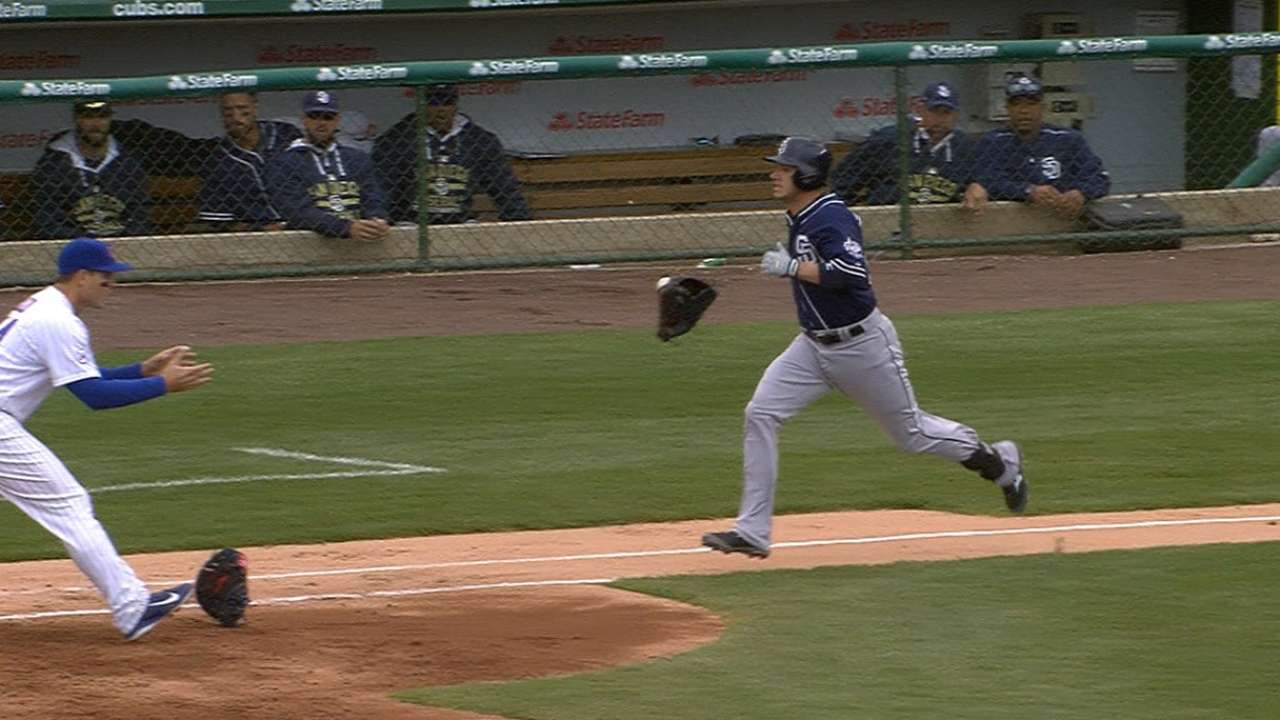 Rizzo, alertly realizing what was happening, dropped his own glove to better receive Lester's. The out was made and laughter and applause were shared by all in the Friendly Confines.
"It's a good play that he caught the ball in the first place," manager Joe Maddon said. "And then to complete it, that was very entertaining."
Breaks of the game
The high-flying Mets got another win from Matt Harvey to roll to eight straight victories and improve to 10-3 this season. But the Sunday tally at Citi Field came at a price, and now there are a few summer bummers in store in Queens.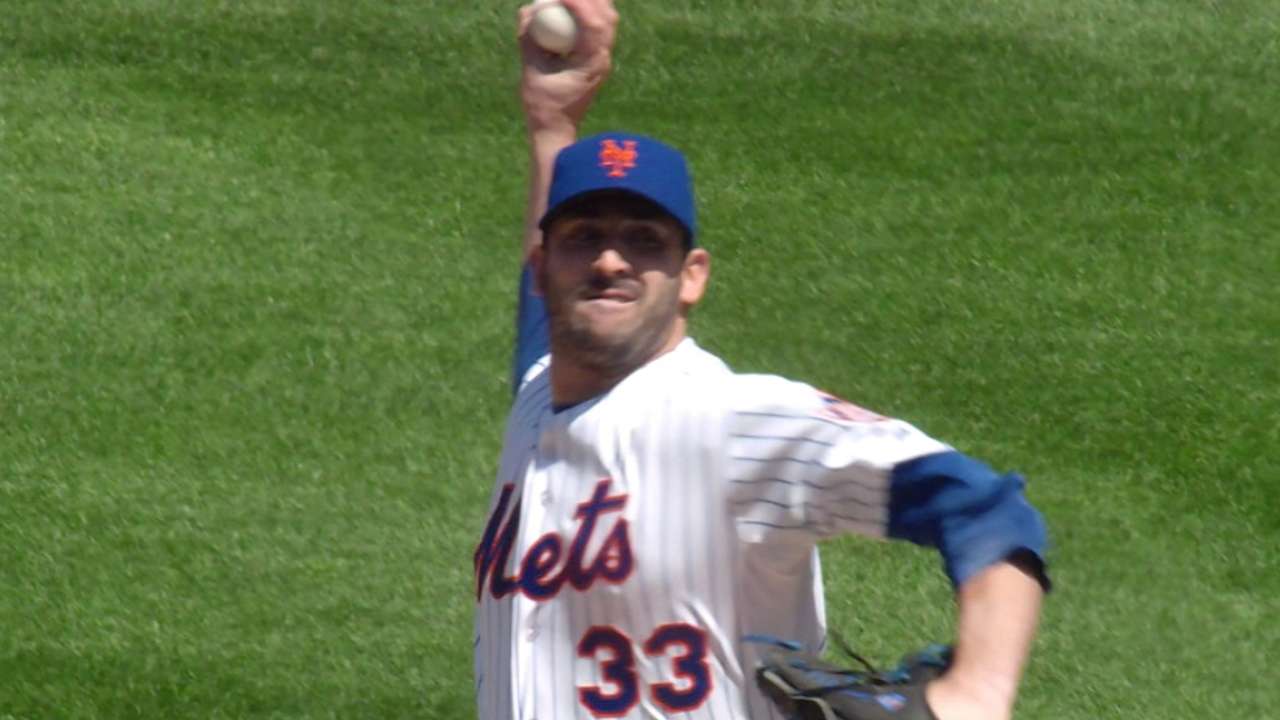 Catcher Travis d'Arnaud sustained a fracture of his right hand when hit by a fastball thrown by Marlins reliever A.J. Ramos, and this happened not too long after Mets reliever Jerry Blevins sustained a fractured forearm after being hit by a line drive.
The loss of d'Arnaud behind the plate for what figures to be a lengthy amount of time led the Mets to tap into their future. New York will call up catcher Kevin Plawecki, their No. 2 prospect and the No. 63 overall, according to MLB.com.
New kid in town
Speaking of high-profile prospect promotions, Sunday also brought baseball the news that Carlos Rodon is coming to the big leagues on Monday.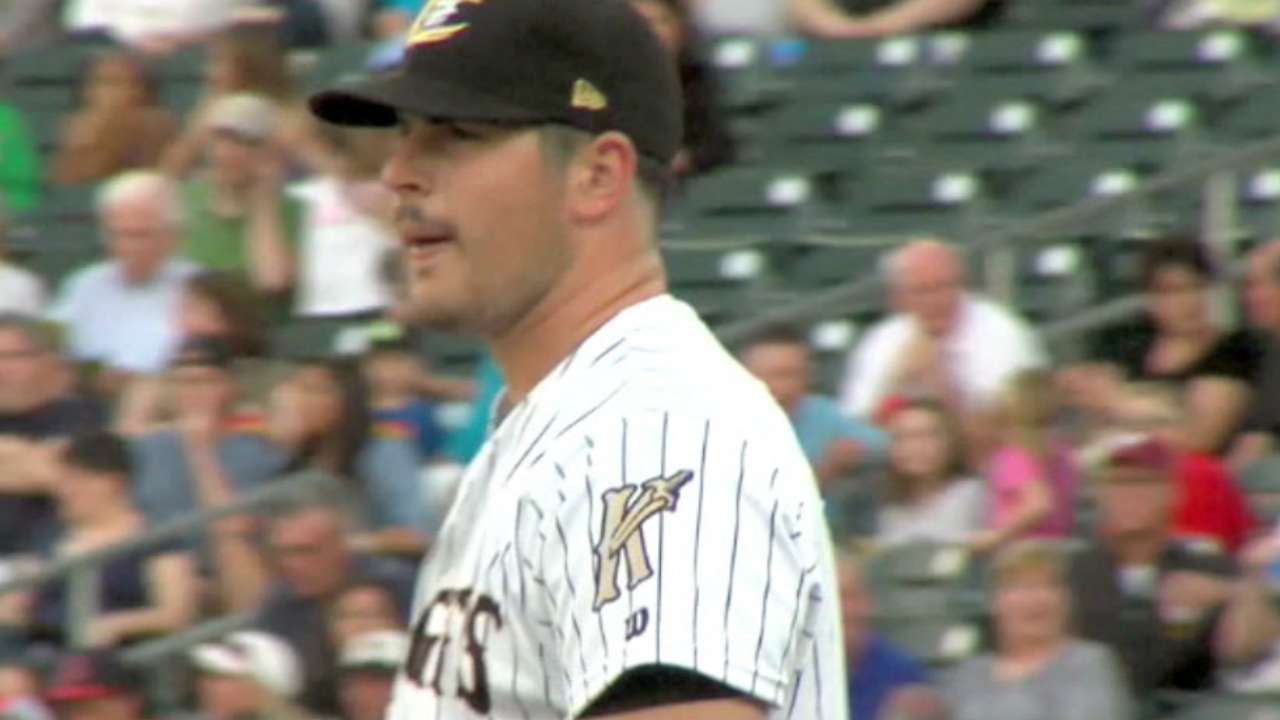 Rodon, the 22-year-old left-handed pitcher who was taken by the White Sox with the third overall pick in last year's First-Year Player Draft, was one of the club's final cuts in Spring Training and is expected to be part of the starting rotation down the road.
For now, MLB.com's top prospect in the Chicago organization will bide his time in the bullpen.
Doug Miller is a reporter for MLB.com. Follow him on Twitter @DougMillerMLB. This story was not subject to the approval of Major League Baseball or its clubs.