Good news on Hamilton, no news on Mesoraco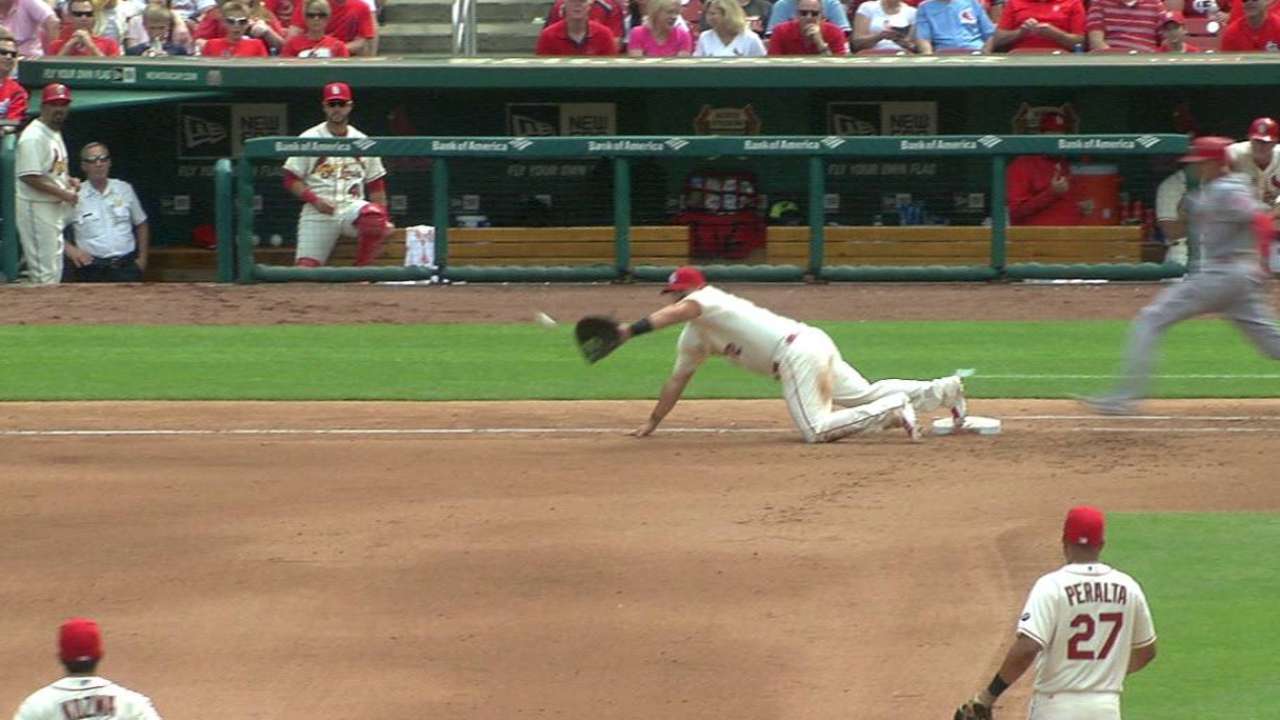 ST. LOUIS -- Some good news came the Reds' way Sunday, and it was a little unexpected. Leadoff hitter and center fielder Billy Hamilton's sore right groin was not as bad as expected on Sunday -- one day after he came off the field hurting during Saturday's 5-2 loss to the Cardinals.
Hamilton, who was injured running out an infield single in the eighth inning, tested himself by running on the field at Busch Stadium. But he was not in the starting lineup in the series finale on Sunday night.
"I'm better today. I can move around a little bit better today, so that's a good thing," Hamilton said. "My legs are my gift."
Hamilton was optimistic he could return to the lineup on Monday when the Reds open a four-game series in Milwaukee.
"When I came out, I thought it was way worse than it was," Hamilton said.
Brennan Boesch started in center field on Sunday, while Skip Schumaker played left field and led off. Hamilton, who snapped an 0-for-14 skid with the infield hit that ultimately ended his day early, was considered available off the bench by manager Bryan Price.
"That was somewhat of a surprise that he's recovered so well. He's definitely a usable piece at this point," Price said. "I don't think there's really a concern of re-injury."
Meanwhile, the news was unchanged for another key lineup piece in catcher Devin Mesoraco. Sunday marked the seventh game that Mesoraco was out with a left hip impingement. He remained available to pinch-hit -- something he had yet to do all week.
"You're kind of between a rock and a hard place with this," Price said. "You don't want to exacerbate the problem, and I'm confident that his ability to hit and run will not compromise his current condition. [But] it's a lot easier to get him in the lineup when he's able to catch, and he's not there yet. I don't know how much we'll use him as a pinch-hitter. I'm hoping that in the next few days he's able to catch, because that's really his value to our club."
Price was asked if Mesoraco could or should be placed on the 15-day disabled list, especially after he's beyond the halfway point without playing.
"[The] feeling is that ... he needed a few extra days rest from catching and may be able to catch in the next couple of days," Price said. "I'm hoping he can. I'm not sure."
Mark Sheldon is a reporter for MLB.com. Read his blog, Mark My Word, and follow him on Twitter @m_sheldon. This story was not subject to the approval of Major League Baseball or its clubs.