Indians fighting through slump up and down lineup
Tribe ranks near bottom of AL in most offensive stats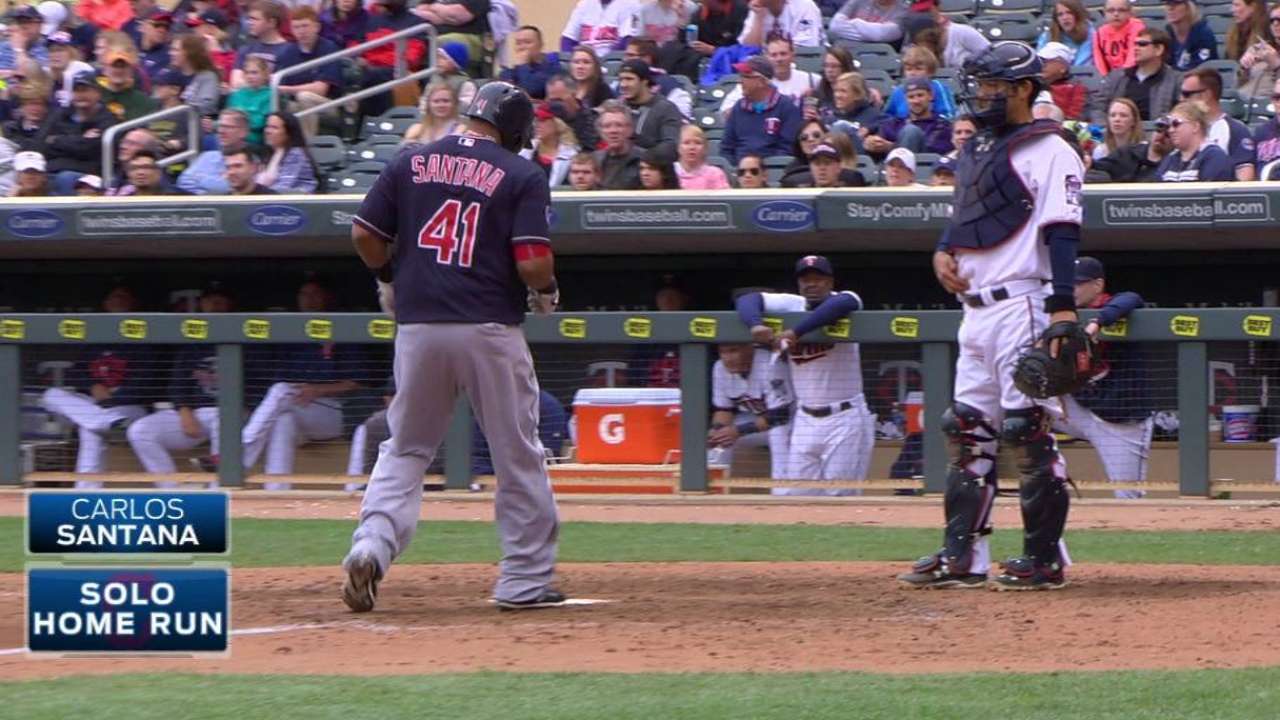 MINNEAPOLIS -- Each season, the common refrain for any team that is struggling early in the year consists of two words: It's early. Two weeks into this campaign, the Indians have been saying that a lot in reference to the club's laboring lineup.
Tribe lefty TJ House did not do his team any favors with a rough outing on Sunday, but the offense once again limped through nine innings, leading to a 7-2 loss to the Twins at Target Field. Michael Brantley delivered an RBI single in the third inning and Carlos Santana slugged a solo home run in the ninth, and that was all she wrote for the local nine.
"Our confidence level has got to stay high," Brantley said. "We've got to keep pushing forward and take it one game at a time. Hitting is contagious, so we've just got to go up there and put up good quality at-bats."
As a team, the Indians are now sporting a .221/.278/.326 slash line through 11 games this season. Entering Sunday's action, Cleveland ranked 11th in the American League in average and on-base percentage, and 13th in slugging percentage and OPS. The Tribe's OPS+ of 73 heading into Sunday meant that the team was performing 27 percent below league average.
The Indians are now averaging only 3.2 runs per game, putting a lot of pressure on the pitching staff.
Brantley, who hit .327 last season, has turned in a .200 average while battling a back issue. Leadoff man Michael Bourn and Jose Ramirez are also batting .200 apiece, with Ramirez leading that duo with a .558 OPS. Brandon Moss -- acquired over the offseason for his power -- has hit just .156 with one homer and a .583 OPS. Second baseman Jason Kipnis and first baseman Carlos Santana are each batting .244 right now.
"I want us always to have 15 hits and nine runs," Indians manager Terry Francona said. "We've got to fight through it. Until you really get rolling, you find a way to manufacture and find a way to win by one. Because, there are going to be some days when Mossy gets hot and hits some home runs and things like that. Until we do, we're going to have to try to find ways to win closer games."
Jordan Bastian is a reporter for MLB.com. Read his blog, Major League Bastian, and follow him on Twitter @MLBastian. This story was not subject to the approval of Major League Baseball or its clubs.