2 Royals ejected in first inning; 3 in eighth
Yost, Eiland, Herrera, Wakamatsu and Escobar tossed during series finale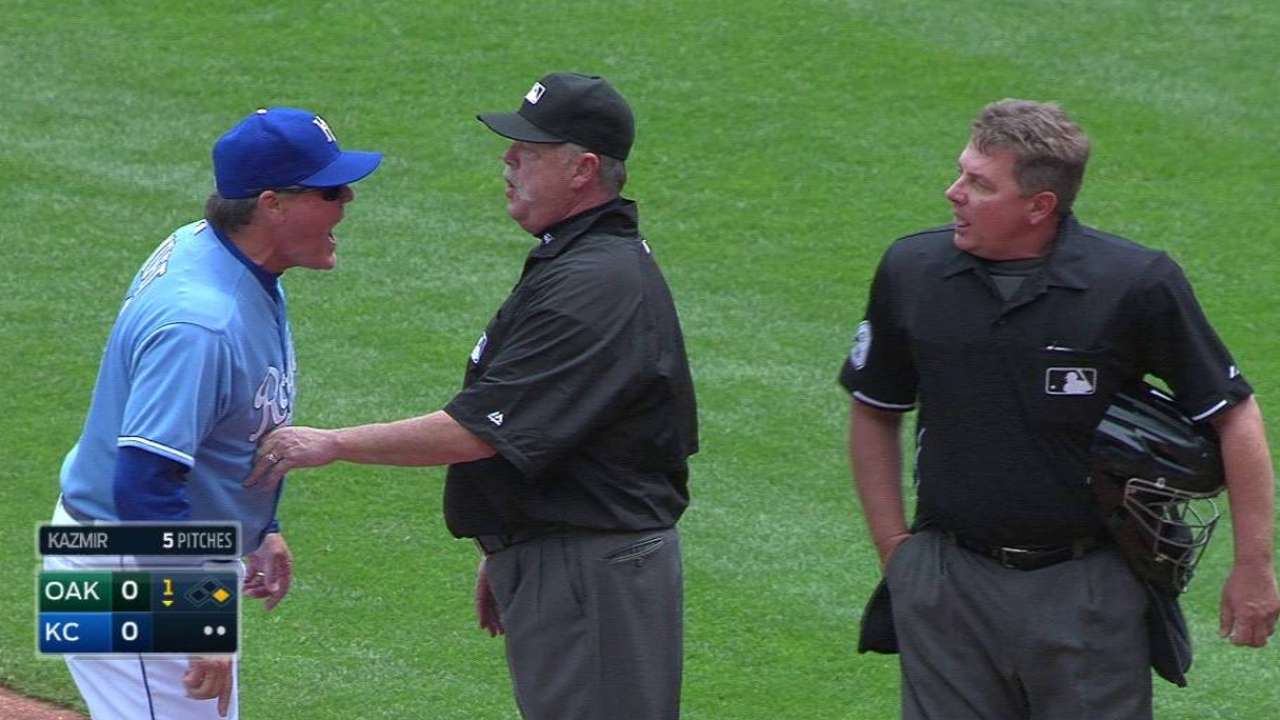 KANSAS CITY -- It all started with a hard slide from Oakland's Brett Lawrie into Royals shortstop Alcides Escobar on Friday night.
Escobar suffered a sprained left knee and a deep bruise and hasn't played since.
Then Royals ace Yordano Ventura plunked Lawrie on Saturday night with a pitch and was ejected.
In the first inning of the Royals' 4-2 win on Sunday, A's starter Scott Kazmir plunked Royals center fielder Lorenzo Cain, which prompted a warning to both benches, which incensed the Royals' dugout.
That spurred ejection No. 1 -- Royals pitching coach Dave Eiland. When manager Ned Yost went out to inquire with home-plate umpire Greg Gibson as to why Eiland got tossed, Yost became ejection No. 2.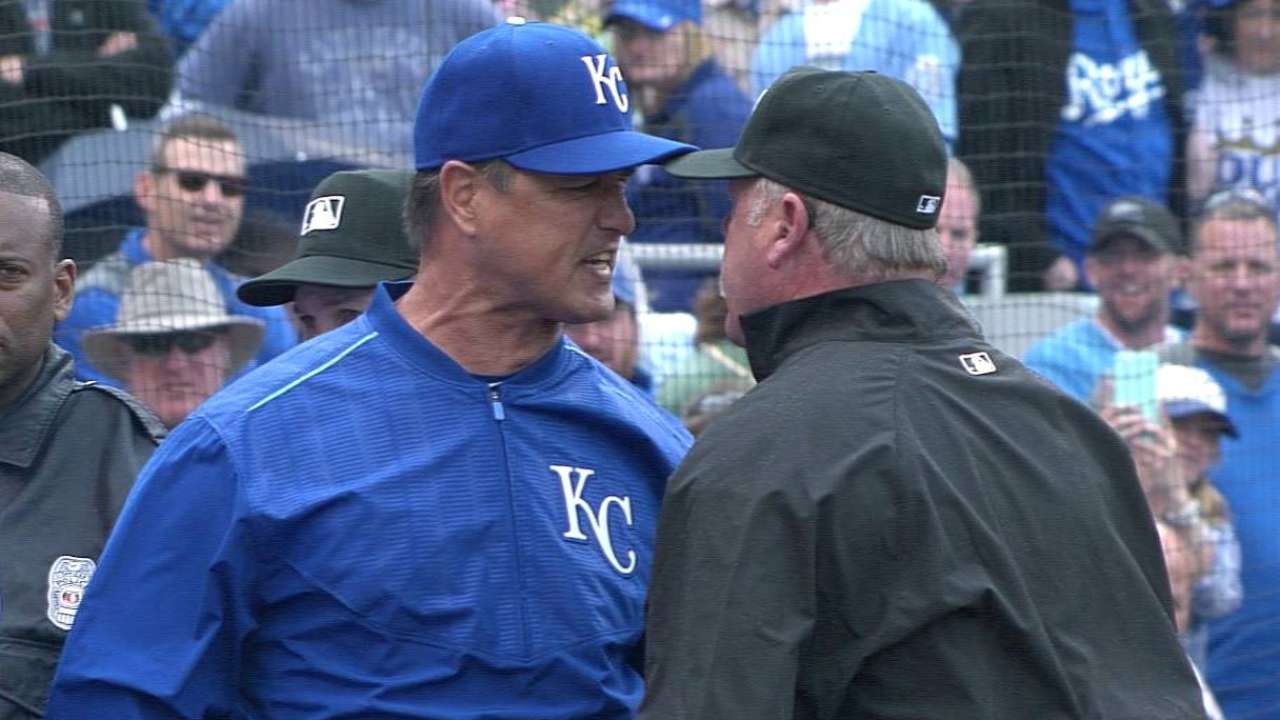 In the eighth inning, Royals reliever Kelvin Herrera threw a pitch inside to Lawrie, then threw a pitch behind Lawrie. Herrera became ejection No. 3.
Herrera then glared at the A's dugout and pointed his index finger to his temple. Asked later what that gesture meant, Herrera said, "Think about it."
But as Herrera went into the dugout, players from both sides began barking at each other. Escobar, who had been sitting on the bench, then became ejection No. 4.
Royals bench coach Don Wakamatsu became incensed and started arguing with Gibson. Wakamatsu became ejection No. 5.
And actually, as Yost pointed out, Wakamatsu already had been ejected.
"If a pitcher gets thrown out after a warning," Yost said, "it's automatic that the manager gets thrown out, too. [And] it's an automatic suspension. It's going to be an appeal."
Escobar said he wasn't sure why he was ejected.
"I don't know," Escobar said. "[The umpires] see me talking. They were talking in the other dugout, but they throw me out."
Escobar, though, seemed soothed by the obvious support from his teammates throughout the weekend, suggesting his teammates "sent a message."
"My whole team supported me," Escobar said. "... That's why Ventura and Herrera [reacted the way they did]."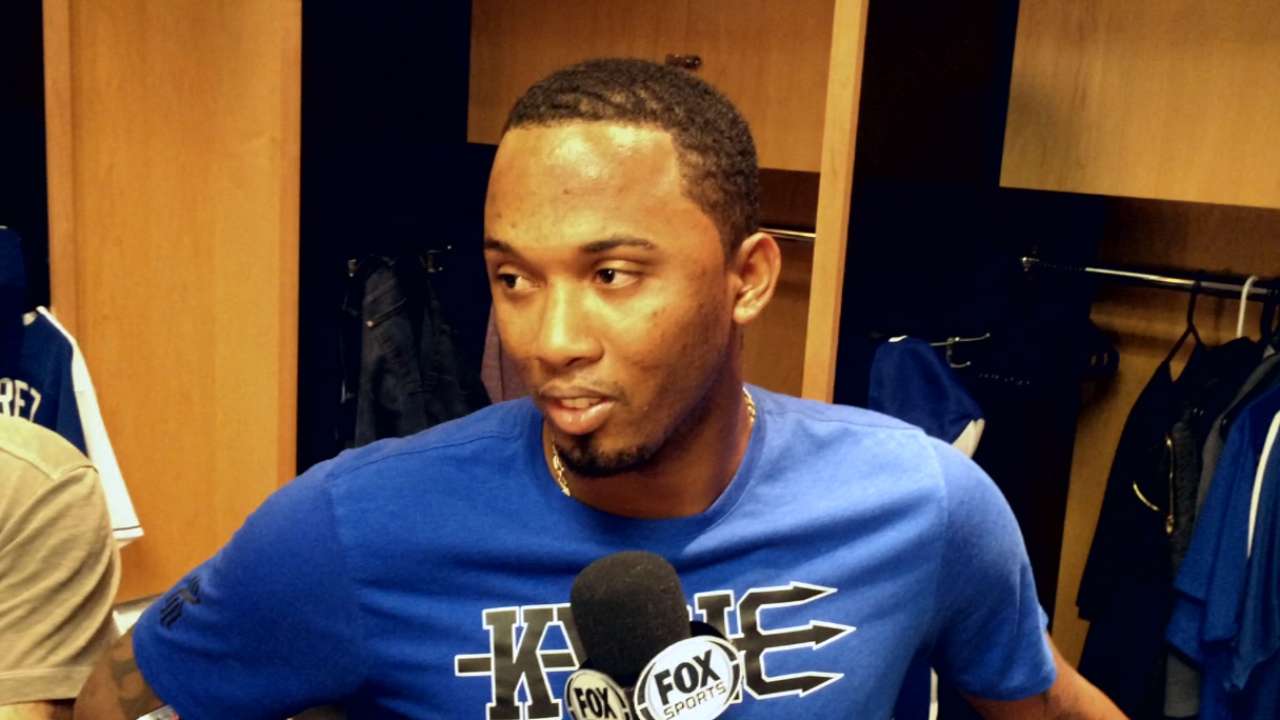 Asked what happened on the pitch behind Lawrie, Herrera said, "I just had a bad grip on it. It started raining pretty good."
Herrera admitted, though, that it was "a pretty intense series."
And now will come the fallout. Ventura would not comment on his ejection Saturday night or whether or not he feared being fined or suspended.
Asked if he thought he might be fined or suspended, Herrera said, "I don't know."
The Royals, though, were simply glad to have pulled out the win, another dramatic rally past the A's.
"These are the games you really want to win," first baseman Eric Hosmer said. "These games will matter for us in September."
Jeffrey Flanagan is a reporter for MLB.com. Follow him on Twitter at @FlannyMLB. This story was not subject to the approval of Major League Baseball or its clubs.