Papi ejected amid frustration over check-swing call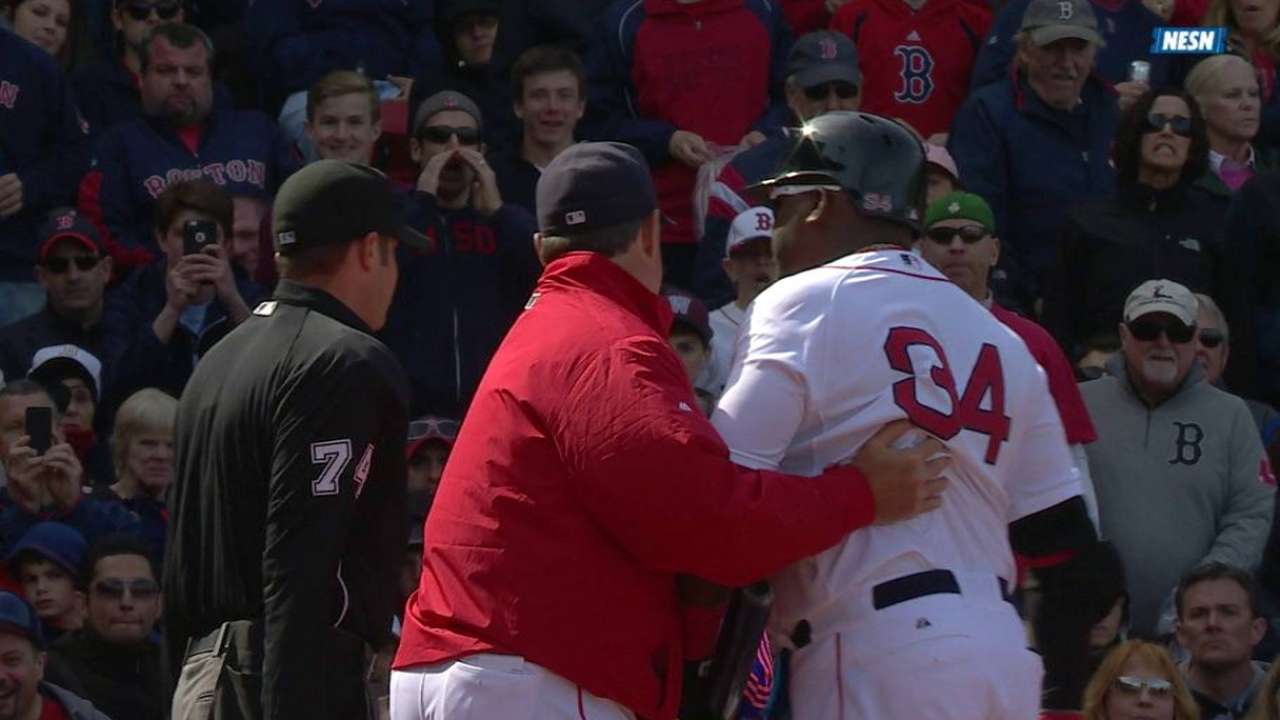 BOSTON -- David Ortiz started to swing at an offering from Baltimore starter Miguel Gonzalez in the middle of his fifth-inning at-bat, with the count sitting at 1-2, then checked his swing above the center of the plate. Third-base umpire Jerry Meals called it a swing. The Red Sox's designated hitter disagreed and soon tempers flared.
That wound up being Ortiz's last at-bat in the Red Sox's 8-3 loss to the Orioles on Sunday. As the slugger angrily questioned the call, he was ejected by home-plate umpire John Tumpane in short order. Boston manager John Farrell came out of the dugout to argue with Tumpane in defense of his star player, whom he felt had been the victim of two borderline check-swing rulings.
"The discussion was [about] our disagreement [over] a couple of check swings called today," Farrell said. "We didn't feel like on either one he went. The first [inning] at-bat doesn't really have an outcome because he ends up walking. But those are quick rings on the check swing, and we didn't feel like he swung on either one."
Ortiz, visibly agitated, threw his bat to the ground in disgust and ripped off his batting gloves. The sellout crowd of 37,761 produced chants of "Papi," which soon morphed into loud boos as he disappeared into the clubhouse.
Daniel Nava filled in as the DH for the remainder of the game, going 0-for-2. Ortiz, batting .231 through 11 games, had recorded three hits on Saturday night.
"He's a competitor. And given some of the calls over the last couple days, there's some frustration there," Farrell said. "There's a 3-0 pitch yesterday that was called a strike that was not. The check swing in his first at-bat. And the check swing in the final at-bat. We want our guys in the game. But they're competitors."
By the time the game ended, Ortiz had long since left Fenway Park. His teammates found little reason to comment on the ejection, other than to say that they supported him and understood his frustration.
"Probably he knows what he's doing," Hanley Ramirez said. "And we're always going to have his back."
Alec Shirkey is an associate reporter for MLB.com. This story was not subject to the approval of Major League Baseball or its clubs.