Irregular schedule has House searching for groove
Indians' fifth starter has been hit hard in sparse action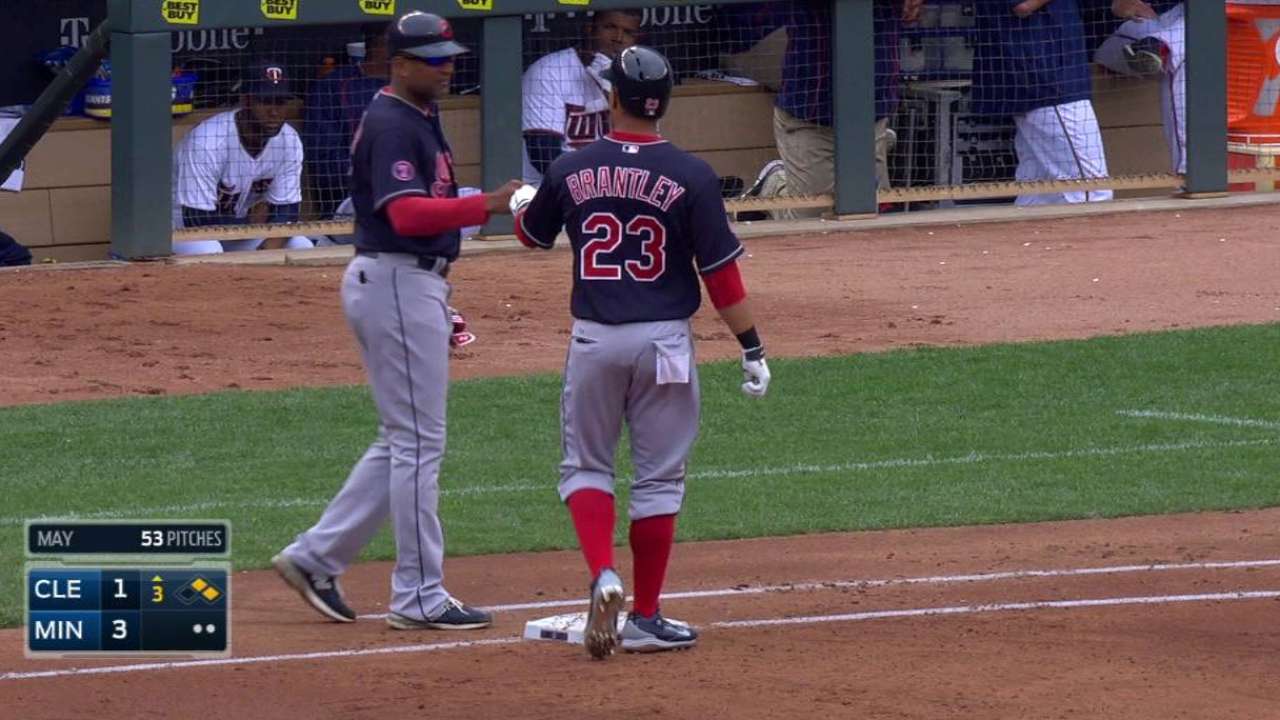 MINNEAPOLIS -- Part of the job description of a fifth starter is to be flexible on behalf of the rest of the rotation. When days off arrive for a ballclub, that might mean being pushed back several days in order to keep the top four arms as close to a regular routine as possible.
That can also lead to trouble in finding a rhythm on the mound.
Whether or not his irregular schedule is to blame, Indians lefty TJ House has struggled out of the gates as the fifth man in the Tribe's starting staff. On Sunday afternoon, House was unable to get locked in for a prolonged stretch of batters, sending Cleveland on its way to a lopsided 7-2 loss and series defeat at the hands of the Twins at Target Field.
"I just kind of couldn't catch my groove and carry it with me," House said. "One inning, I go out there and I feel great. Then, the next one I was just kind of all over the place a little bit. That was a little bit disappointing."
The 25-year-old House now has a pair of losses and a bloated 14.14 ERA through two starts this season. Against Minnesota, the left-hander lasted 5 2/3 innings and was charged with five runs, which was an improvement over his season debut against Detroit on April 12. In that abbreviated outing, House was chased after surrendering six runs in only 1 1/3 innings.
Part of the problem right now might be that House has been dealing with a sporadic schedule. The lefty's last Cactus League outing fell on March 29, and then he had 13 days of rest before making his first start of the regular season. Due to having three team off-days in the first 11 days of the season, House's second start came after a six-day rest period.
House was not willing to cite the nature of the schedule for his early woes.
"There's a combination of things. I just can't get my groove right now," he said. "There's a bunch of things. You can't put a finger on one certain thing. Right now, I've got to get back into the zone and be aggressive and kind of stay ahead of those guys. When I am, I'm a lot more successful."
Indians manager Terry Francona said House's stuff looked "flat" out of the gates, adding that the pitcher struggled to offset his fastball with a good changeup and curveball. The manager did note that House has been working under odd circumstances early on this season.
"He's worked hard," Francona said. "At the beginning of the season, sometimes things are a little disjointed. You certainly want guys to get on a roll, but you also kind of have to pick your spots, especially with the days off we've had, or you're going to have a lot of guys with too much [time off]."
House, who had a 3.35 ERA in 19 games last season and a 2.53 in the second half, knows he needs to tackle the issues that have plagued his first two outings.
"It's early right now. I'm trying not to press too hard," House said. "Obviously, I'm not getting the results that anybody wants to see. I've got to kind of keep to myself and continue to work, and go out there and throw my bullpen sessions and get better, and the results will come slowly. I've just got to keep my head forward."
Jordan Bastian is a reporter for MLB.com. Read his blog, Major League Bastian, and follow him on Twitter @MLBastian. This story was not subject to the approval of Major League Baseball or its clubs.