V-Mart may see fewer lefty ABs as knee issue lingers
DH feels pain in left knee when hitting left-handed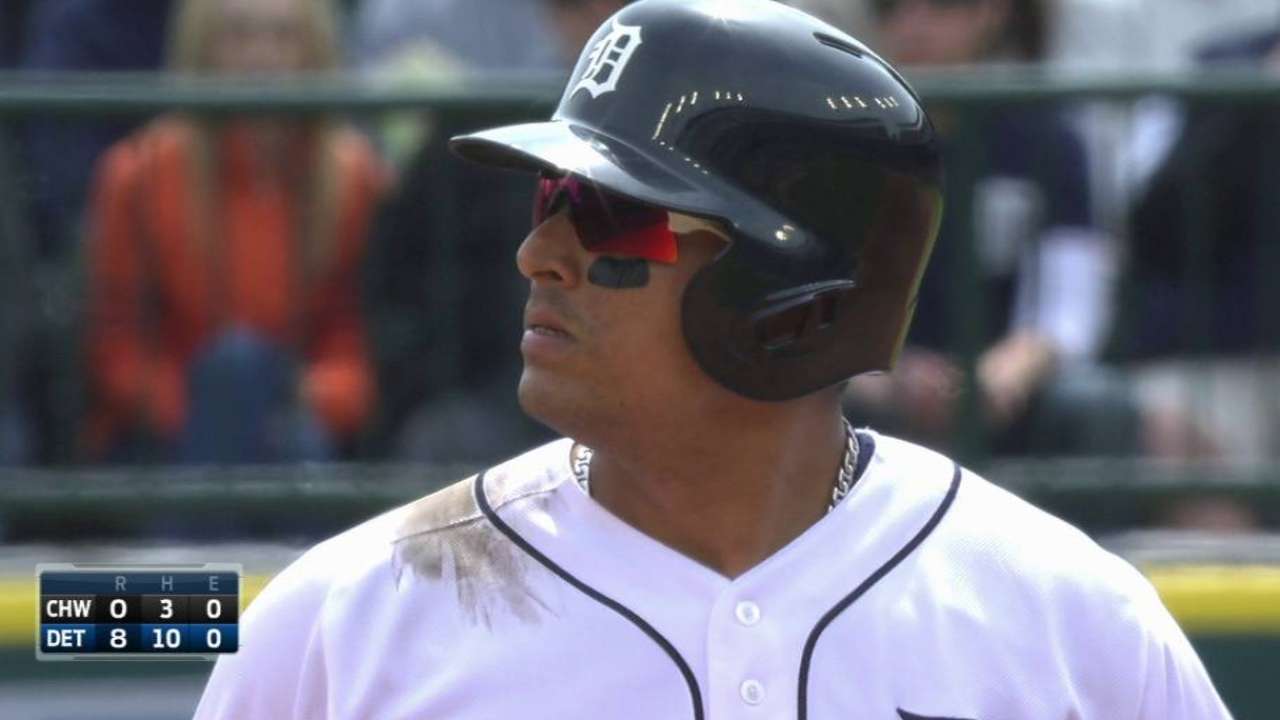 DETROIT -- Victor Martinez was in the Tigers' lineup Sunday for a second straight game and recorded three hits in a 9-1 victory, but he was also pulled late in a blowout for the second straight game, as he returns from a nagging knee issue.
Martinez is two months removed from surgery on his left knee after tearing the medial meniscus in the offseason, and his ability to run well and hit left-handed remains questionable for the switch-hitting designated hitter.
Martinez tweaked the knee on Tuesday against the Pirates, causing him to miss two games. Manager Brad Ausmus said it's not an issue with the meniscus, but rather the top of the knee, which could be dealing with more pressure after the rest of the knee was weakened from the surgery. Martinez says the knee is uncomfortable, but it's something he's going to work through.
"If it was getting worse, I would say something," he said. "It's something I'm going to have to play through for a little bit. Hopefully, it goes away sooner than later."
Martinez went 3-for-3 with a ground-rule double, an RBI and three runs scored in Sunday's win over the White Sox. Two of those runs came on Yoenis Cespedes home runs, taking away the difficulty of baserunning, as did his ground-rule double.
The knee doesn't bother him when he's batting right-handed, but his status as a left-handed hitter against right-handed pitchers moving forward will be monitored.
"We'll probably discuss it more," Ausmus said. "He felt it on one swing right-handed, but other than that, he didn't feel it at all swinging right-handed. He said that's the first time he felt it, and it went away right afterward. We have to figure out what the best solution is for Victor, for the Tigers from a medical standpoint."
Chris Viannini is a contributor to MLB.com. This story was not subject to the approval of Major League Baseball or its clubs.