Greene pounds the zone, improves to 3-0
Right-hander allows first earned run in sixth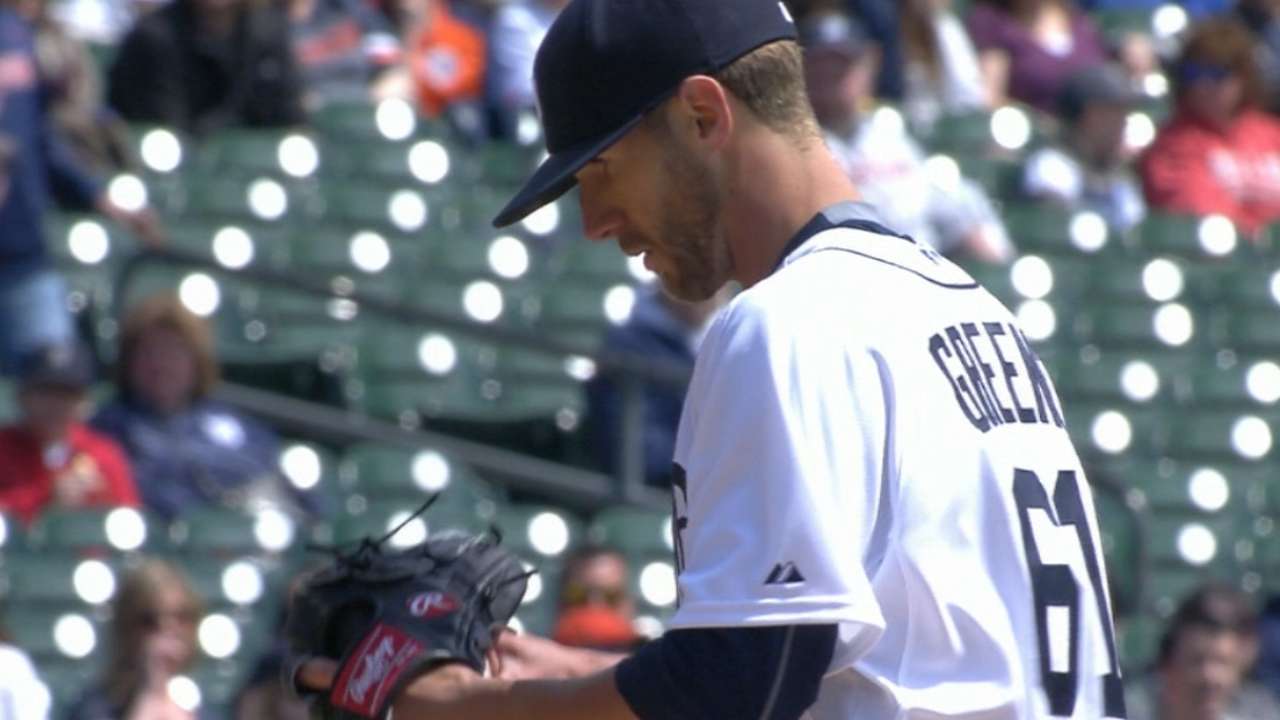 DETROIT -- Shane Greene couldn't quite make history, but another top-notch performance helped the Tigers to a 9-1 win over the White Sox on Sunday to give Detroit the series win.
Technically, it was Greene's worst start of the season, but that's because he has been so dominant. Greene was looking to become the first Tigers pitcher to begin a season with three straight starts without an earned run. That lasted into the sixth inning Sunday, until a two-out Jose Abreu triple ended Greene's streak at 21 innings.
Greene's final line included one earned run on five hits and four walks over seven innings, pushing his record to 3-0. He's the first Tigers pitcher to throw at least seven innings and allow one run or fewer in each of his first three starts since Jack Morris in 1984. But Greene didn't care about any of that.
"I knew we were 9-2 and trying to get to 10-2," the 26-year-old said.
On the season, Greene has allowed one earned run and 12 hits over 23 innings. When he was traded to the Tigers in December, manager Brad Ausmus felt the Tigers were getting a talented player, but Greene's ability to attack the strike zone has stuck out to Ausmus. Greene has said he'd rather give up a home run than a walk.
Of Greene's 59 fastballs, 43 (72.8 percent) went for strikes on Sunday, according to BrooksBaseball.net's Pitch f/x tool. On the season, 69.4 percent of Greene's pitches have been strikes.
"In the first three starts, I don't think I expected him to be this efficient and throw this many strikes," Ausmus said. "A young guy, I didn't realize he was going to be able to pound the strike zone the way he has. I hope it continues."
Greene allowed a baserunner in each of his seven innings Sunday, but when runners got on, his ability to hit the strike zone resulted in four double plays -- the most for the Tigers since Aug. 7, 2013.
"He was just in attack mode from the get-go," catcher James McCann said. "That first hitter, he fell behind 3-0, and you could see he wasn't happy with himself. He made the adjustment real quick. Then we got him those four runs in the bottom of the first, and from then on, he was lights-out, just attack, attack, attack. With that lead, he could have sat back and not pitched the way he did, but he went right after hitters and had efficient innings.
The Tigers are the first American League team to reach 10 wins -- the National League's Mets also won their 10th on Sunday -- and Greene has been a key reason for three of those.
"The defense is behind me when I'm pitching, and the offense is in front of me when I'm in the dugout," he said. "No matter where they're at, they're trying to do their job and I'm trying to do mine."
Chris Vannini is a contributor to MLB.com. This story was not subject to the approval of Major League Baseball or its clubs.