Realmuto puts athleticism on display against Mets
NEW YORK -- J.T. Realmuto was involved in a bit of everything on Sunday afternoon. The 24-year-old catcher had a single, sacrifice fly, scored on a wild pitch, and drove in another run on a fielder's choice grounder to third.
Oh by the way, Realmuto also was the focal point of an instant replay challenge. Gradually, the rookie is becoming more and more a part of the action.
"He's a young kid getting comfortable at the big league level," Marlins manager Mike Redmond said. "But he always gives us a good at-bat. He's athletic and those are the things that he brings to the table. It's fun to watch him. He's only going to get better as he gets more experience."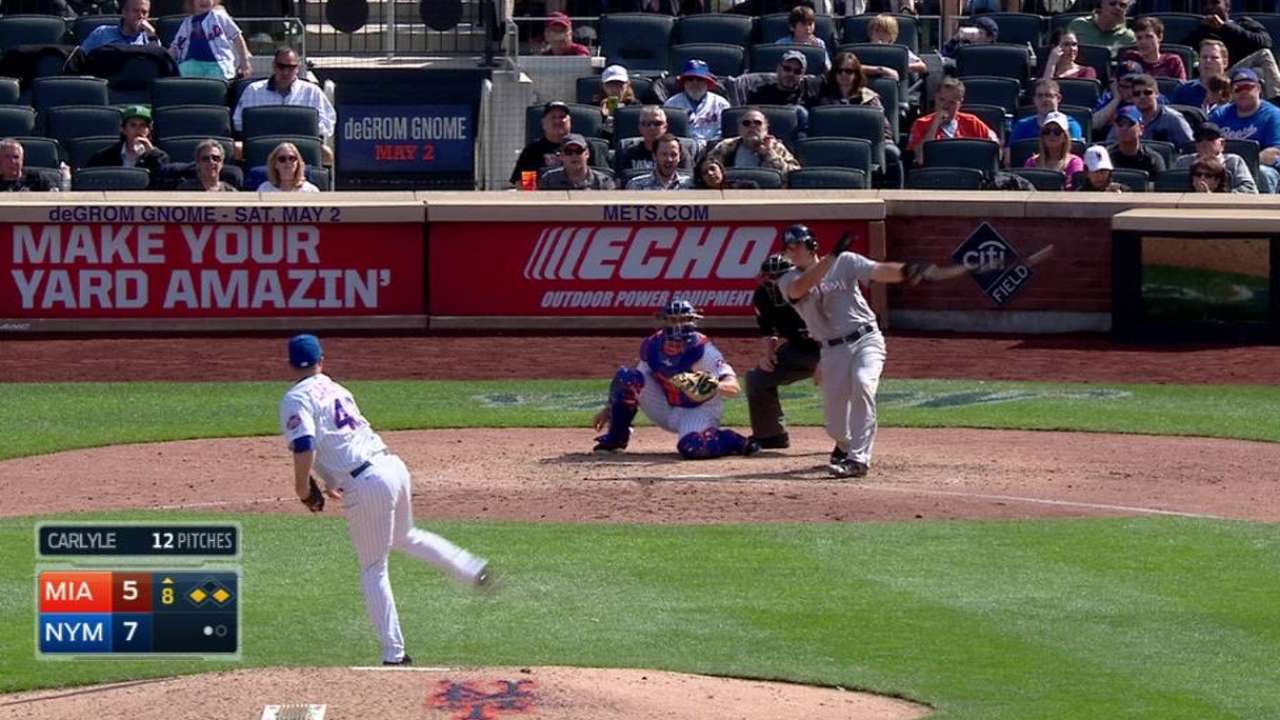 Realmuto is gaining the experience now. His opportunity arose after Jeff Mathis fractured his right hand on April 12.
With Opening Day catcher Jarrod Saltalamacchia struggling, Realmuto is assuming more playing time, and his athleticism is becoming increasingly noticeable.
"The game is starting to slow itself down for me," the Oklahoma native said. "That's something I'm happy about. But as long as we're losing games like this, and not playing to the best of our abilities, it's tough to think about my adjustment period."
Now 3-10, the Marlins are looking for a spark, and Realmuto has been providing some.
"The situation we're in right now, it's tough. It's not for lack of talent, or lack of effort," he said. "It's simply baseball. Anybody who has been around the game enough has gone through stretches like this, nobody in this clubhouse is panicking, obviously. We know we have the talent. Right now, the ball is not bouncing our way. We've got to stick at it, and keep playing baseball. It will turn around."
Realmuto had a two-RBI day on Sunday in a 7-6 loss to the Mets. His speed played a part in Miami's first run, scored in the second inning off Matt Harvey.
With one out and runners on the corners, Realmuto bounced to third. The Mets attempted to turn a double play, but Realmuto barely beat the throw to first. New York challenged, but the ruling went in Miami's favor.
"I got in," Realmuto said. "Barely. The ball was in his glove, but it wasn't touching the back yet. It was a close play though."
Joe Frisaro is a reporter for MLB.com. He writes a blog, called The Fish Pond. Follow him on Twitter @JoeFrisaro. This story was not subject to the approval of Major League Baseball or its clubs.