Buchanan makes strides, laments rocky inning
Right-hander locks up with Strasburg until Nationals' two-out surge in 5th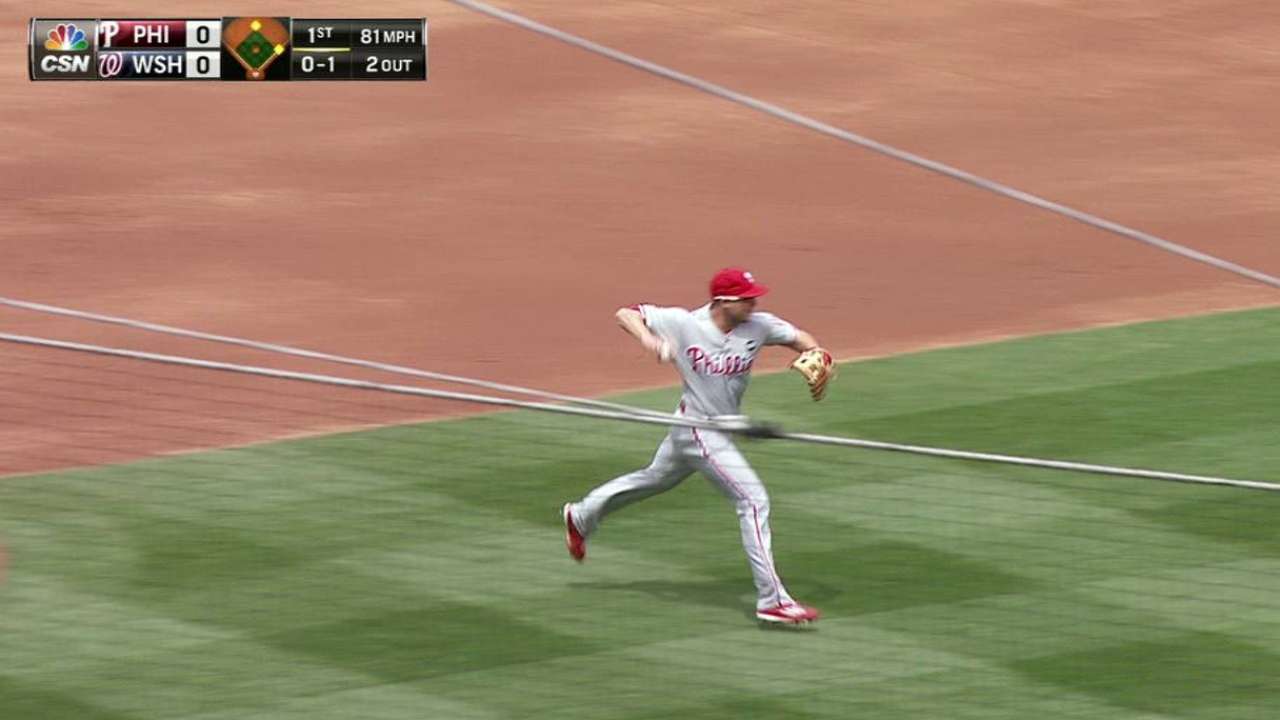 WASHINGTON -- For the second time in three starts, David Buchanan lost his way in an inning after picking up two quick outs. However, the Phillies right-hander didn't see a comparison between Sunday's 4-1 loss to the Nationals and a setback on April 9 against the Red Sox.
"I think you just have to really look at yourself and be honest with what happened," Buchanan said shortly after his third loss in as many starts. "Against the Red Sox, I wasn't really throwing strikes. I was falling behind. Eventually that's going to catch up to you. But today I thought I was throwing the ball in the zone, had some tough breaks."
Buchanan matched Stephen Strasburg in a scoreless duel for 4 2/3 innings Sunday. After allowing only two hits, Buchanan gave up four to the next five batters with one intentional walk. The batted balls weren't all drilled but were well placed.
Denard Span singled and scored from first on Ian Desmond's double down the third-base line. Jayson Werth followed with an RBI single to center and took second base when center fielder Odubel Herrera's throw missed the cutoff man.
After an intentional walk to Bryce Harper, Ryan Zimmerman's blooper found fair territory in right field, scoring Werth. With Strasburg pitching like a Cy Young contender and the Phillies' lineup still lacking punch -- Philadelphia has scored two or fewer runs in four of five games -- a 3-0 deficit was a steep climb.
Buchanan finished with a season-high four strikeouts while issuing three walks. He lowered his ERA to a still unsightly 9.22. Some early wobbles led to a high pitch count, 98 across the five innings.
"Buchanan did throw a lot of pitches early on," Phillies manager Ryne Sandberg said. "Little things didn't go his way with the three runs. He showed some improvement over his first two starts.
"He can't let up to get the final out. We had a missed cutoff man and a lazy fly ball to right, otherwise we might have potentially been talking about one run in the inning."
That's how the 25-year-old hurler saw things as well, as he took reporters batter-by-batter through the rough part of the fifth.
"The ball I threw to Span was a good pitch, out front," Buchanan said. "Desmond I tried to go in a little bit and he went down the line. Werth, I thought he was out front a little bit and that fly ball to Zimmerman, can't do anything about that. I thought I made some good pitches. Tough luck."
Ben Standig is a contributor to MLB.com. This story was not subject to the approval of Major League Baseball or its clubs.