Miller rising to stage in save situations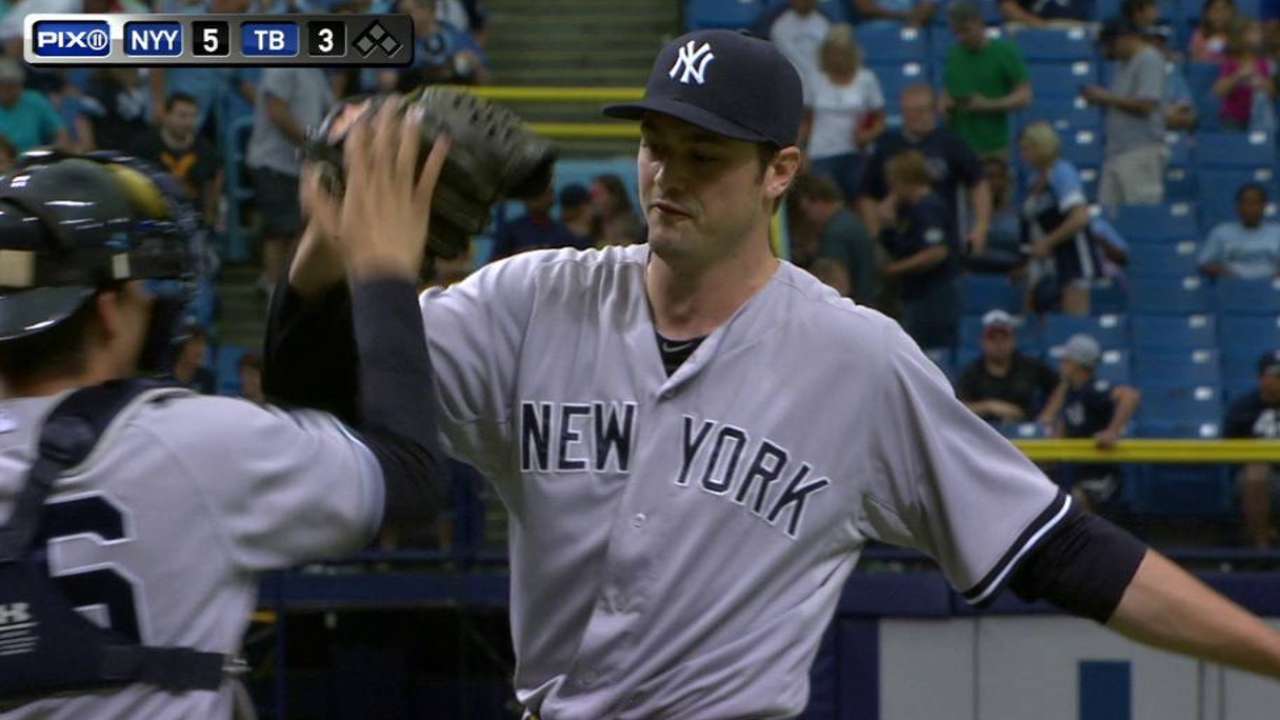 ST. PETERSBURG -- There was no crash course given on how to handle the pressures of the ninth inning, but since Andrew Miller seems to be handling the adjustment just fine, there is no reason for the Yankees to tinker with the formula.
Miller has not been officially anointed as the Yanks' closer, but he is taking on those responsibilities nonetheless. Miller locked down his fourth save in as many chances on Sunday, pitching around a leadoff double to secure the Yanks' 5-3 victory over the Rays at Tropicana Field.
"It's never easy. It's not how I wanted to start, but you have to look at the scoreboard in those situations," Miller said. "I know that there's nobody behind me, so I'm not trying to keep it to one run or no runs; I'm trying to win the game. Right there, it's about getting three outs before they get two runs. Fortunately I was able to do that. It wasn't pretty, but I got there."
Miller slammed the door after Ryan Brett opened the frame with his first big league hit -- a pinch-hit double off the wall in left-center field -- striking out Rene Rivera, Logan Forsythe and Steven Souza Jr. in order.
In truth, Miller said he thought that Dellin Betances had the hairier assignment; Betances entered in the seventh inning and recorded five outs against the heart of the Rays' batting order.
"Honestly, I don't think either of us have really left the roles that we were used in last year," Miller said. "I've got the saves this year, but he went through the meat of the lineup today. If you look at who had the heavier burden today, it was probably him. He came into a much tougher situation, got more outs and had to face the middle of that lineup."
Manager Joe Girardi said that there is a luxury in being able to go to either Miller or Betances for more than three outs, and that they could still be used interchangeably for the late innings depending on opposing lineups.
"We're seeing a ton of right-handed hitters and we're going to see a bunch again. It's kind of worked out that way," Girardi said. "I've asked them to get some multiple innings, some multiple outs for us. Andrew has done a good job in the ninth, so I've just kind of stuck with it right now. I'm not saying that's been named to anyone, but it's just kind of the way it has worked out with the lineup we have."
Bryan Hoch is a reporter for MLB.com. Follow him on Twitter @bryanhoch and read his MLBlog, Bombers Beat. This story was not subject to the approval of Major League Baseball or its clubs.