Slumping Yelich still searching for answers at plate
Young outfielder focused on returning to form after tough Mets series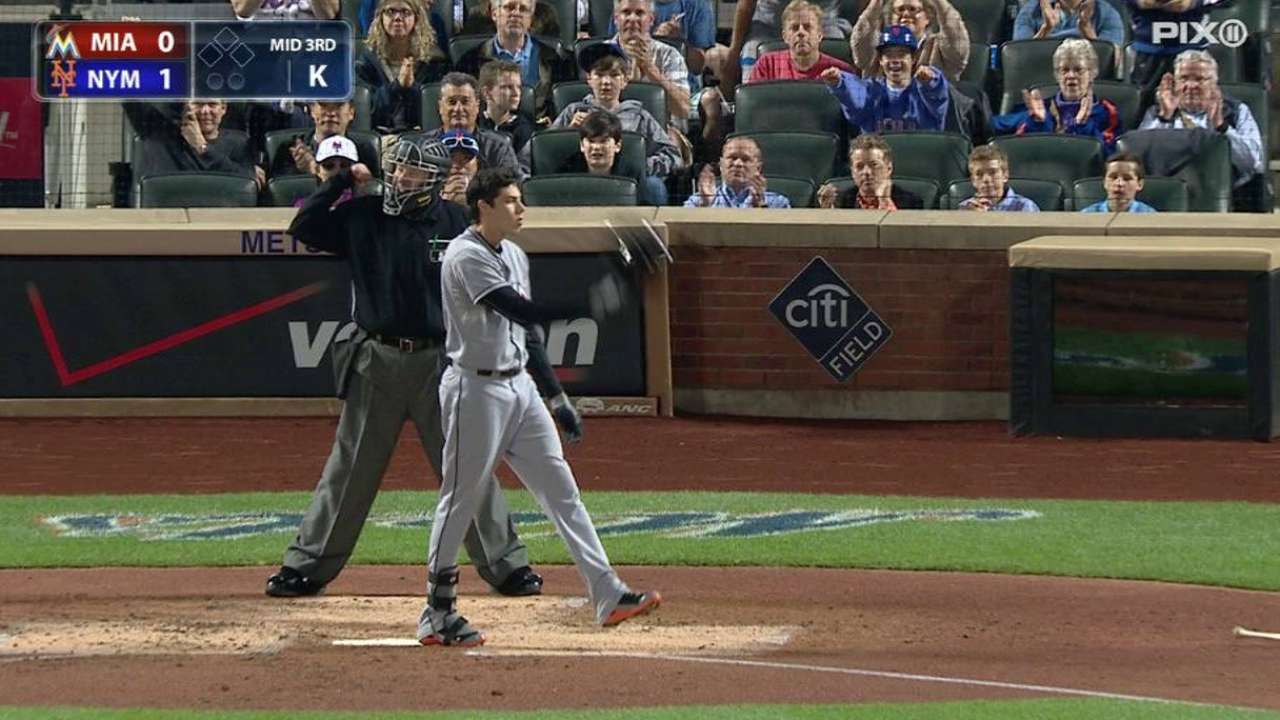 NEW YORK -- If there has been a time Christian Yelich has felt this out of whack at the plate, he can't remember. Right now the swing isn't right, and the 23-year-old is searching for answers.
Neither Yelich nor the Marlins had much go right over the weekend in their four-game sweep at the hands of the Mets at Citi Field. In the series, the 23-year-old left fielder was 2-for-18 with eight strikeouts.
"Terrible," Yelich said. "I mean, I don't know. I'm trying to remember a time when I felt this terrible out there, but I really can't. I don't know what's going on.
"Just competing and still battling up there, and eventually that turns around too. Any time you punch out seven times in two games, it's not good. I need to be better. The team needs me to be better. You've got to just own it. I'll be better. I'm going to work on it, and it'll click."
It always has.
Yelich has too much of a track record to believe he will be in a prolonged slump. A year ago, in his first full season in the big leagues, the left-handed-hitting outfielder batted .284 with a .362 on-base percentage. He's now batting .200 with a .265 on-base percentage.
Until Saturday, he had never struck out more than three times since he was promoted to the big leagues in July 2013. He struck out four times in Miami's 5-4 loss on Saturday. Adding to his frustration were three more strikeouts in Sunday's 7-6 loss to the Mets.
There was an injury concern with Yelich at the start of the road trip, when he sat two games to rest a tight lower back. He returned to the lineup on Thursday and insists he's fine.
"That's not the problem," he said. "Just work on things to get that feel back. I just don't feel right right now. That happens over the course of a season. Usually you'd rather not have it happen right out the gate when we're already scuffling. That's how it's been. Like I said earlier, I've got to be better. These guys expect me to be better, and I will be."
Joe Frisaro is a reporter for MLB.com. He writes a blog, called The Fish Pond. Follow him on Twitter @JoeFrisaro. This story was not subject to the approval of Major League Baseball or its clubs.