Axford moved to restricted list as he continues to care for son
Rockies pitcher's toddler is recovering from rattlesnake bite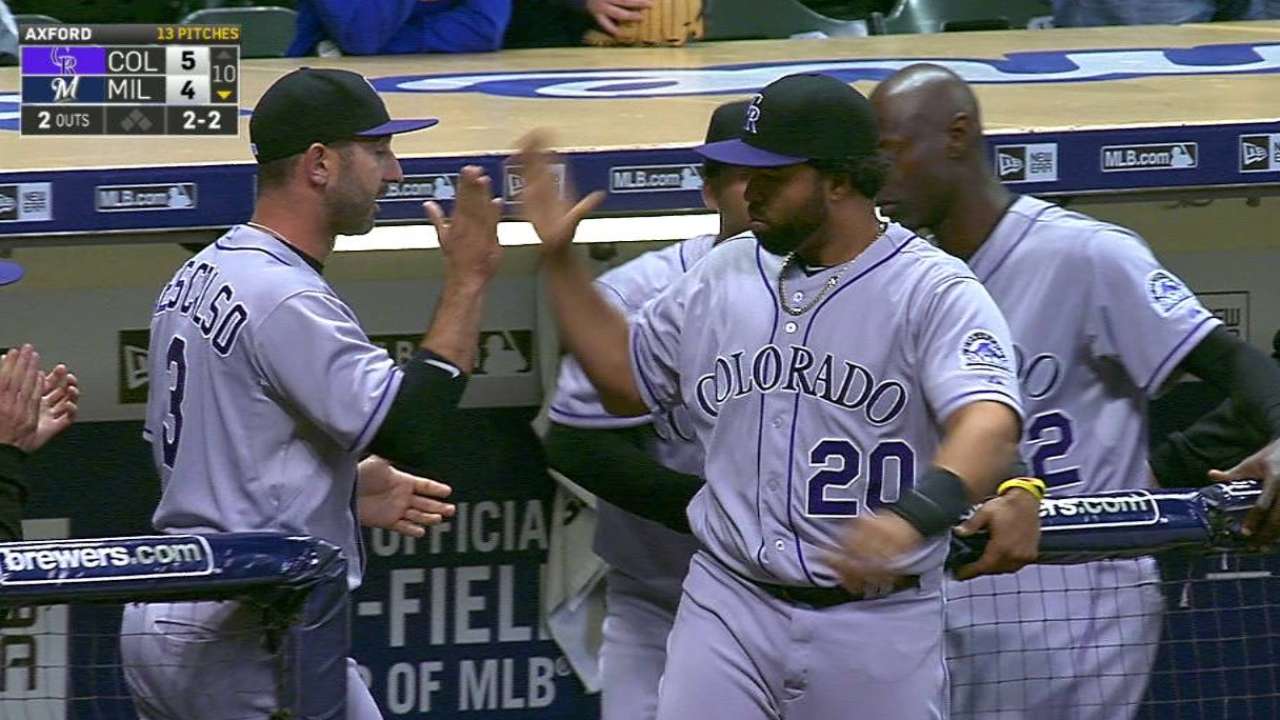 LOS ANGELES -- The Rockies moved right-handed relief pitcher John Axford to the restricted list, which means he can continue to care for his son, who is recovering from a rattlesnake bite. Axford can be activated at any point.
The club had to make the move Sunday, when Axford's time on the family emergency medical leave list expired. Axford's 2 1/2-year-old son, Jameson, was bitten twice on the right foot by a rattlesnake during Spring Training in Arizona. Axford was put on leave April 12 so he could help as his son was transferred from an Arizona hospital to one in the Denver area.
Axford tweeted Friday that his son left the intensive care unit, after three weeks and three days, but still has a "long road ahead." His son had surgery last Monday in Denver for an infection in the foot.
3 weeks & 3 days later Jameson is finally out of the ICU. Still in the hospital & still has a long road ahead, #ButAStepInTheRightDirection!

- John Axford (@JohnAxford) April 18, 2015
"It's a day-to-day-type situation," manager Walt Weiss said. "He's been staying in shape and throwing, keeping his arm in shape."
Worth noting
• Righty Scott Oberg entered Sunday having thrown 2 1/3 scoreless innings after being called up to replace Axford. It's been a whirlwind for Oberg, whose 2014 season at Double-A Tulsa ended early because of a shoulder surgery that, luckily, could be rehabbed fully during the winter.
"My arm is in really good shape right now, especially after all the surgery and rehab, and hopefully it will get stronger throughout the season," Oberg said. "I feel I'm where I was before I got hurt."
• Left fielder Carlos Gonzalez went into Sunday hitting .231 with one home run. Gonzalez tends to go on torrid streaks, however. Was his performance Saturday, when he drew a walk and hit a hard line drive to center, a sign that the streak is about to come?
"Those are good signs that he's starting to get locked in again," Weiss said.
Gonzalez admitted that his timing has been not quite where he wants it, but he feels it'll come.
"I'm looking to make solid contact, and when it happens a lot of those balls are going to go over the wall," Gonzalez said. "It's something we don't look for. Just good swings -- when you feel consistent with your swing a lot of extra bases and home runs are going to come.
"I can feel when I'm in the zone and hitting the ball hard. My swing is good. It's just timing. I've been out front often, but the more I play the more I'm going to see the ball better."
Thomas Harding is a reporter for MLB.com. Read his blog, Hardball in the Rockies, follow him on Twitter @harding_at_mlb, and like his Facebook page, Thomas Harding and Friends at www.Rockies.com. This story was not subject to the approval of Major League Baseball or its clubs.