Mercer shakes off getting hit by Garza pitch in chest
X-rays negative on Bucs shortstop's bruised ribcage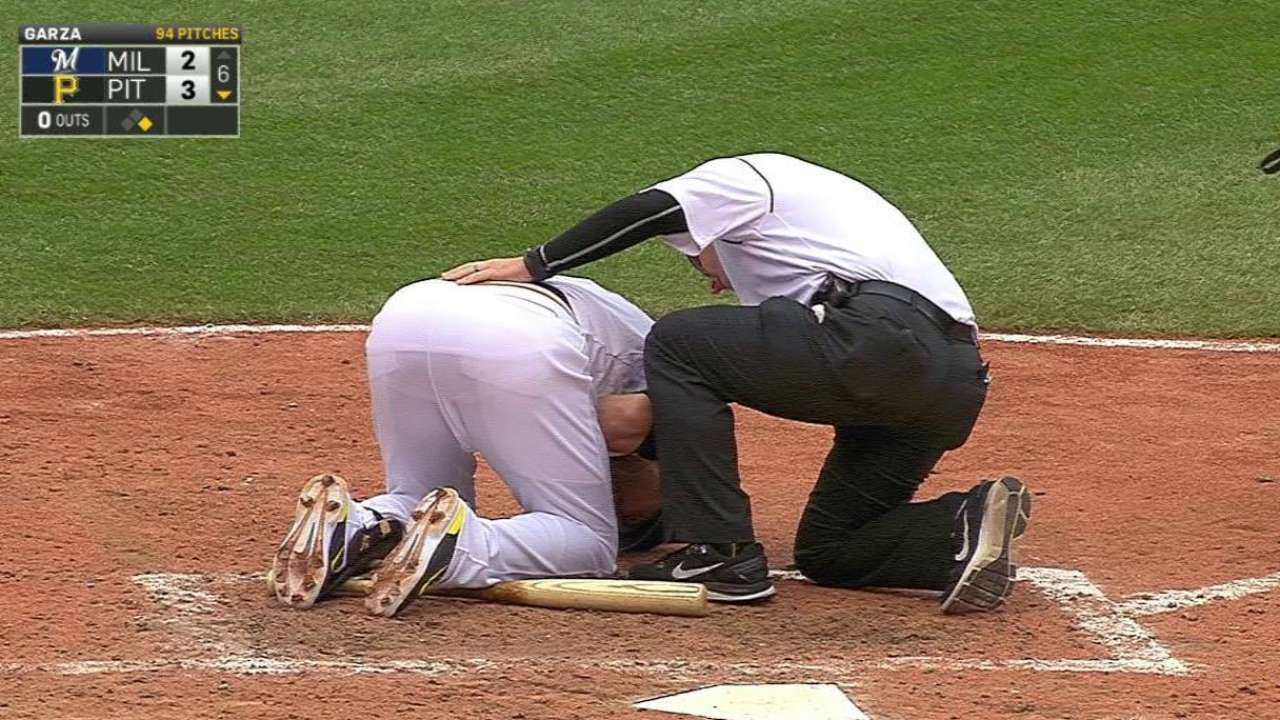 PITTSBURGH -- Jordy Mercer strolled into the Pirates' clubhouse late Sunday afternoon, glanced up at one of the eight flat-screen TVs lowered from the ceiling and winced.
"Ooh ... first time I've actually seen it," he said, watching himself getting drilled by a Matt Garza fastball in the upper chest during the Pirates' 5-2 win over the Brewers.
Witnesses of the sixth-inning incident, while Mercer was squaring around to bunt, were delighted to see his postgame comfort. He had just undergone X-rays, which were negative, and walked, talked and generally comported himself as if he had been struck by a Nerf ball, not a baseball.
When it happened, after Pedro Alvarez had drawn a leadoff walk in a one-run game, Mercer dropped to a knee, had to be tended to by trainer Todd Tomczyk and had to be helped into the dugout.
"I'm feeling all right. Better than I was," Mercer said. "It was one of those things. I'd never been hit there before, and I just couldn't catch my breath. Everything was negative (in the X-rays). Just a bruise, so we're good."
Upon seeing Mercer get nailed, Garza violently pirouetted on the mound in reaction.
"If you look at Garza's reaction, it's the last place he wanted the pitch to go," manager Clint Hurdle said, after a pensive pause when asked about the incident. "That would be my initial take on it. Um … Mercer is in bunt mode, the fastball gets away from Garza, squares him up in the chest."
"It was a two-seamer, and it just got away from me. I'm not going to try to hit Mercer," said Garza after the game, still upset. "Obviously … any type of statement, that would not be the guy you would do it to. It just got away. It was supposed to be a sinker in, and it came all the way back. I wanted him to put the ball down. I wanted him to bunt the ball. It's an out. Give up one instead of putting two on, and it led to a big inning, two runs."
Jung Ho Kang went in to run for Mercer, minutes later scoring on a two-run single by Chris Stewart that stretched the Pirates' lead to 5-2. Kang stayed in the game defensively, taking over at shortstop.
There's a possibility that Kang will make his first home start on Monday against the Cubs, if Mercer needs some down time. Kang, 1-for-10, started a game each at third and short during the Bucs' season-opening road trip.
"We'll see tomorrow how it feels," Mercer said. "Hopefully, it's not bruised too much, and doesn't get too stiff on me. Basically, we'll just have to see how it feels."
Tom Singer is a reporter for MLB.com and writes an MLBlog Change for a Nickel. Follow him on Twitter @Tom_Singer. This story was not subject to the approval of Major League Baseball or its clubs.