Starters making adjustments to take load off bullpen
Rockies pitching coach Foster looking for positive signs in early stats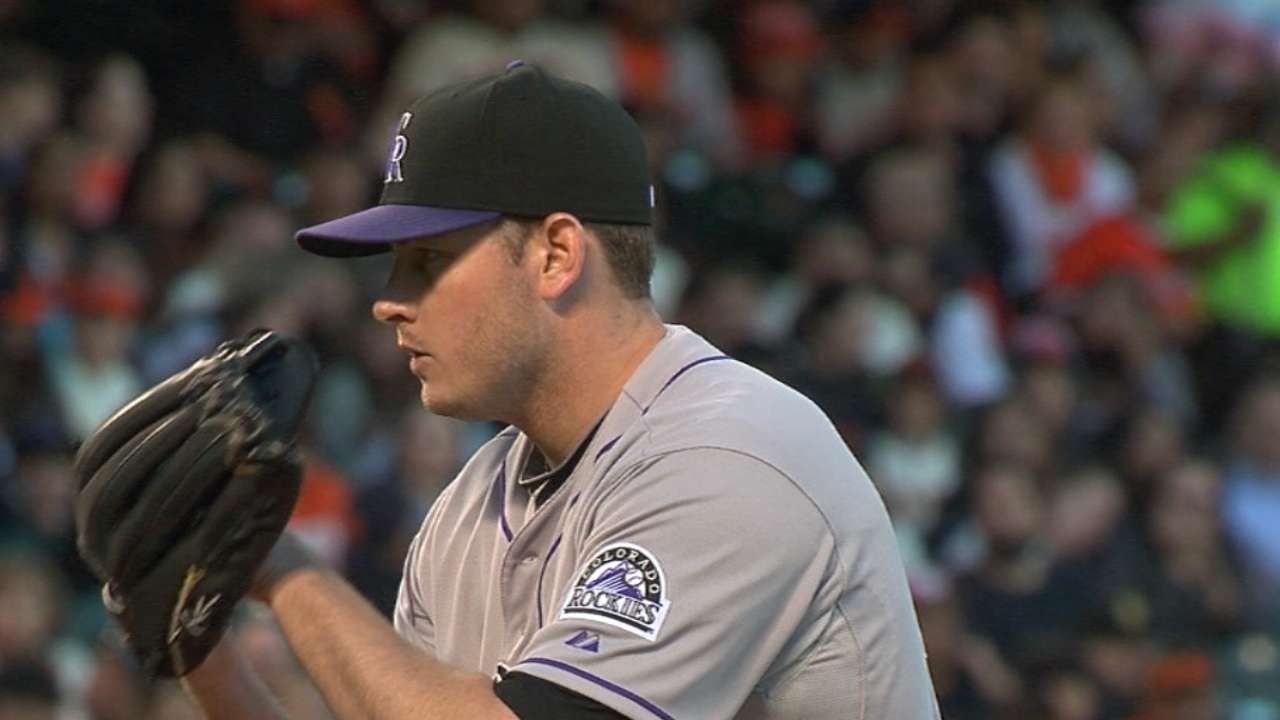 LOS ANGELES -- Rockies first-year pitching coach Steve Foster refuses to operate as if the clock is ticking on his staff.
Foster understands that the early-season performance has produced ominous signs. Going into Sunday's finale of three games with the Dodgers, Rockies starters had the highest walks per nine innings, the 12th-most pitches per batter faced and the fifth-fewest innings.
The bullpen has carried the weight left by the starters, with a 2.35 ERA that ranked second in the National League and fifth in the Majors. But whether the relief staff can handle its innings load, which was 13th-highest in the Majors going into Sunday, is the question.
But the starters also were tied for the Majors' 10th-highest winning percentage and 10th-lowest ERA.
"I can break down everything that they do and go negative, and say, 'These are all the things you've done incorrectly that could cost us ballgames in the future,'" Foster said. "I say 'no' to that.
"I say, 'These are the things you did correctly, and these are the reasons we're going to continue winning in the future. It's a positive approach."
The Rockies will have lefty Jorge De La Rosa, their best pitcher in recent years, on Monday against the Padres. De La Rosa has missed time with a left groin injury.
Youth has been at the root of some short starts.
Rookie Eddie Butler, Sunday's starter, gave up just two runs in his first two starts despite a 1.81 WHIP (walks plus hits per innings pitched), or nearly two baserunners per inning. Second-year lefty Tyler Matzek has walked four and hit three in two starts but is 1-0 with a 1.80 ERA. Second-year righty Christian Bergman, after a long period of inactivity, needed 85 pitches to go four innings in his only start, but he didn't give up any runs and the Rockies won.
"The heart rate goes up, emotions get involved, you get off the plan," Foster said. "But the plan is early contact early in the game, in certain counts challenging hitters -- not running from contact but running right to it."
Butler and Matzek have had high strikeouts in their Minor League histories. Foster said the Rockies aren't trying to change them; they'll just have to learn through experience how to force Major League hitters to miss.
Veteran righty Kyle Kendrick has struggled with walks in his last two starts, but Foster sees him as "a veteran pitcher that understands when he is unsuccessful."
Foster's mantra is compete during the game, review and correct, then repeat.
"I have to work on small things along the way -- if they're walking too many, if they're giving up too many hits, if they're not striking out guys but they've been high strikeout guys, identify why," Foster said. "Those are things that are between a pitching coach and a pitcher that we work on behind closed doors."
Thomas Harding is a reporter for MLB.com. Read his blog, Hardball in the Rockies, follow him on Twitter @harding_at_mlb, and like his Facebook page, Thomas Harding and Friends at www.Rockies.com. This story was not subject to the approval of Major League Baseball or its clubs.