Puig's hamstring soreness lingers, DL a possibility
Dodgers outfielder returned to lineup Saturday night, but did not start Sunday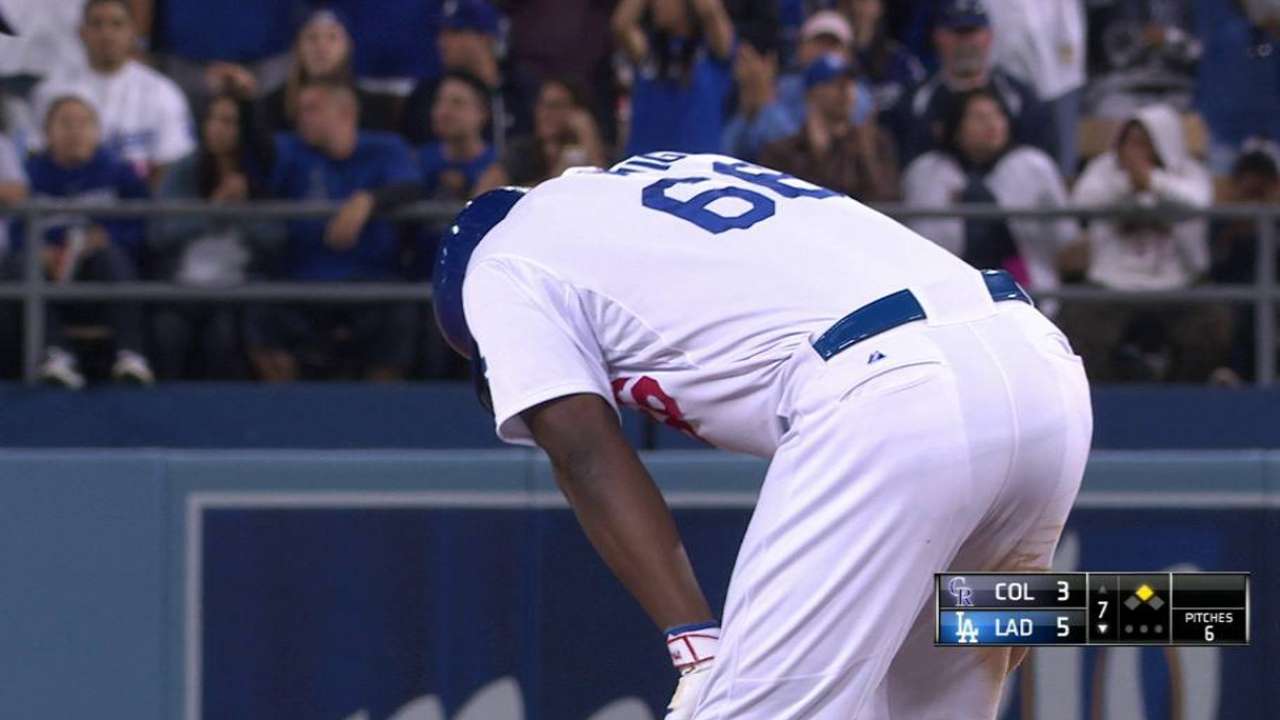 LOS ANGELES -- Dodgers outfielder Yasiel Puig was out of the lineup again on Sunday because of left hamstring soreness, but manager Don Mattingly said he still believes the injury is not serious.
"We're taking it as regular soreness," Mattingly said. "We hope it's nothing serious and this buys us an extra day [because of Monday's off-day]."
Puig reported hamstring tightness during the seventh inning Monday night, but played the entire 10 innings. He missed games Tuesday, Wednesday and Friday after Thursday's off-day. He played the whole game Saturday night, getting two hits, but also limped several times during the game.
"Stan [Conte, VP medical services] said he came in a little sore today," Mattingly said.
He said putting Puig on the disabled list was "part of the conversation" earlier in the week, and stressed that keeping Puig active was a decision for the medical department.
"To be honest, if they say DL, I'm fine with it," he said. "I like the way Andre [Ethier] is playing. I'm not pushing to get Yasiel in the lineup. We've got guys in Triple-A swinging the bat. If medical says DL, it's DL."
Additionally, Mattingly said he didn't know if outfielder Carl Crawford would be available after already missing Saturday night's game with a stomach illness.
Ken Gurnick is a reporter for MLB.com. This story was not subject to the approval of Major League Baseball or its clubs.