Fielder, Moreland to continue sharing time at DH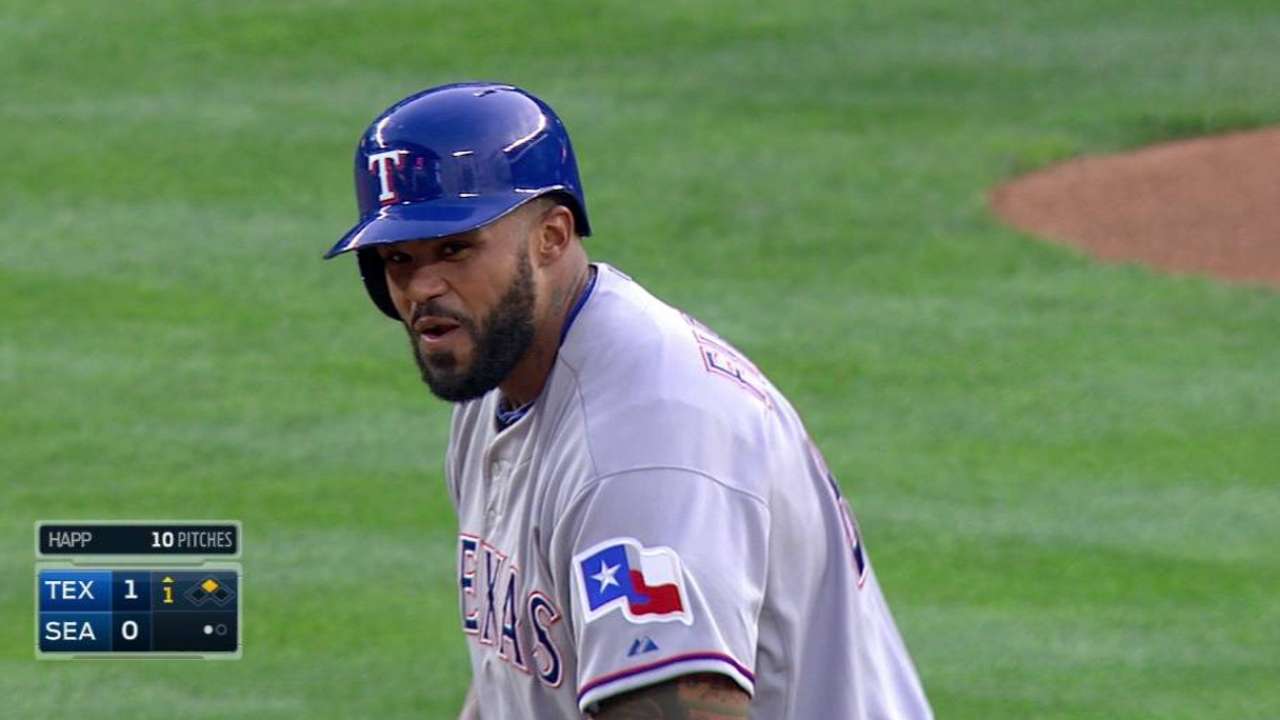 SEATTLE -- Prince Fielder started at designated hitter for the sixth time on Sunday, one less than he has started at first base so far this season.
So technically Fielder is still the Rangers' starting first baseman and Mitch Moreland is at designated hitter. But manager Jeff Banister is still using Fielder much more at DH than expected and that will continue.
"Prince Fielder is our first baseman and Mitch Moreland plays first base," Banister said. "I will use both as needed. I see both players playing. I haven't seen enough of Mitch to evaluate his defense but I'm going to continue to play both at first base and both will get time at DH.
"I feel confident running them both out there."
Banister has also used Shin-Soo Choo and Adrian Beltre at designated hitter as well although it will primarily be Fielder and Moreland. But Banister does not want to put Fielder in a position where he becomes strictly a designated hitter like David Ortiz with the Red Sox.
"His energy level and who he is, we want to keep him engaged," Banister said. "DH is a challenging spot to perform in anyway if you're used to being in the field. The ability to play defense and stay engaged creates an energy. I don't want any of these guys [being a full-time DH] unless we find a David Ortiz-type of guy."
Moreland was out of the lineup for a third straight day. He is dealing with a "loose body" in his sore left elbow but is still confident that he can avoid surgery that would sideline him for 2-3 weeks.
With left-hander James Paxton on the mound for the Mariners, Adam Rosales was at first base on Sunday. Banister said Moreland would be available as a pinch-hitter. The Rangers won't need a designated hitter on Tuesday and Wednesday when they play the D-backs in Arizona under National League rules. So Fielder will be at first base two straight games and Moreland will be available as a pinch-hitter off the bench.
Worth noting:
• Kyuji Fujikawa, who is on the disabled list because of tightness in his right groin muscle, pitched a scoreless inning for Triple-A Round Rock on Friday. He threw 18 pitches and had one strikeout. He will get one more outing before the Rangers consider activating him.
• The Rangers entered Sunday with 15 team errors, the most in the American League. Said Banister, "We need to continue to improve on defense, just the handling of the baseball. Errors are going to be made. I will raise the white flag on that. But just the handling of the baseball, we have some improvements that need to be made."
• Leonys Martin had the Rangers only two hits on Saturday night in a 3-1 loss. The last player to have the Rangers' only two hits in a game was Michael Young on June 6, 2009 against the Red Sox and Jon Lester.
T.R. Sullivan is a reporter for MLB.com. Read his blog, Postcards from Elysian Fields, and follow him on Twitter @Sullivan_Ranger. This story was not subject to the approval of Major League Baseball or its clubs.