Day after plunking, Lawrie thrown at again
Royals reliever Herrera ejected after 100-mph pitch goes behind third baseman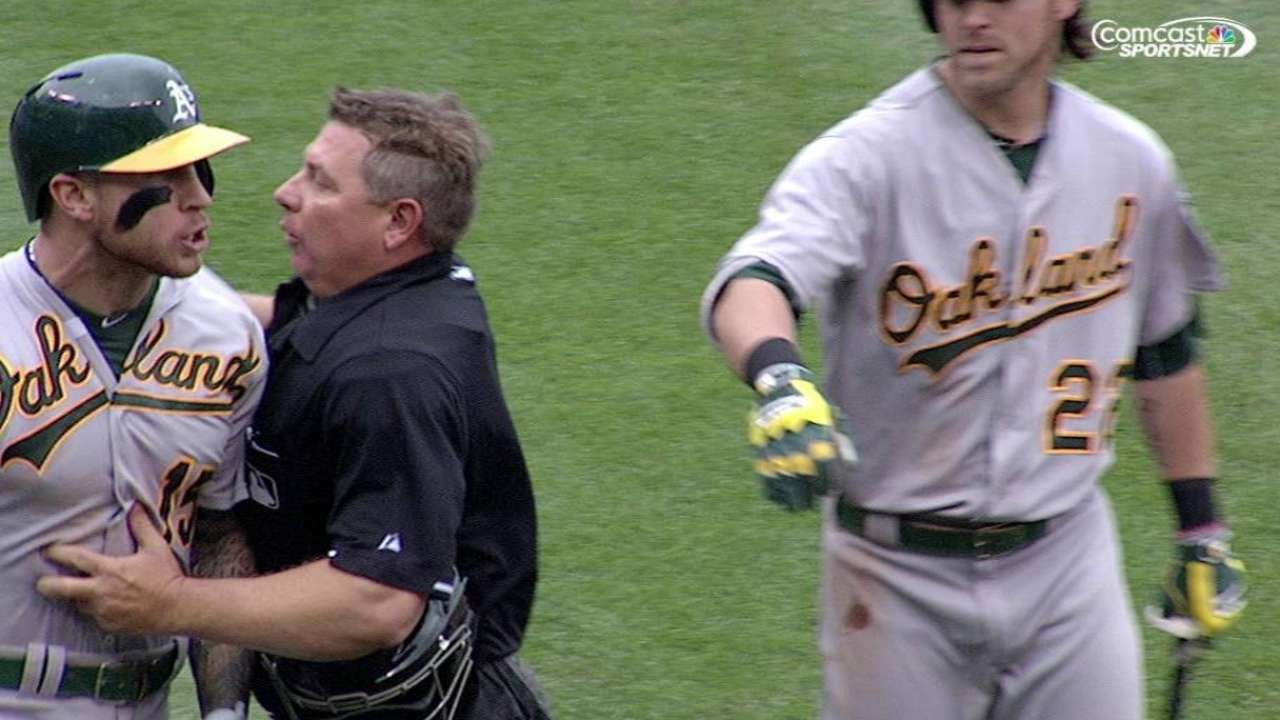 KANSAS CITY -- Third baseman Brett Lawrie was back in the A's lineup during Sunday's 4-2 loss to the Royals, after taking a 99-mph Yordano Ventura fastball to his left elbow in Saturday's drama-filled win.
"It's all right," Lawrie said in the morning. "Just swollen. That's about it."
Lawrie was nearly drilled with another heater in the eighth inning Sunday, when Royals flamethrower Kelvin Herrera threw a 100-mph fastball behind him, as the weekend-long drama in Kansas City continued.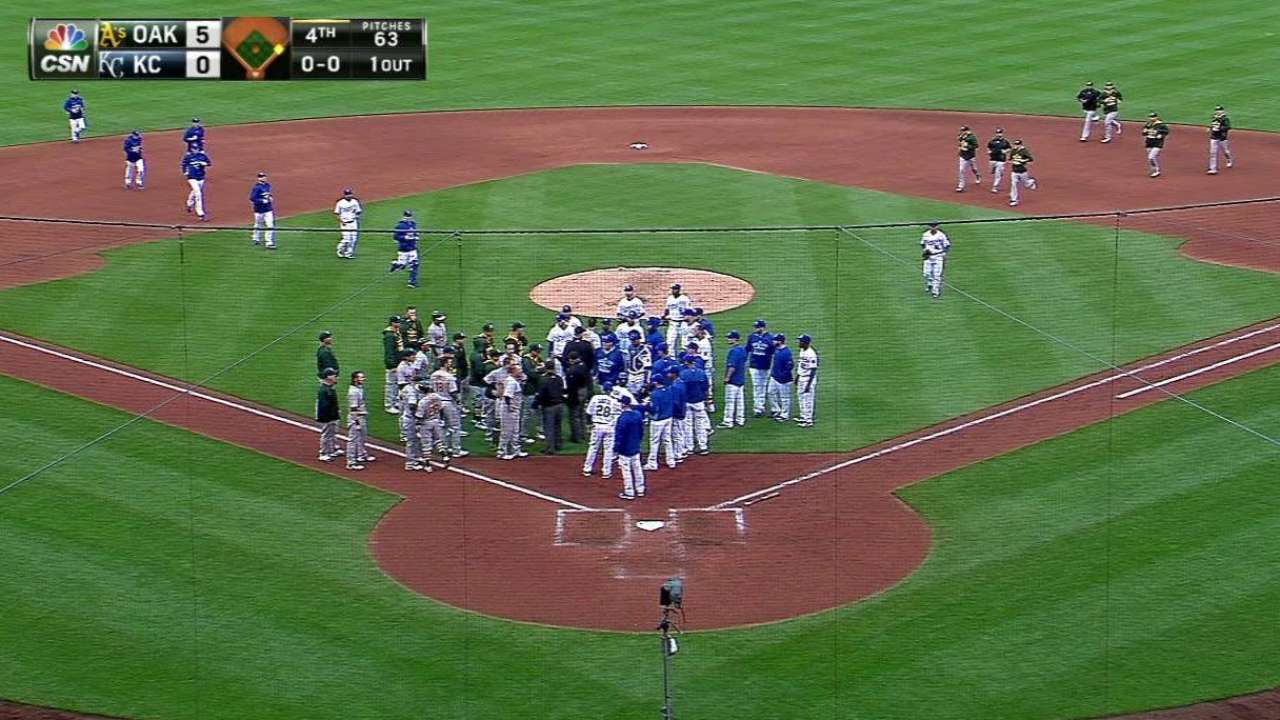 Lawrie has been front and center in this series, after making a hard slide into Royals shortstop Alcides Escobar at second base in Friday's opener. Both benches cleared then, and again on Saturday, when Ventura retaliated by drilling Lawrie with a pitch in the fourth inning. Ventura was immediately ejected, as was Herrera on Sunday.
"It should've been squashed," Lawrie said after the loss on Sunday. "It should've been over. You're just trying to do your job, but it's hard, because you see what happened. And that was in the eighth. I played all the way until the eighth inning thinking everything was fine, and then you get into the eighth inning, and one of their guys comes out of the bullpen, and it's just tough to do your job.
"If that's the way they want to approach the game, I guess that's the way they want to approach the game."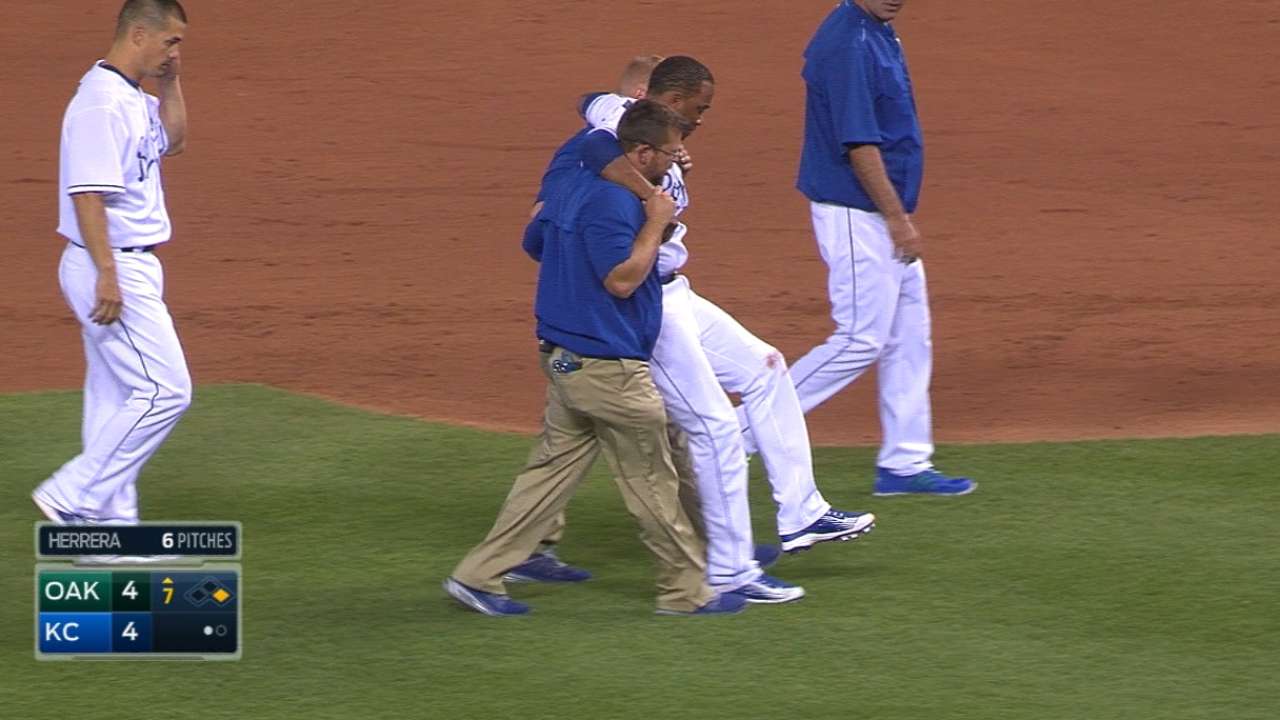 Lawrie has started each of the club's 13 games at third base, and manager Bob Melvin said he'll likely give his third baseman a scheduled day off Monday in Anaheim, where the A's open a four-game set against their division rivals.
"It's his choice," said Lawrie. "He's going to make the call. But it doesn't matter. I'm ready to play every day for the team and ready to go out there and compete every single day. It doesn't matter what day it is."
Jane Lee is a reporter for MLB.com. This story was not subject to the approval of Major League Baseball or its clubs.