Putnam seeks advice from Robertson about cutter
Petricka could join White Sox early this week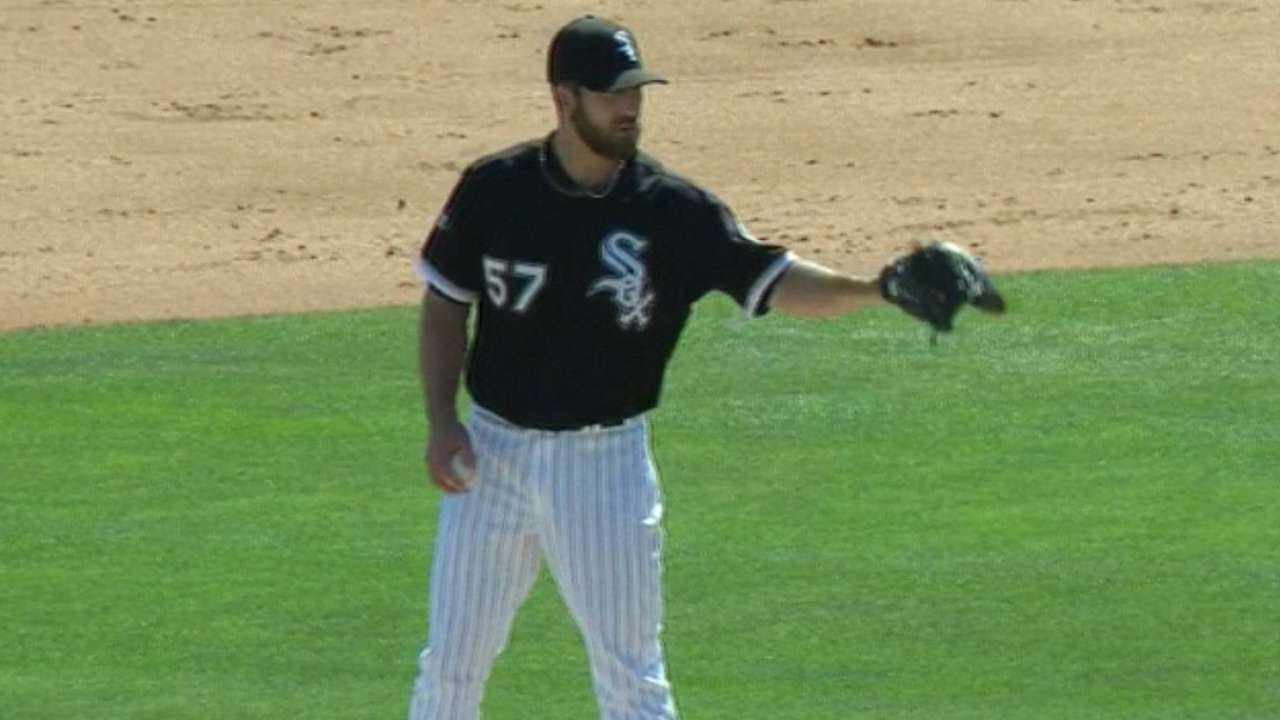 DETROIT -- David Robertson features one of the better cutters in the game today, according to Zach Putnam, Robertson's bullpen mate with the White Sox. And Robertson had a chance to learn about the cutter with the Yankees from Mariano Rivera, who all but perfected this particular pitch while recording 652 saves during his career.
So it only stands to reason that Putnam, who throws a cutter as well, would pick Robertson's brain about this particular pitch. That conversation took place Saturday afternoon during batting practice.
"I'm trying to have him impart some of that knowledge on to me as I develop that pitch as a third pitch," Putnam said. "That was the majority of the conversation.
"It was almost surreal listening to him talk yesterday. He was like, 'Mo holds his like this and does this with it,' and I'm like, 'I wish I had a camera to record all this so I have it for future reference.' But I'm trying to learn from him whenever I can."
Putnam threw a scoreless frame in Saturday's 12-3 victory, marking his second straight scoreless relief effort after allowing four earned runs in his first two appearances. The right-hander said Saturday's performance felt familiar, as in much like the way he attacked hitters last season, when he posted a team-best 1.98 ERA.
While Putnam and the White Sox were dealing in Detroit, Jake Petricka put together his second consecutive scoreless appearance on injury rehab for a right-forearm strain with Triple-A Charlotte. Petricka struck out two and walked two for the Knights, and should return to the White Sox at the beginning of this upcoming week.
"He looked good, and we'll reevaluate that to see how we're going to go about it," said White Sox manager Robin Ventura. "But the reports I got were good. He's feeling good, and everything looks free and easy with him throwing, so that's the most important part."
Having Petricka return and Putnam rounding back into solid form presents the White Sox with two more solid options to work in the back end of the bullpen. Both Putnam and Petricka saw time in the closer's role in '14, but as Putnam said Sunday, he's pretty much ready for anything Ventura and pitching coach Don Cooper have in mind. He's also excited about the possibilities for this relief crew.
"I was thinking about how things are going to shake out when we do get Jake back," Putnam said. "He was obviously a huge part of what we were able to do last year with the bullpen, and the additions we've made and where we're at right now, it's pretty exciting.
"We have the potential to be really, really, really good. We won't know how that shakes out until we have everybody together. The options, just the ability to do different things that we weren't able to do last year with some of the pieces we have now, it has to be exciting for Robin and Coop."
As for the new grip on the cutter, Putnam laughed and said he didn't have the guts to take that lesson immediately into Saturday's outing. So it remains a work in progress.
Scott Merkin is a reporter for MLB.com. Read his blog, Merk's Works, and follow him on Twitter @scottmerkin. This story was not subject to the approval of Major League Baseball or its clubs.