Big bats come up empty vs. Seattle's ace
Fielder, Choo, Beltre finish 0-8 vs. Hernandez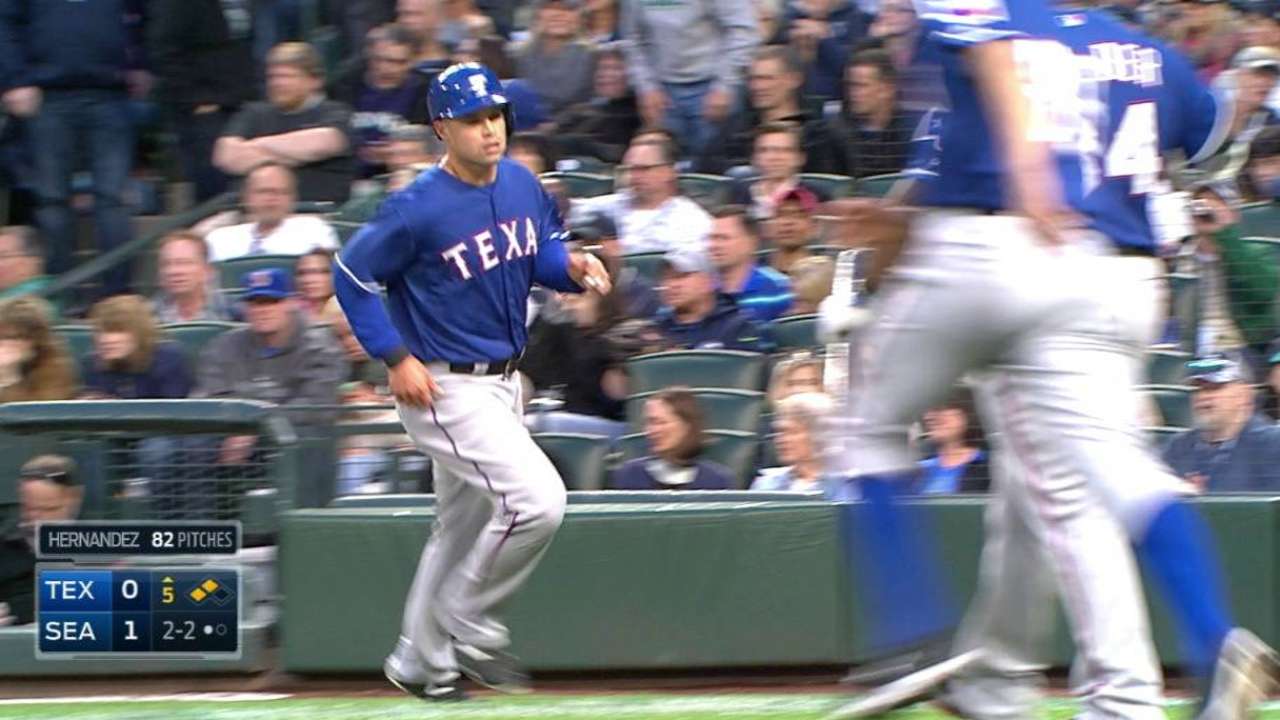 SEATTLE -- Prince Fielder had a simple remedy for what is ailing the Rangers offense.
"We need to score more runs ... that's all I got," Fielder said. "That's the way it is right now. But when we are struggling to score runs, we're facing good pitching. That's part of it."
The Rangers faced one of the best on Saturday night and Felix Hernandez was at his best. Hernandez may have lost more games to the Rangers than any other opposing pitcher in club history. He has also had some brilliant performances and added one to the list on Saturday night.
Hernandez held the Rangers to just two hits over seven innings while striking out 12 in pitching the Mariners to a 3-1 victory on Saturday night.
"He is one of the best pitchers in the game," outfielder Shin-Soo Choo said. "We know how he throws but every time I faced him, he's always consistent. He doesn't make a lot of mistakes, he throws a lot of strikes and puts a lot of pressure on hitters."
The victory snapped Hernandez's five-game losing streak against the Rangers. The last time he beat the Rangers was on July 14, 2012 with a three-hit shutout that included 12 strikeouts. Saturday marked only the second time in 43 career starts against the Rangers that Hernandez finished in double digits for strikeouts.
Leonys Martin had both the Rangers hits. Hernandez was especially tough on the Rangers big bats in the middle of the order as Fielder, Adrian Beltre and Choo were a combined 0-for-8 with three strikeouts against him. They were 0-for-11 in the game.
Hernandez has always been tough on Fielder. After going 0-for-3 on Saturday, Fielder is 0-14 with five strikeouts in his career vs. the Seattle ace. Beltre and Choo have had some success against Hernandez but not on Saturday.
Beltre, who loves tormenting Hernandez with trash talk to get him off his game, couldn't do it this time. He was 0-for-2 while getting hit by a pitch, and Choo was 0-for-3.
"He doesn't give you any mistakes and he keeps the ball down," Fielder said. "He's hard to really drive."
The Rangers had one chance to get the lead off of Hernandez. In the first inning Martin led off with a double and was bunted to third by Elvis Andrus. That brought up Fielder and Mariners manager Lloyd McClendon played the infield in.
The move paid off as Fielder grounded right to second baseman Robinson Cano, forcing Martin to stay put. Hernandez hit Beltre but struck out Choo to end the threat. The Rangers were 0-for-4 with runners in scoring position on the night.
"This guy is one of the premium pitchers in all of baseball," manager Jeff Banister said. "We had an opportunity in the first and didn't push the run across. You know going up against a guy like that he is going to get stronger. You have to capitalize on your opportunities."
T.R. Sullivan is a reporter for MLB.com. Read his blog, Postcards from Elysian Fields, and follow him on Twitter @Sullivan_Ranger. This story was not subject to the approval of Major League Baseball or its clubs.